Senior athletes receive special recognition at Senior Night
On Friday night, the senior athletes who participated in fall sports were honored at Senior Night, which followed the varsity girls volleyball game against Haleakala Waldorf.
The night kicked off with tailgating at the football field. Members of student council held a barbecue, and students ate, conversed, and collected their spirit shirts.
Middle school students took their turn on the waterslide while the high school students and parents waited in anticipation for the volleyball game.
Immediately following the game, the students and parents in attendance gathered around a projector to watch the senior video filmed by Spartan juniors, Sean Fleetham and Kaulike Jansen. During the video, seniors thanked their fellow teammates, coaches, and friends for their love and support during the season.
At the conclusion of the video, the crowd of approximately two hundred attendees formed a human tunnel and the athletes were honored individually for their specific sports. After each athlete ran through the tunnel, they received leis from friends and family who had come to support them on their special night.
Pleasantries were exchanged, leis were given, pictures were taken, and a piece of Seabury Hall athletic history was made.
In the words of cross country star Erika Preseault, "Senior night is lit!" — and it was, literally. As spectators from the game, family members, and friends filed out of the gym, student council got the glow in the dark waterslide up and running. Music poured out of the speakers as students and faculty alike took to the waterslide.
As attendees took turns slipping, sliding, surfing and falling down the waterslide, Dr. Stafford and student council members turned their attention toward the bonfire on the other side of the gym. The fire roared to life, and students began to make their way towards the warmth of the flames.
Student council provided the necessary materials for s'mores for those who wanted one. Marshmallows were roasted, and friends made small talk near the fire pit.
As Friday night's festivities came to a close, sophomore Innes Asher reflected on the meaning of senior night and remarked, "It's so nice to see these seniors moving on. I love it. It's such a great experience."
For those who missed this past senior night celebrating senior athletes in fall sports, there will be another event to honor athletes in winter sports. Student council will announce the next event in assembly, and it will be posted on the school calendar.
About the Writer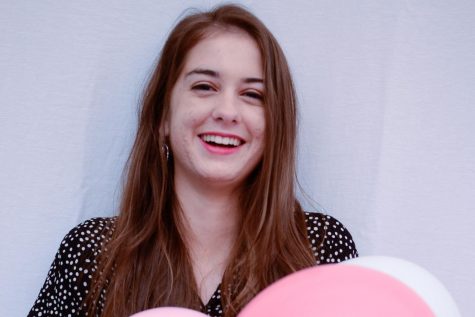 Kathryn James, Staff Writer
Seabury Hall senior Kathryn James was born on June 10, 2000 in Danbury, Connecticut. Her mother lived in a small town in West Virginia named White Sulfur...