Alumna returns to Seabury Hall as new library assistant
In the quiet Castle Library, at the end of a long day, the sweet soft hum of Ms. Melia Quiocho, Seabury Hall's new librarian assistant, drifts through the room, bringing a smile to the faces of studying students.
Quiocho believes no child should be left out, especially when it comes to education. This belief has guided her career, allowing her to follow her heart and educate a diverse set of Hawaii's students.
From a young age, Quiocho was unique. After attending Haleakala Waldorf School, she entered the seventh grade class at Seabury Hall, skipping her sixth grade year. However, this was not the only time Quiocho skipped a grade.
After spending the summer abroad, Quiocho became back to Maui, ready to begin her junior year of high school. While looking at her schedule, to her surprise, it listed senior English. Quiocho ran into the office and asked about the mistake on her schedule. However, Mr. Ruff, the upper school head, replied, "Your mom didn't tell you? You've been promoted."
High school can be a scary place, especially if you're a 15-year-old senior. However, Quiocho found a safe haven in the school's library. She said, "It was quiet. It had very tall stacks and beautiful window seats, with a pillows on either side. You could set up in the window and read your book. It was serene and kind of a refuge, kind of like it is now but in different ways."
As a Seabury Hall student, Quiocho's school librarian was a wise and kind lady named Linda Lindsay. Lindsay described Quiocho as a mature, thoughtful, and model student. However, it just so happens that when Quiocho returned to Seabury Hall years later, Mrs. Lindsay is still the school's kind librarian.
Quiocho graduated from Seabury Hall in 1984 when she was 15. Like most 15-year-olds, she did not feel ready to travel away from home for a college education, so she stayed on island and received her associate's degree from Maui Community College. As a seventeen-year-old with an associate's degree, Quiocho felt ready to leave home and attend the University of California, Los Angeles. Quiocho then moved to Oahu to finish her bachelor's in early childhood education. After her degree, Quiocho then received her master's degree in elementary education and literacy at Chaminade University on Oahu.
While helping teach college courses, Quiocho also worked on her graduate thesis. Her thesis was on teenage parents and finding a solution so that the parents could both parent and receive an educations. However, her thesis was more than simply paper; it had actual effect in her greater community. She helped start nine high-school-based infant centers across the state.
Today, Quiocho is still a student, and she is currently finishing her master of library science at
University of Hawaii, Manoa.
Quiocho describes the library as a "sanctuary for study." Seabury's library has come a long way from the quiet reading in the window nook as Quiocho remembers. The library has become a place where students come and gather information through the internet, talk about courses with their peers, and create through the makers space. Quiocho makes the library what is today by helping with all things book related and all things technology related.
Even with the increase in electronic information, Quiocho believes libraries will always be important to society. "People can come in with diverse research needs or interests or ideas and have access to further those ideas or to develop them or change them. It's growing beyond the collection; however I believe a collection of physical books will always be a part of a library."
Quiocho is a fantastic new addition to the Seabury Hall faculty because of her warmth, compassion, and knowledge.
Seabury's library has changed drastically from the silent room with stacks of books as Quicho remembers from her childhood, to a busy leaning center with rows of computers and collaborative work spaces. Today, the Castle Library is on track with all of Quiocho's dreams of what a school library should be; however, it is still only missing one thing: two big, beautiful window seats.
About the Contributor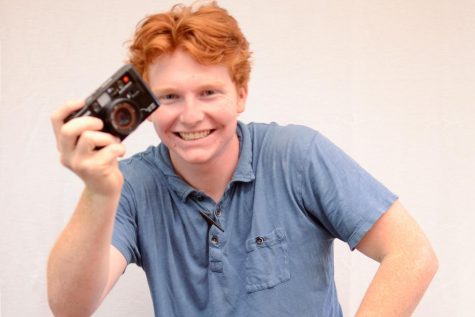 Clair Peck, Staff Writer
Clair Leverett Peck IV, a senior and Seabury's student body president, is a fun and original person to be around. He laughs a lot, sees everything in an...