A hui hou, Maui! 10 things for the Class of 2017 to enjoy before heading off to college
After winding down from the long-awaited prom weekend, a new and strange feeling suddenly began to sink in among the Class of 2017: anticipation. Many of us seniors have chosen our colleges and are entering a stage of nervous excitement as the end of our high school careers gets closer and closer. The class of 2017 is graduating in one month! With only about four months left on Maui, here are some items you should make sure to cross off of your checklist before moving to college.
1. Camping in Hana
No matter what mountains you hike or cities you explore, nothing will compare to the fresh, warm air of Hana. Camp in Kipahulu and swim in the Seven Sacred Pools! Roast some marshmallows at night and get lots of good rest for the full day ahead. Head out to Alelele Waterfall or Venus Pools. Take a nap on the red sand beach and visit Waianapanapa. Senior Jenna Carvalho recommends camping two nights to really take in the beauty of our gorgeous island.
2. Beach Day All Day
This summer you can find me basking in the warm sun at Big Beach from dawn until dusk. Many seniors are heading off to cold, snowy, climates, so this summer is the perfect time to store soak up some rays for the winter. Pack a juicy watermelon, sunscreen, a beach blanket, your umbrella, floaties, and call the rest of the Class of 2017 for an all-day beach day.
3. Mochi Ice Cream
After a whole day of sizzling in the sun, stop at the Whalers General Store in Wailea to pick out a twelve pack of your favorite flavors of mochi ice cream. This delicious treat is unlikely to be sold at our new homes and will likely be a cause of homesickness, so make sure to take advantage of our lucky access to the decadent treats. Senior Ian Roth says his favorite flavors are lychee and chocolate espresso.
4. Poke
Although poke has become a trend throughout many parts of the mainland, nobody does it quite like Hawaii does. From the delicious spicy ahi I just ate for lunch from Rodeo General to Foodland to Tobi's, we have an abundance of the best of the best. I know eating a poke bowl at the beach is something I will be craving while walking from class to class in the snow!
5. Waihee Ridge Trail
Waihee Ridge Trail has all kinds of lookouts and provided me a view that took my breath away. When I hiked it, we took a detour off the trail and found this unreal spot where you could see the trees at the top, the deep, green ridges of the valleys and to the left, the homes and beaches below. Waihee Ridge Trail is a great hike to get some exercise and see one of Maui's most beautiful views.
6. Bamboo Forest
On a nice, summer day when you're feeling adventurous, head out to Bamboo Forest for a hike through bamboo, up a few ropes, that leads you to a refreshing couple of swimming pools.
7. Ululani's Shave Ice
When you arrive on the mainland, keep in mind that snow cones and shave ice are totally different. Make sure you get one last taste of the deliciously soft ice with your favorite blue vanilla or passion-guava flavors. I would also suggest adding ice cream to the bottom, mochi as a topping and getting the tasty sweet cream drizzled on top.
8. Acaí Bowls
Similar to poke, acaí bowls have become a trendy treat in places like California, so a lucky few of us might not have to live without them. However, for people who are traveling somewhere unreasonably cold for an acaí bowl, make sure to stop by Mo Ono (A favorite of Tia Hill and Hi'ilei Luuwai) or Farmacy and lode up on bananas, lilikoi spread, peanut butter, strawberries, mangos and more.
9. Hookipa Lookout
Senior Christian Jenkins recommends heading over to the Hookipa lookout. From the lookout, you can easily see tens of turtles at once and watch the pretty summer sun sink into the sea. This lookout turns into a fairyland during golden hour.
10. Twin Falls
Twin Falls is both a local and tourist favorite. Jenkins also suggests spending the day jumping from rocks and wading in the chilly pools. There are so many hidden falls to explore that you could easily spend the whole day exploring. On your way out, grab a delicious pineapple smoothie that will leave you feeling refreshed.
Make this summer one for the books and be sure to check off all ten items from your list before heading back to school. We are entering such an exciting part of our lives, and there is no better send off than doing everything unique to our home that we can fit into the next few months.
About the Contributor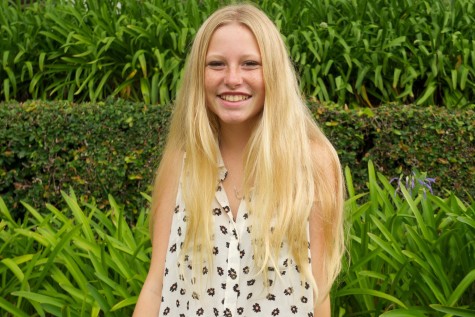 Peyton Thomas, Staff Writer
Peyton Thomas is currently a senior and is excitedly awaiting graduation day after six years at Seabury Hall! Thomas enjoys writing almost as much as she...