A new chapter for Ms. Jennifer Phelps: classroom teacher
For middle school students, Ms. Jennifer Phelps is the friendly, caring, enthusiastic face helping hurt or sick kids, or taking phone calls in the middle school office. Now, she can be found teaching in the upper school as well, instructing her first class for students: Introduction to Psychology.
"You really have to have a passion for it. It's so much fun. If I were to do it again, I would have gotten a teaching degree earlier and started a lot earlier in my life," said Phelps on being an educator.
Working at Seabury Hall, and very in love with the school, Phelps describes it as her favorite job she's ever had. She says that the best part about Seabury is the strong sense of community, and how here the "teacher's primary goal is watch their kids succeed."
Phelps moved to Maui from Massachusetts when she was nine years old and attended high school at St. Anthony. She went on to study at University of Hawaii at Manoa and then the University of New Haven in Connecticut, which is where she received her master's in psychology of organization.
Returning to Maui from the "unpleasantly cold" Connecticut during her summers to work at the Keiki Club at the Intercontinental Hotel Wailea (now the Wailea Beach Resort-Marriott), sparked an interest in working with kids. She eventually moved back to the islands and has been in Hawaii ever since. Phelps tried out for a job at Seabury after hearing so much about the school, and has been working there for six years now as the assistant to middle school head Ms. Jacque Neal.
"She is always happy and makes everything fun. She's completely dedicated," said Neal. "She is also the middle school mom to all the kiddos coming in with tummy aches or skinned knees or who need to call home because they forgot their PE uniform."
Garret Kovach, the middle school technology teacher, describes Ms Phelps as the "backbone of the middle school," and just an amazing person in general.
Phelps enjoys her job, which entails helping out teachers, working in the middle school snack shop, and preparing for school functions and activities. According to middle school science and math teacher Ms Rachel Czar, "Ms. Phelps keeps the middle school running like a well-oiled machine. She is very intelligent, articulate, efficient, and she pays great attention to detail."
These tasks are now combined with her class. The majority of lessons that Phelps gives are lecture based, but she keeps the classroom interesting and lively at the same time, with examples, stories, and activities. Phelps likes teaching psychology to the upperclassmen because it helps prepare them for college. She says, "The kids are at a stage where they're going to be going off to college soon and most will probably take a psychology class in undergrad. I know a lot of them already from the middle school, it's fun to see them grown up."
Kela Rothstein, a senior in Intro to Psychology, agrees with this. She described her classroom experience as "not as interactive, and more like a college class environment, which is good practice for the future."
Rothstein went on to talk about Phelps' prominent positive attitude, including, "She always has a kind heart which is much appreciated by the students."
Jordan Bastian, another senior in Phelps' class, enjoys the relaxed atmosphere and information-filled PowerPoint presentations. She finds the intricate lectures and activities helpful in her daily life. The class has helped Bastian see that "this new possibility of psychology and how to look into people helps me to help them in different ways."
Even though it is only her first year teaching, Phelps had already inspired the future for her students. "I've gotten really interested in what psychology is. I'd really like to exercise the idea of me doing it in the future and having a real life situation for me to evaluate," said Bastian.
In addition to being around kids every day at school, Phelps has two of her own. She loves taking her sons Hayden and Colin paddling, hiking, or to the beach. As a child, she travelled the world with her father on the boat he built, and describes the importance of travel when she says, "another passion of mine is meeting new people and learning new cultures."
"Ms. Phelps is a very warm and nurturing woman. She is very attentive to students' needs and she always addresses them with kindness," said Czar, who has been working with Phelps since 2012.
"Even when things get tough, she's always there to help me get through it," added Neal.
Phelps' bubbly personality is definitely something that anyone who has met her will quickly realize. Her students and coworkers were both quick to point out her cheerful, and always sweet optimism. Ms. Jennifer Phelps is a great asset to the Seabury Hall community, and a friendly, positive face that is always there in the middle school office, and now the upper school classrooms, for anyone in need.
About the Contributor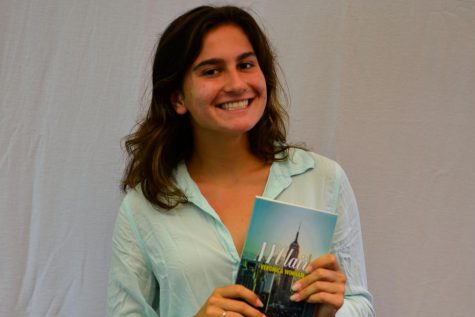 Veronica Winham, Assistant Editor
Senior Veronica Winham loves writing, whether its writing articles for the Seabury Tides and The Maui News to publishing her own book, "NYClaire."...