Small in number but mighty in spirit, Seabury's golfers prepare for a fun season
Although golf is often perceived as a slow and less engaging sport in comparison to games like football or soccer, Seabury Hall's boys and girls golf teams prove that golf can be anything but boring when accompanied by plenty of laughter and enthusiasm.
The golf teams may be small with only two girls and six boys; however, they are still mighty, and would describe themselves as an extraordinary, goofy family connected by a mutual appreciation for golf.
"It's good to have a small team because you're definitely hanging around each other more, getting to know each other. You also get to understand how your teammates play during practice and competitions," shared freshman Hudson Jackson.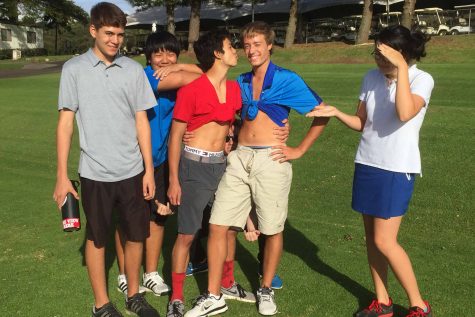 A regular practice can occur three times a week for two hours, and involves a plethora of skills for players to enhance. Some days, players will hit only at the range to practice their long-range skills. On other days, they will run through their short game, which consists of putting, pitches, and chipping. Occasionally, the teams will go onto the course and play three or four holes. Both teams practice together on a series of gorgeous courses all across Maui in preparation for upcoming tournaments, which take place one to four times a week.
While this may seem like a normal routine, their practices are, in the most marvelous way, anything but ordinary. Some team members play games on the grass alongside the range, while others chat exuberantly as they practice, laughing and simply enjoying one another's company on the course. This wonderfully relaxing atmosphere helps players pass the time, improve their golfing skills in a pleasant environment, and bond with fellow golfers all at once.
One of the few downsides of having such a small team has to do with how scores are calculated during competitions. "Usually it's a nine-hole match, and you keep track of all the strokes it takes to get the ball in the hole nine times," explained Coach Jake Grodzinsky. "Five team members play, and of those five scores, you can take the four best, and you add them up hoping that it's better than the other team."
Grodzinsky went on to indicate that there's less of a pool to pull scores from with little teams, so every player must always put their best foot forward during tournaments. Thus far, the boys' team is currently on a 5-0 streak and in good shape to win in the MIL Division II this season.
Each team member has a different idea of what the most challenging part of golfing is for them, but most have agreed that playing consistently and staying focused is difficult for the team as a whole. This is largely due to the fact that golf certainly requires a great deal of patience and perseverance.
Since the season has just begun, anyone who wishes to try out a new sport, join a small and supportive family, or improve on personal skills like patience can still consider playing golf at Seabury this year. Even those who know absolutely nothing about the sport are definitely encouraged to try it out.
"I think that golf is a pretty accessible sport. You don't need a lot of experience beforehand to get started, you just need a set of golf clubs," stated junior Angela Schmitt, who has been on the golf team for the past three years. "Our team is pretty welcoming, so it doesn't matter if you're not that good to begin with. All you have to do is get out and practice, and you'll see improvement."
The team's next competition will be on Thursday, March 9 at 3:00 PM on the Maui Country Club golf course.
About the Contributor
Lauren Sieberg, Staff Writer
Lauren Sieberg is currently a junior at Seabury Hall. After spending the first eight years of her life in Franklin, Massachusetts, she moved to Maui, exchanging...