Senior Juston Nees makes a splash with his diving debut
Although some might believe that a lack of experience in diving could be a setback when attempting to bring home the gold, senior Juston Nees, Seabury Hall's only male diver, has proved quite the contrary. Nees has been a vicious competitor this season and an active learner as he dives his way towards states.
While Nees did not have any prior diving experience before this season, he has always been quite athletic. Growing up, Juston took part in activities like volleyball, gymnastics, skateboarding, and surfing.
Nees, who has also participated on the Seabury Hall swim team throughout his high school career, says, "Mr. Craig [Seabury Hall's swim coach] sorta twisted my arm pretty hard. He sorta forced me to do it because there were no guys that have dove at the MIL in the past few years. If you win any event, you get six points, and last year we lost to Baldwin by two or three. So, he wanted me to do it to see if we could win MILs and hopefully add my score to the team total."
Although Nees felt forced into the sport, it turns out that diving has become a great passion of his and has taught him an important lesson along the way. When asked about the hardest part of the sport, Nees says, "Probably just overcoming the mental barrier. I'd say diving is more of a mental sport than it is physically. You sort of have to be confident that you'll just complete what you can, because if you get on the board and you are already thinking of a bad scenario, it's really not gonna go well."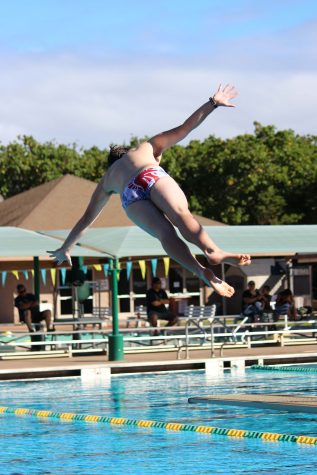 "I actually got my first concussion diving, which I didn't really think was going to happen, so I sort of had to reevaluate my approach to the sport," Nees says.
Nees' determination paid off at the MIL meet, hosted at the Kihei Community Pool on Saturday Feb. 5, where he took home the gold with the winning score of 280.10, beating his competitor Reece Kukuchi of Baldwin who scored 256.90. Nees' first place title qualifies him to move on to the state competition in Oahu on Feb. 10 and 11.
While Nees' mom inspires him with her background in competitive diving, he is also really motivated by his coach, Dennis Roe. "He's a super cool guy. He was actually a brain surgeon before, and he's older but he's still an incredible diver. We've seen him, and he can actually do what he says, so it's pretty inspiring," Nees says.
Unlike many other Seabury sports, members of the diving team practice alongside their competitors. Nees says, "It's a really interesting experience because it's not only kids from Seabury. There are people from Baldwin and Maui High. There's about nine of us, and we all come together for one practice, so it's a good chance to meet people from out of school."
Nees says, "It's really nice because everyone diving is really, really, short, and I always feel really tall when I go to dive. I'm the tallest person on the team at 5'9", so its kinda cool."
Outside of the pool one might catch Nees surfing, hanging out with friends or dining on the delicious poke from Foodland.
On the topic of trying new things, Nees advises, "Don't let your age limit you. I was always nervous to do things when I was a freshman, because I was sort of more worried about how people perceive me and my reputation a little. Definitely don't be afraid to try a new sport, like diving, because you might end up finding out that you really love it. I wish I started earlier."
Although Nees feels he got a late start to the sport, he says that he would love to do it in the future: "If my school has a diving or a club team, I would love to try it out. Why not, it's really fun."
Nees is hopeful for the future of Seabury Halls male divers. He says, "For the boys, I really hope to see somebody step up next year because it really is an incredible sport and you definitely won't regret just giving it a try."