Seabury Hall welcomes new counselor Dr. JJ Stafford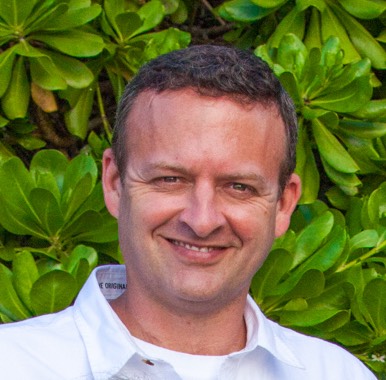 For much of the Seabury Hall community, the departure of our beloved counselor Ms. Susan Pirsch was quite surprising and left us wondering who would be able to fill her shoes. Where would we find someone as kind, welcoming and laid back as she was?
Lucky for us, the newest addition to Seabury Hall's faculty is just the man for the job. He is calm, cool and even loves to go boogie boarding.
Joseph John Stafford III was born 4,845 miles away in the city of Wilmington, Delaware and grew up as an only child in central Pennsylvania. After spending 16½ years on Maui, Stafford has finally fulfilled his dream of becoming part of the Seabury Hall community.
When he was growing up, Stafford's high school experience was good, yet it did not go without hardship. Stafford says, "A lot of my childhood was partly involved with my mom's bipolar disorder. That's partly how I got involved with psychology."
Dr. Stafford—who often goes by the nickname "JJ"—attended the University of Pittsburgh and began as a studio arts major. Later, his interest in studio arts sparked his passion for psychology. Stafford then attended Temple University in Philadelphia for graduate school.
Stafford says, "When I started out as a studio arts major, I took a class called the Psychology of Visual Art. I thought it was very intriguing how the mind can think something is larger or smaller based on the stuff around it."
Over the years, Stafford has accumulated quite the resume. Since his teenage years, Stafford has worked at a McDonald's, as a house cleaner, as a painter, and, for 16 years, as a school psychologist for Hawaii's State Department of Education.
Stafford is no stranger to the miraculous wonders and countries of the world. During his senior year of college, he was part of a program called Semester at Sea. He has traveled to the Bahamas, Venezuela, Brazil, South Africa, Kenya, Malaysia, India, China and Japan. Yet, out of all of the exotic places he has traveled, he says that nothing has compared to the beauty around us in Maui. Stafford goes as far to say, "This is the most beautiful place that I have ever seen. My favorite place is Hana. Without a doubt. That is my favorite place in the whole world."
In an email, Upper School Head Mr. Scott Winham writes, "He brings a solid understanding of the Maui community, and how those with differing backgrounds interact."
Stafford says, "Honestly, I've been wanting to come to Seabury Hall since I moved to Maui. I lived in Makawao and would drive past here every day. It is just so beautiful. I've always just been enamored by the school. I've been trying to come to Seabury for a while."
Prior to joining Seabury Hall's staff, Stafford worked at local King Kekaulike High School as the school's psychologist.
Stafford believes that the coolest thing about his job is "that everyone wants to come talk to me! He also believes that the best advice for students in planning for their future is: "Planning ahead. You can never do too much planning."
Winham writes, "He clearly has a wonderful sense of humor, and is able to joke about himself. I think that will help him relate well with the students. He is also very willing to become a part of a team, supporting others while openly sharing his own opinions."
Something that students should know about Dr. Stafford, according to Winham, is that "Dr. Stafford owns his own disco ball, and his family dresses up amazingly well in themed Halloween costumes."
Stafford says of his first impression of our community: "You guys are just a really warm, friendly 'ohana, the embodiment of 'hana. It feels like everyone really cares about each other."
In a very Seabury-esque spirit, Stafford wants to remind students his door is always open. I highly recommend stopping by Stafford's office to check out the freshly designed room and staying for a chat with this smart, friendly and easygoing addition to our community!