Student body president Sam Frampton lights the torch for school spirit
You see him at every assembly. You see him put a smile on everyone's face no matter the situation. He happens to be humorous, spirited, and determined to help Seabury Hall be its best. Well, that is Seabury Hall's student body president Sam Frampton.
Frampton, who is a senior, believes he brings a lot to the table as student body president. He claims, "I think I bring a sense of school pride, and a passion for school spirit and learning, that I try to extend to anyone I cross paths with."
He thinks the appreciation for the school is often disregarded by many, and that students should be grateful to be on this beautiful campus. "What inspired me to run for student body president was in the general sense my love for the school and my love for education, and I had this feeling that we could do so much better and the community could live up to be so much greater than what it was previously living up to," said Frampton.
Sam Frampton was born here on Maui in Kahului. Before going to Seabury, he attended Kula Elementary up until sixth grade. Frampton is involved in an abundance of extracurricular activities. He is a part of the cross country team, Art with Heart, Philosophy Club, student council, Gardening Club, and a student-based music group. Outside of school, Sam likes to play soccer, read classical texts, and play music.
His advice to those who are also juggling a lot of activities is, "You can't lose your momentum. You can take breaks on the weekend, but as soon as you slow down, everything starts to pile up." As Frampton puts it, "He who has his why to live for can bear any how."
Frampton has been running for Seabury's cross country team for five years. He really started getting into it during his junior year. This is impressive because of the dedication, effort, and hard work it takes to run for this many years.
When asked what his biggest responsibility is Frampton did not hesitate to respond: "What I'd say my biggest responsibility is keeping the student body in a state of balance and keeping the spirit ever flowing."
Frampton thinks he can make Seabury more spirited by just bringing an enthusiasm that nobody else exhibits and by talking to people in a enthusiastic way to others by using his passion for learning and love for the school. Frampton confidently said, "I put forth my best effort into Seabury and into the student body, and according to Newton's law, I am going to receive and equally excited reaction force."
When asked if he felt pressured as being the student body president, Frampton said he doesn't exactly feel pressure. "I just feel, I guess you could call it a moral obligation that I am happy to fulfill. It can get a little nerve-wrecking. I think of it as an opportunity to show the student body what I'm capable of and what they're capable of," he said.
Frampton's advice to those who ever get pressured is to look around the beautiful campus, to meditate, and to just take some time to yourself.
Frampton did not hesitate to respond when asked how he thinks student body will help with his future. "I want to repay the school for all it has done for me. I want to leave it better than how it was when I got there."
Frampton claimed his goal for this year is that when he is handed his diploma, that he is able to be satisfied that he has done everything possible to leave this school amazing, and to know he couldn't have done anything more to repay the community for everything it has done for him. Frampton emotionally stated, "I just want to know that when I leave, there is nothing more I could have done to make Seabury the best it can be. In order to reach that goal, I guess I just have to keep my eye on the prize, and to not let any superficial problems get in my way. As long as I stay in touch for why I am doing this, then I will do everything in my power to get the how's done."
Frampton's younger brother, Gabe, a freshman here at Seabury Hall, had some very good insight on what being around Frampton all the time is like. Gabe says that he is always looking for opportunities to spend time with him, and that Sam always makes sure to make Gabe fill up with laughter. Gabe says he could see himself being Student Body President one day, but claimed it is very unlikely that it will happen because of the amount of work it takes as a senior.
"Since Sam is the president, it puts a little bit of pressure on me to do good. Everybody expected me to run for class president, but I didn't want to. People kind of hold me to his standards," Gabe said.
Frampton will be attending Evergreen State in Washington after he graduates from Seabury Hall. He will be double-majoring in sustainable concepts and music. He will also most likely be minoring in philosophy.
"I'm hoping to get involved in the local government or just get the tools necessary to become a leader within the society on a bigger scale of what I can do at Seabury," Frampton said.
Frampton's advice to those who may want to run for student body is, "Do it. Just do it, man. Put yourself out there, and don't let grades or social status or anything superficial for that matter stop you from wanting to make a change."
Even for those who just want to get involved, he said to just put yourself out there and take a chance on yourself. He continued to say, "Listen to that first thought of curiosity. Hang on to that and don't let yourself get consumed by fear." He claims that if he didn't listen to that voice, that he would most likely not be student body president, or even at Seabury for that matter.
It is hard to believe we are lucky enough to get so much attention from a bright young man like Frampton despite his commitment to all of his activities. Like Frampton said, we should appreciate the beautiful campus around us. We should definitely appreciate how lucky we are to have him as our student body president.
About the Contributor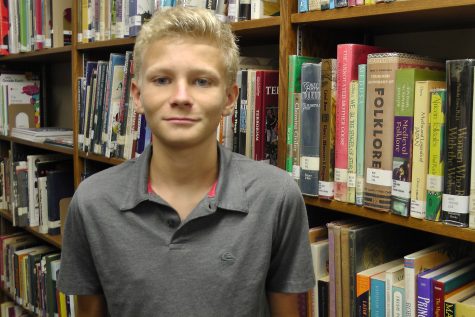 Cooper Waite, Staff Writer
Cooper Waite is a new student attending Seabury Hall as a freshman. He was born in Connecticut on May 24, 2002, and then moved to California when he was...