Seabury Hall lives up to Mr. Yan Zelmanov's dream of paradise
Any job where Yan Zelmanov can combine his passions, for teaching literature and nature, would be his dream lifestyle. Which is why Zelmanov describes his recent move to Maui to become an English teacher at Seabury Hall as a "dream come true."
"A few things have cast their spell over me. Literature, the strongest, then the ocean and nature," said Zelmanov.
Born in Chernigov, Ukraine, Zelmanov lived an active childhood, playing soccer in the streets until his family immigrated to the United States when he was only eight years old. Zelmanov first lived in suburban Missouri and then he and his family moved to Queens, New York. He attended high school in Queens until another move to Brooklyn. After two years of college in New York, Zelmanov's family moved back to St. Louis and to be closer to them, Zelmanov transferred to the University of Missouri where he studied and graduated with a degree in psychology.
After discovering his passion for literature, Zelmanov returned to school at twenty eight years old to get his teaching certificate. One book in particular caused his whole life to change: William Shakespeare's "Romeo and Juliet." "One day I realized, you know what, I haven't read a book since college, so I went to my college pile and right on top was "Romeo and Juliet." Within three months, it changed the way I looked at things."
Zelmanov went on to talk about a favorite part from the play, reciting Act 1, Scene 3 from heart: "There's this line, 'Find delight writ there this beauty's pen,' and I did. Delight myself to such a degree that I said I had to be around literature for the rest of my life."
Upon discovering his newfound love for educating teenagers, Zelmanov went on to teach in Las Vegas. He wanted to be around the Grand Canyon because of his strong pull towards nature. Before finding Hawaii and his new favorite place, Makena Beach State Park, Zelmanov had Nevada and the Grand Canyon, although he calls it "the Canyon." After Las Vegas, he moved to Anaheim, California.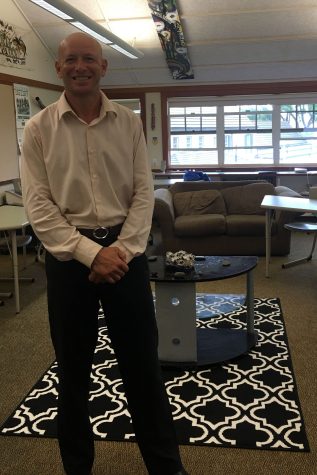 After Southern California he moved again, this time to Maui, Hawaii. This is Zelmanov's first year at Seabury Hall, where he teaches sophomore and senior English classes. He also has his first ever advisement, which he compares to a family in that you can't chose the members but you grow close and learn to love and get along with them. The members in his advisory even have their own special "Z-sign."
Zelmanov doesn't mind being a fresh face on campus, as long as he can educate students and learn from them in return. Zelmanov still considers himself a student, even now while pursuing his love of teaching, which is what he was always meant to do: "It's been like living my dream for thirteen years."
"You see people jumping around at sporting events and concerts, when they get a new car, a new house. So why can't I get excited about literature?" Zelmanov said of his style of teaching. He loves to share Shakespeare in class, his favorites being "A Midsummer Night's Dream" and, of course, "Romeo and Juliet." When he gets excited about a subject he tends to "hop around," keeping students entertained with his methods and just as engaged in the text as he is.
Zelmanov's love goes beyond teaching English in the classroom. It extends to cover all of language as a whole, "English, language itself, is beautiful. It gives us an opportunity to express ourselves in the most precise manner."
His passion for language is combined with a "fun nature" and "different energy," which is how both his advisee Zofia Kayian and senior Ian Tsang thought to describe Zelmanov.
Despite being a new faculty member, Zelmanov already feels welcome at Seabury. When asked what his favorite part about Seabury was so far, he took a long pause. After considering the question very seriously, he still had a difficult time formulating an answer. The reason was not because he couldn't think of a favorite part; he just had too many to chose from. Eventually, he chose a couple, such as sharing literature, the lunches, and how excited he is for the upcoming Shakespeare Festival.
Seeing how many kids say thank you at the end of each class was another highlight for him, as Zelmanov was not used to this from his previous teaching jobs. He said the kindness he sees in the Seabury community makes his job so much more special.
One of Zelmanov's Literary Analysis students, senior Joshua Acidera, described his experience so far as "refreshing." Acidera said that the fun Zelmanov has doing his job makes class fun as well and is excited to see how Zelmanov will continue to intertwine art, paintings, and poetry with the books they cover in class. "He's so energetic. He brings a new energy to Seabury," Acidera said. "I've never seen anyone else show appreciation for the place we live in like he does."
Bella Lallo, a sophomore in Zelmanov's World Literature class, said, "Mr Z is probably the most passionate teacher I have ever had. He makes every day in class an adventure and he lights up with joy every time he talks about literature and the knowledge of art."
Lallo went on to talk about how Zelmanov's class and unique personality make her excited to go to his class and learn. On the lessons and appreciation for beauty he has taught her already, Lallo said,
"This will be something I carry with me throughout my life."
Zelmanov's passion for nature and for literature both come together in his new job and he was so overwhelmed with gratitude to be at Seabury, saying, "For me, teaching on a tropical island surrounded by a friendly community…I mean, come on. That's a long way from a small town in Ukraine. Dreams come true. Mine did."
If Zelmanov had massive amounts of wealth, he said that he would still be in the same position today: reading a book beside the beach. However, through his new job, he can do both of these things, as well as be surrounded by students and impact how they view the world. His dream might be simpler than most, but he has achieved what he set out for and through hard work obtained his goals. His love for literature as well as his passion and charismatic nature make Mr. Yan Zelmanov an incredibly positive addition to Seabury Hall.