Mr. Aaron Romano-Meade begins a new chapter in Seabury Hall's English department
Numerous studies around the world have proven that there is a direct correlation between reading and/or writing at an early age and teaching literature. This is certainly true for Mr. Aaron Romano-Meade, an avid reader and fresh face amongst Seabury Hall's English department.
Romano-Meade was born in Rainier Beach, a small neighborhood in Seattle, Washington. He lived there for a year before moving to Sheffield, Massachusetts, where he spent most of his life. A significant portion of his childhood was spent reading book after book, mainly fiction, which became the foundation for his career today.
Romano-Meade spent sixteen years in an apartment branched off of the dormitories of Berkshire School with his parents, both of whom taught there. The school was and still is a college preparatory boarding academy much like Seabury Hall, located in the thick forests along the Appalachian Mountains.
"We were attacked by bears on a daily basis," Romano-Meade joked.
Practically growing up at Berkshire School, he and his sister became close to Seabury Hall's head of school Sarah Bakhiet, who was a sophomore at Berkshire at the time. Bakhiet kept in contact with the family, and later returned to the boarding school around ten years later to teach, getting to know him better as an extremely intelligent young adult. "He was a very quiet young man, but brilliant. He was always outstanding as a student … a self-effacing young man. He kind of stood out that way, he was known amongst his classmates as someone who was very bright," Bakhiet noted.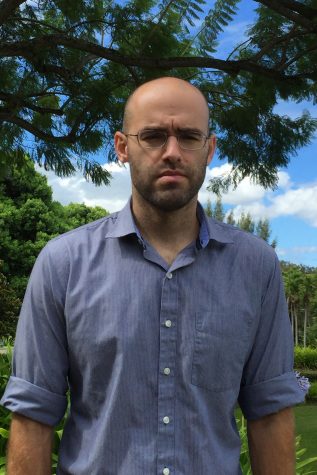 Romano-Meade later attended Colgate University, located in upstate New York, to earn a BA in history. After teaching English at schools similar to Seabury Hall, he recently received a MFA in Bilingual Creative Writing at the University of Texas at El Paso, graduating with prestigious honors. While contemplating what he would do after finishing his graduate school degree, he became stuck between two options: returning to teaching English, or working in communications for a company.
"It came down to where I wanted to live, essentially," Romano-Meade stated. "I come from a small town, so I decided that I really wanted to live in a small, rural area, or a big city. I decided that I was done with cities, and I wanted to live in a small town where I knew somebody."
After receiving a phone call from Bakhiet regarding an opening for an English position, he chose to apply. Romano-Meade moved to Maui less than a month before school began, spending time preparing for three American Literature classes, one World Literature course, and one Yearbook class.
To him, both separate parts of his English courses – language and literature – are exceedingly important. Language, as he says, is important because it "is how we do our higher-level thinking." He expressed that a good portion of our thought is "done in language," so the more we can use language to its fullest ability, "the better we can think about ourselves and the world around us. It's the best way we have."
The aforementioned other half, literature, is something he considers particularly significant, due to his time spent reading in his childhood and studying fiction in graduate school. "It's the closest thing we have to seeing what it's like to be someone else," Romano-Meade shared.
He also considers fiction to be a safe haven, as well as a perfect tool for teaching about life's imperfections and threats. "Why do we tell our kids, you know, fairy tales and monster stories? Stories from the Brothers Grimm, those were horrible," he said, referencing two prominent 18th to 19th century German fantasy writers. "It's a safe way to tell them about the dangers of the world. And fiction does that for controversial topics. Fiction is fake: these things didn't happen, these people aren't real. So, you can analyze things from a distance."
Seabury Hall's World and American Literature classes are also wonderful gateways into perspectives from all across the globe. In his experience teaching sophomores and juniors, he has noted that these courses can give students the chance to see from these perspectives.
"We just finished looking at various perspectives from John Steinbeck's 'East of Eden,' and are now looking at various documents from colonial America, such as Letters from a Farmer in Pennsylvania," stated Angela Schmitt, currently a junior in one of Romano-Meade's American Literature classes. "What's interesting is that Mr. Romano-Meade not only has us discuss what the stories are about, but also why the author might've written them and what their significance is in relation to America."
Out of the classroom, Romano-Meade enjoys reading quality fiction pieces of all genres, just like in his early years. Also a lover of the outdoors, he spends his free time mountain biking and hiking. Now that he is here on Maui, he is hoping to find new and exhilarating recreational sports to try on the water, such as paddling. Romano-Meade is also looking forward to dedicating time to getting to know his sophomore advisement, and helping out in their class garden.
The Seabury Hall community is certainly fortunate to have a brilliant, honest, and comical teacher such as Mr. Romano-Meade, who is excited to begin interacting with others around the school. "It's one of the reasons why I wanted to come back to a small school like Seabury Hall," he said. "You see [people] more than just in the classroom. You see people around at lunch and at sports games, the sense of community that exists, I really enjoy. Getting to know people as people rather than just as students in a classroom."