The sky is the limit for Seabury's ambitious and adventurous alum Kyle Ellison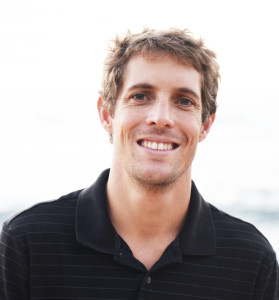 Imagine waking up at five in the morning to run three miles to school, then work out at the gym for an hour, shower and eat breakfast at school, then lead assembly as the student body president, attend multiple AP classes, participate in three different after school sports, and go to bed by nine every night. This may be difficult for Seabury Hall students to picture, as the school's rigorous coursework often seems like a feat in and of itself. But for Seabury Hall alum, Kyle Ellison, this was a typical day during his senior year.
Ellison graduated from from Seabury Hall in 2002, attended Claremont McKenna College, and has gone on to pursue a career in travel writing, as well as starting a nonprofit organization in Cambodia and his own stand up paddle company in North Carolina.
"Apparently I write for a living now," joked Ellison, who has been published in The Travel Channel, AFAR, The San Francisco Chronicle, Travel + Leisure, Escape, Maui No Ka 'Oi, Journey, Ka'anapali Magazine, Viator, AOL Travel, and Moon guidebooks, to list a few.
As a Seabury sixth grade survivor, Ellison was extremely involved in the school community. He participated in student government as a member of spirit committee for two years and as student body president his senior year. He was also involved in a number of clubs, including starting a lacrosse club. He played volleyball, tennis, baseball, ran cross country and track, and said, "In hindsight, I probably should have played basketball too. I took the winter off even though the coach at the time was trying to get me to play, but I said no to train for tennis."
"I was doing tennis, baseball, and track all at the same time. A couple times I had to do all three in one day. I would play a tennis match, then come upcountry and race in a track meet, then go back downtown to pitch in a baseball game. It was insane," said Ellison regarding his busy schedule.
Alan Hodara, one of Seabury Hall's English teachers, had Ellison as a student in his 8th grade and senior years. "Kyle was a large personality, and although he wasn't always the top student in the class, he always did work that stood out with quality. He was always a big presence in the classroom discussion and he was a fun student to have," said Hodara.
Hodara spoke very highly of Ellison and his leadership abilities, especially in student government. "He was the type of president, very much like Hayden [the current student body president], who was a personality on stage, he was a great spiritual leader in keeping everybody's moral up. He was very funny, but in addition to that he was a hard worker," he said.
Ellison felt that he was able to be so involved because of the supportive environment that he found in Seabury. "If you want to do sports, that's cool. If you want to do dance, that's great. You want to put on some weird performance in assembly? Great, go for it. There's no judgement. Not only are you encouraged to seek out what you want to do, but then you're also supported to do that. It was very inclusive and supportive. Whenever I showed up at school, I never felt like there was anything I couldn't do," said Ellison.
"I don't really remember any of the specific classes or lesson plans or things like what equations we did in math. What sticks with me 14 years later is how interactions with the teachers, or how they supported you, or talks that they gave you," Ellison reflected.
Looking back, "Teachers like Mr. Roth and Mr. Hodara who dropped the teacher thing and just talked to you about life and going to college, that is what I'll always remember the most. They were there to support you as a person and not just a student," Ellison shared.
Mr. Hodara also shared, "The most important thing to realize about Kyle was that he was the president of the school on September 11th, 2001… He and his buddy, Kevin Johnson who was the president of the senior class, took all the seniors down to the Food Bank. They had no plan, they just knew they wanted to do something. They spent the day gathering cans and getting them ready to deliver to people. Everybody sensed that something was going to change about the country and that was their response. That was the kind of leader he was."
As a Seabury Hall tradition, Ellison's class gave a senior gift when they graduated, and it has become one of the most useful and lasting gifts the school has received. The class of 2002 gifted the clock on the outside of the library.
"His contributions to the school kept going after he graduated…He's kinda the quintessential Seabury student in that he took his experience here and turned it into a life of substantial accomplishment and kept Seabury in the loop the entire time," shared Hodara.
After graduating from Seabury Hall, Ellison went on to study at Claremont McKenna College, where he was accepted early decision. He studied government with a leadership sequence, similar to a minor. He explained it to be similar to an international relations degree, as he took classes in entrepreneurship, business management, and leadership styles.
Leaving for college after high school can be a difficult transition for some, but Ellison felt well prepared. "When you're eighteen to twenty two years old, you're young and impressionable, and it's a time in your life where there's all this crazy stuff going on. The social and personal growth aspect of college is just as important, if not more important, than the academic part, becoming a well rounded human being," said Ellison.
"Seabury, aside from being an academically rigorous school that pushes you and teaches you time management, it also encourages you to pursue your interests, and gives you a confidence going into college. When you get to college, there's so many clubs, there's student government, there's so many things to get involved with, depending on where you go, but there's so much that you can do it can sometimes be overwhelming trying to pick and choose what you want to be a part of. At least when I was there, Seabury's curriculum and the way it was structured and the time we spend here, it's like we are already used to doing that. We're used to doing school, but then also being involved in a sport or club or something. It's a nice, seamless transition because you feel prepared for it already, not just because the classes are hard, but because of the overall environment that you're in," he described.
As his career in writing has developed, Ellison said, "People always ask me now that I write, 'Did you study English?' or 'Did you study journalism?' and I say 'Actually, no, I didn't.' But, with the International Relations, I read a lot and learned how to research very well. In journalism, so much of it is researching and if you write enough papers, you figure out how to put some words together and tell a story."
During his time at Claremont McKenna, Ellison studied abroad in both Spain and Greece. Although he claims to speak "terrible Spanish," he started learning it in the seventh grade and continued on through high school and for two years in college.
Living in Spain was when he finally considered himself fluent in the language. "That's when you actually learn how to speak the language, when you're living with a little old lady that's cooking in her kitchen and she doesn't know any English and you have no way of communicating besides figuring out how to talk to her. When you speak it twenty-four hours a day, that's when you really learn a language. That was twelve years ago, and I can still speak some Spanish today," said Ellison.
"That's probably what kicked off my love of traveling, being in Europe because everything is so close, you can go somewhere new every weekend," he said.
Ellison is a strong advocate for adventure and traveling around the world, especially when it comes to finding yourself. "As the world is changing so much, I think it's important to maintain flexibility to reinvent yourself, instead of just locking in to one thing. When I graduated, all I knew I wanted to do was travel," he explained. Ellison had his own DJ company in high school and continued his passion for DJing in college and then around the world.
Ellison began his love for travel writing when he started a blog during his time in New Zealand. "I was blogging before anyone knew what blogging was, before it was cool," he said with a laugh. "I was in an internet cafe in Wanaka, New Zealand and it was raining. I was traveling around in a van and there wasn't a lot I could do [because of the weather]. So I sat at the internet cafe, and I probably Googled 'How do you start a blog?' because I knew nothing. It was mainly just to update my mom and family and to tell everyone what I'd been doing. It was kinda fun, so I added a couple pictures and then I realized I should start doing it for all the places I had been already," he explained.
The first published work Ellison had was in the Haleakala Times, which is no longer running. He had just been on a camping trip to Kauai, so sent an article in about his experience. "I still remember exactly where I was standing in a house in Lahaina where I was living at the time, my phone rang and it was the editor of the Haleakala Times. He said, 'This is great, we will pay you $50.' I wasn't even expecting to be paid, and then my next thought was 'Oh, now I have to write this article.' Which I did, and it was published. Then I wrote another one on Lanai for them for another $50 and I guess that was the official start of my professional travel writing career," said Ellison.
Even though Ellison has written for many notable publishers, he remains humble about his work. "I don't think there are very many writers out there who really think they've made it because everyone is still kind of struggling to do the next thing. You kinda step back and go 'huh, I guess I have written for some pretty big places.'"
Throughout his life, Ellison has visited 65 different countries. He says that he has been "stuck" on 65 for a while, but has really been returning to countries he has already visited. "It's one thing to go to a country for two days and say that you've been there and check it off the box, which a number of those have been like that for me. It's another thing to go back to a country for a second or third or fourth time and go to new places and new areas," he shared.
One of those countries, Cambodia, holds a special place in his heart and inspired him to start a nonprofit, One Degree Forward. He was traveling in southeast Asia with Heather, who is now his wife, and they spent two weeks volunteering at an orphanage in Cambodia.
He described the orphanage as having about 60 kids, with 20 to 25 in each room. The floors are dirt and there are no mattresses, just wooden slats with three kids per bed. Seeing the kids and their living condition caused an emotional reaction and was a pivotal point in both Ellison and his wife's life.
Upon walking into the orphanage, he said, "It was just this epic windfall of feeling like everything was put in perspective, immediately all at once. You just want to call up your parents and everyone you've ever known and apologize for ever complaining about anything, and that all hits you at one time."
The children eat rice for almost every meal and drink water that is questionably clean. They play across the street in a river that is not clean and share a soccer play that they kick in a field lurking with snakes.
Ellison said, "They do go to school, maybe three of them will share an old rusty bike and go down to the government public school." Unfortunately, the teachers rarely show up because they are underpaid, and when they do show up they rarely teach the kids.
"You just feel so bad because they have no opportunity. They're smart and have the desire to learn, but no one is helping them," shared Ellison.
Now these children have a chance to attend more rigorous private schools where they have more opportunities for their future through One Degree Forward. Ellison described that he did not choose to help in Cambodia over every other country. He said, "There was just something about the Cambodian people compared to people in Thailand, Malaysia, or Vietnam. Their lust for learning was just so strong. They were just begging to learn. They don't want any money, they just literally want to talk with you to practice their English."
Ellison explained that there is a significant problem with "unscrupulous people" opening orphanages in developing countries just to make a profit. In the last ten years, he said the number of orphanages in Cambodia has nearly tripled, even though there are the same number of children.
Despite being one of the poorest countries in southeast Asia, Cambodia has a surprisingly high level of English. In the 1970s, there was a massive genocide during the Khmer Rouge regime, killing almost the entire educated class of that generation. Ellison accounts the currently high literacy rate to the Cambodian's work ethic and determination to educate themselves. "It's everyone for himself and if you don't educate yourself, if you don't work really hard in your life to get ahead, then there's nothing to save you, there's nothing to keep you from dying or being homeless. You have to work to survive, and that's a prodigy of it being such a poor country."
After volunteering for the two weeks at the orphanage, the Ellisons knew they wanted to continue to help, instead of just returning home after "a token two weeks."
"Travel is a very selfish pursuit. Really, you travel because you are interested in seeing things, you are interested in doing things. I think at some point, especially with long term travel, you realize you want to do something for someone else. For me, that point just happened to be when we were in Cambodia," Ellison shared.
When Ellison and his wife returned home from their southeast Asia adventure, they decided to help one of the orphanage staff members finish school. She was about twenty years old and dropped out of college because she also worked nights at a casino. They gave her $400 a year to help her finish, as it is only about $200 per semester for tuition there. Now, she has graduated, become fluent in English, works as the main staff member in Cambodia for One Degree Forward, has a child, and is about to buy a house. She was the first college graduate they had though One Degree Forward.
A few years later, Ellison's father visited Cambodia and had a similar experience to Kyle. They agreed to start the nonprofit together. One Degree Forward is currently helping about twenty students ranging from kindergarten to graduate school achieve their education dreams.
One student, who was about nine when Ellison first went to Cambodia, is now at the top of his class in a private school and is thinking about studying in Australia when he graduates. He aspires to be an architect and an engineer.
Reflecting back on his career and life decisions, Ellison has a lot of advice from his wide range of experiences. "Things like the writing and One Degree Forward and a lot of the traveling I've done, a lot of that would not have happened had I just known what I'd wanted to do right out of college and gone straight into a career. It probably would have been much more stable, I know I'd have more money, but I wouldn't have had the freedom or flexibility to explore these other opportunities. Every unknown dirt path leads where it's supposed to," he shared.
He also shared, "So many people ask me, 'What's the secret to being a published writer?' 90% of it is just professionalism. When someone emails you, email them back. When you have a meeting, show up on time, when someone asks you to do something, do a good job. These are basic things. Don't complain, don't take personal drama into your professional situation. I will be the first to admit that I am not the world's best writer. I didn't even study english or journalism. That's something that you learn from being in a place like Seabury or Claremont, you learn to approach things professionally."
He is currently focusing on being a father, but still plans to continue exploring the world, write about his travels, run his stand up paddle business in North Carolina, and help his dad with One Degree Forward when he can. "I'm always going to remain inquisitive and curious about other parts of the world, but I want to be doing it from a more stable platform, instead of just freelance writing," he shared.
"In 10 years, I probably see myself sitting in this [Seabury Hall college counseling] office pleading with the staff to let my son into Seabury," Ellison joked.
For those aspiring to make a difference in the world, Ellison has some words of wisdom. "Don't ever think that your idea is too small. There are so many opportunities and resources available to people now, with the internet or Kickstarter or just old fashion talking to people…My advice is just simply do it and realize that there is no greater thrill. The feeling of helping others is something that money can't buy, success can't buy, all these things in the rat race that we are chasing and materialism. The feeling of helping someone else is something that can only be accomplished by relinquishing what you want for yourself and genuinely going to help someone else. It is a fine line, because unless you're independently wealthy you still have to take care of yourself, so there's that balance of taking care of yourself and helping others. Make the time to help someone else out, even if it's just an hour a week, an hour a month, an hour ever."
"Follow your passion, but always have a backup plan. If you work hard and focus on something, you will succeed. You have to learn to thrive from rejection and failure, you're going to fail so many times and get rejection letters, it's like swimming against a current or banging your head against a wall, but eventually you break through, so just keep going. If you believe in something, just keep doing it, even when it gets hard. I wish there was some magic secret that I had, but just work hard and believe in yourself."
Ellison's life in high school seemed as if it could not become any more ambitious, but he has far surpassed that. He truly is an inspiration and continues to make a positive influence on the Seabury Hall community.