Seabury Hall alumnus Pierce White succeeds in the ever-changing world of social media
Instagram, Facebook, Snapchat, Twitter, Myspace. Sound familiar? What about the ads you see that pop up throughout the websites? Seabury alumnus Pierce White works in the advertising industry with different social media websites to communicate, promote, and reconnect. The company he works at, Vaynermedia, works with social media to promote big companies.
Since graduating from Seabury Hall, White has been working with Vaynermedia to promote different businesses through the world of social media.
In 2004, White moved to Maui from Los Angeles, California. He started at Seabury Hall during his seventh grade year, and he graduated from Seabury in 2010. During his time at Seabury, Spanish was one of his favorite classes. He managed to balance honors and AP Spanish classes while doing after school activities, such as swimming and theater.
"Seabury definitely prepared me for the rigorous expectations of college," White said while reminiscing about his high school days. "Embrace it. Seabury really preps you for the real world and the working world. I always thought wearing collared shirts was a silly rule, but Iʻve learned that you want to look presentable and I think Seabury really prepares you for that."
After graduation, White decided to attend Fordham University in New York City where he stayed for four years.
"I didn't have the typical college experience since I went to school in New York. I wanted to be somewhere where there's huge opportunities and internships and to one day find a good job," said White.
After graduating, White got an internship and eventually moved to working at Vaynermedia. At Vaynermedia, White is a communications manager and promotes companies like Bud Light, Spotify, Dove, and Mountain Dew through social media. He also advertises through press and magazines. "It's constantly changing in this line of work," said White.
During the week, White goes to work every day from nine to six, but in his free time, he enjoys going out with friends to the latest museum exhibitions, concerts, exploring the city and just hanging out.
Co-worker Emily McDonough describes White through an email to be, "Strategic, creative, thorough in a professional respect. Additionally, he is funny, conversational and am happy work so closely together."
Vaynermedia has different locations all around the world. White works in the Vaynermedia's New York City office. When White first started working, there was about 300 employees, now there is over 600 employees. Other offices are located in San Francisco, California, and London.
"I have a goal to get to London eventually. I definitely just want to grow my career whether thatʻs in advertising and maybe that means staying in social media. I want to stay in social media hopefully. It would be nice to use my Spanish when I decide to work abroad," White said when thinking about his future.
"The job you might enter after college might not exist yet, so donʻt get hung up on the biggest things that are happening right now," White said to those looking for jobs in the social media industry.
With social media evolving throughout the world people are becoming more and more connected. Advertising is now a huge part of the websites and social media we have today. With hope to move to London and have different career opportunities, White will continue to have an impact on the social media world.
About the Writer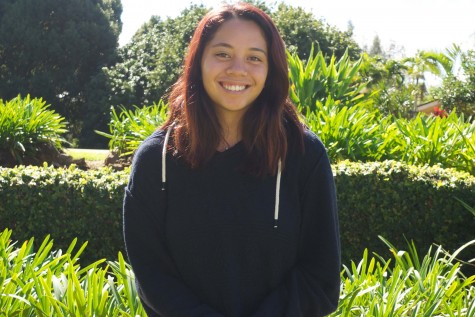 Nani Wong, Staff Writer
Growing up on the island of Maui, Seabury Hall senior Nani Wong has been blessed with adventure and beautiful scenery for all her life. Wong moved from...