Seabury Hall alumnus Alex de Roode encourages students to enjoy and protect Maui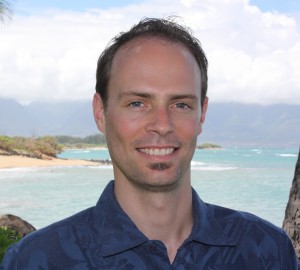 Born in France, Seabury Hall alumnus Alex de Roode made the trek to Maui during his junior year. After graduating from Seabury Hall in 1994, the experiences and knowledge he gained from his years at Seabury Hall are still helping him run a successful company that is heavily involved with environmental sustainability.
De Roode was born in Paris, France and lived the majority of his youth there. Before his junior year started, de Roode left his school and home in Paris to move to the tropical island of Maui. De Roode jumped right into Seabury Hall's events and teams. Already being fluent in French, he added English and Spanish to his growing list of languages.
De Roode remembers his time at Seabury Hall fondly. He said, "My favorite thing would be the friends I made there and the attention that the teachers gave to the students." Some specific classes still help de Roode today, such as his AP Physics class, which was his favorite class at Seabury Hall. These classes were the inspirations that pushed de Roode to where he is today.
Another class that de Roode excelled in was junior English. His teacher, Todd Van Amburgh, still remembers de Roode's success today. "He was a really good student, he was a good writer. He was interested in ideas. He wasn't just doing work. He was engaged, thinking about things," Van Amburgh recalled.
While at Seabury Hall, de Roode took part in many events and sports. Most notably, he participated on both the tennis and volleyball teams.
This Seabury Hall alumnus had his hands full at college. He attended many colleges, including, the University of Colorado, Colorado State University, and McGill University in Montreal, Canada, where he received his master's degree.
After college, de Roode pursued his passion of agricultural sustainability. He had many inspirations that led him into this career. "In part, my connection with nature, and this desire to be involved with something that helps support the natural environment," de Roode stated.
De Roode's time on Maui that sparked his interest in the environment. "A lot of that came from my time living here in Hawaii, the connection to the land and the environment," he said.
De Roode is the founder of PONOinfusions, a Hawai'i-based tea and herbal infusions company. De Roode's company is always looking out for the environment of Hawai'i, as well as providing the customers with tea and good service. De Roode has many important roles at PONOinfusions. "I am responsible for creating new business for our company and also working with our customers. Those include chefs, restaurants, cafes, coffee shops, and retail stores," explained de Roode.
That is not all the tasks that de Roode has at his company either. He also takes a very hands on approach for his business. "We grow tea on our farm in Kula. We grow tea and we process tea. We also grow and process other herbs," de Roode shared. These are ways that de Roode can connect with nature and preserve the environment.
On top of all his previous jobs, de Roode also works at the University of Hawaii as the Executive Director of the Sustainable Living Institute of Maui. However, de Roode has new plans for his future. "I'm about to change jobs, and I'll be working for the Department of Water Supply with the county of Maui," de Roode said. In this new job, de Roode will have new tasks to accomplish. "I'll be a planner for the Water Resource and Planning Division of the Department of Water Supply," he shared.
With hope that Maui's environment can be preserved, de Roode encourages all students to help the environment anyway that they can. "I think a big part is learning. Understanding what they can do. Understanding what the needs are and the different variables out there that can help preserve the environment. The other part is getting involved," he encouraged. De Roode hopes that all students can help the environment. All it takes is volunteering or getting involved however possible.
De Roode's accomplishments so far are ones to be proud of. He runs a successful company, and at the same time he helps the preserve the environment here on Maui. Seabury Hall was an instrumental part in his life, and still is today, as it gave him the inspiration, knowledge and experience he needed. By pursuing his passion and utilizing knowledge from Seabury Hall, Alex de Roode got to where he is today.