Seabury Hall's boys volleyball team is killing it this season
Sweaty, pumped up, and ready to defeat whoever is on the other side of the net, Seabury Hall's boys volleyball team is determined to make this season a strong one.
The team's record and finest game played this season was against the Hana Dragons.
"The best game we've played in so far this season was against Hana, out in Hana which historically is a very difficult match because Hana is a very tough team to play against. When you're playing out in Hana it's even tougher because the fact of home field advantage, and it was just a perfect game for us where everything pretty much came together and we played as a team. We looked like the team I want us to be, the team I'm constantly getting us to," stated Coach Joshua Kulhavy-Sutherland.
Currently, the team is diligently working hard to prepare themselves for the Maui Interscholastic League (MILs), which will be held on Molokai during the last week of April.
Junior co-captain Erickson Dae Shull has no doubt the team will be successful at MILs. "Definitely. We've been able to recognize the weaknesses of the other DII MIL teams, so we have been practicing on that. We've also had the chance to play HBA which is a much better Oahu team, and we've been able to figure out where we need to strengthen ourselves," said Shull.
All the players are energetic and never step back from a challenge. "They're very hard workers. They don't spend much time complaining and there's a lot of fight in them. They're very fun to work with, always ready to work hard and do their best in anything I ask them to do," said Sutherland.
This year, the team welcomed new freshmen players, CJ Ozee and Noah Garcia, and they are enjoying seeing their skills improve more and more. Outside hitter and freshman Ozee will be playing on Seabury Hall's volleyball team for the first time, and is anxious to get out on the court. "I'd like to be able to play in a full game. That'd be nice," said Ozee.
All the players are performing well but two particular players are standing. "Shull, our libero, has stood out. He's come to every practice. He really embodies what I want our team culture to be. And [Mohalu] Aikala has stood out in the last couple of weeks. He's started putting in a lot of extra time and work, and I've seen large gains in his game," noted Sutherland.
As the season is progressing, the team is strengthening their skills by attending practices on a consistent basis and having scrimmages whenever possible.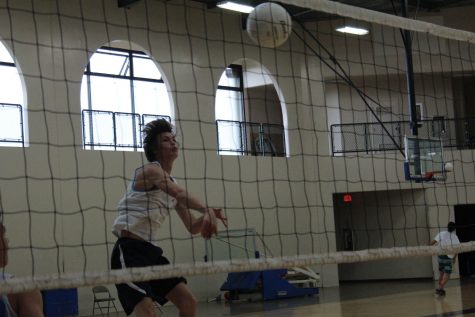 Practices give the players a chance to get out on the court, evaluate their weaknesses, and touch upon those areas. "We do lots of sprints and lots of touch jumps. But most of the time, we just play normal games against each other, not necessarily full volleyball games but just practicing certain elements of it, like defense and offense," said senior Captain Noah Jarrett.
Besides their dedication to practicing, the team is also centering their focus on improving their cooperation skills. Junior co-captain Aikala believes that the team is lacking a bit in this area, but feels that by taking certain measures, the team will be able to address the problem with ease.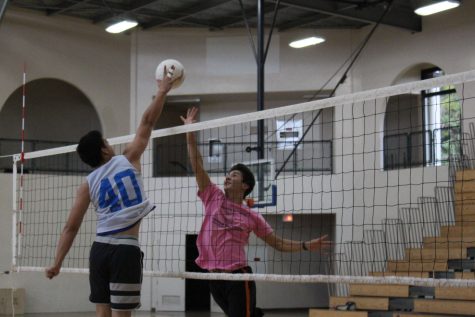 Courtesy of Erickson Shull
"I think our team dynamics are a bit lacking in the team area. Some of us don't really want to hustle as much as others, but I think that can be fixed with more bonding activities as the season progresses," Aikala said.
Made up of many determined players, the team seeks to dominate and succeed in everything they do. "[The team is] hardworking, confident, and disciplined. Every time we step out on the court, no matter who's on the other side of the net, we know that we're gonna win," stated Aikala.
Unwavering in their resolve and eager to perform to the best of their ability, Seabury Hall's boys volleyball team looks to be a notable threat for other teams in the MILs later this month.