You can run, but you can't catch Seabury Hall's girls track team
Seabury Hall's young girls track team has started off the season with a joyful energizing spirit, overcoming many obstacles and proving that their hard work has paid off. While being very young, with few seniors participating this season, the team continues to have success, beating much larger schools at meets and setting personal records.
With all this "new blood," the team brings a new vibe to the track that is "energizing," in the words of captain, Ava Shipman, who is a junior and specializes in mid-distance and distance races, ranging from 800 to 3000 meters.
"We've done very well. We have a very young team. We don't have any seniors this year…With the lack of experience, we are actually doing very well. We are improving every meet…We have a lot of people, each meet getting a PR [personal record] out of their event," commented Coach Bobby Grossman, who looks forward to the coming years with many returning runners.
As the track team continues to move through the season, each athlete must endure the grueling practices to get that gold medal placed around them at future meets. Most girls said that the hardest part of track are the work outs.
Makena Dougherty, a junior who is running track for the second consecutive year, said, "The workouts are pretty hard. They're death. They're terrible. We practice every day of the week and also Sundays." Dougherty competes in the 100 and 300 meter hurdles and the shotput.
Practices are normally about two hours and include sprinting or distance workouts. "[Practices are] really hard we do a lot of repeats [which are when an athlete does a specific event over and over again, e.g. the 200 ran eight times] and they have to be under certain times," explained freshman Maile Dougherty, who runs the 400 and 4×4 relay and does the long and triple jump.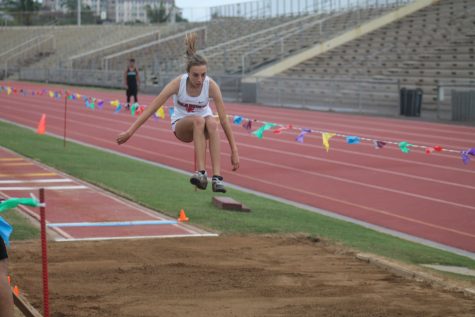 Track is a great way to teach students hard work and perseverance. Athletes must stick with it and work hard almost every day pushing past both mental and physical barriers. Captain Ava Shipman said, "It is very fun. I encourage a lot of people to run track because not only is it good for you physically, it is also good for you mentally because you get to really push yourself in ways that you think that you cannot." This includes pushing past what Shipman says is the hardest part of track: "your mental barrier."
One of the newest additions to the track team, freshman Maile Dougherty, commented on the perseverance and hard work that track helps you find within yourself: "Track is a really fun experience, and it teaches you how to work really hard to be good at what you do… Don't be scared just because you're a freshman to work hard and do good in your events and make friends."
Both the players and coaches hope to be successful this year and are looking forward to the competition that track has to offer. Recently, seven girls attended J.V. champs on April 9 and won, despite having fewer runners than the other schools whose teams have at least twice as much athletes running.
Early in the season the runners of Seabury Hall competed in the Victorino Invitational and the Yamamoto Invitational, coming in second right behind the Baldwin Bears at the Victorino Invitational and taking the win at the Yamamoto Invitational.
As of now, the Baldwin Bears or the Seabury Hall Spartans are favored to win for the over all MIL season.
Coming up next for the Seabury Hall track team is the MIL championships and states. Many players aspire to stand up on the podium at the MIL championships and states. The MIL championships will be held on April 22 and 23. States will be hosted at Kamehameha Kapalama in Honolulu, Oahu on May 6 and 7.
Despite being young, the Seabury Hall's girls track team has already had great success this season. Next up for them is standing up on the podium at MILs and states. Consider coming out to support our female athletes on the track as a whirlwind of events happen all at once.