Seabury Hall's boys tennis team hopes to build a dynasty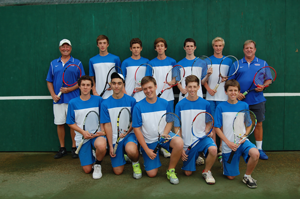 A dynasty. Only a handful of teams in sport history have earned this title. Luckily, the Seabury Hall boys tennis team has all the ingredients: experienced juniors and seniors, as well as talented underclassmen to take their place in a few years.
This season, the captains play a vital role in the team's success by providing leadership and experience for the younger players. They play a key role, as they relay information from the coaches to the players. Junior Shayan Shirkhodai, one of this year's captains, stated, "I keep everyone in order, and when coach tells me something, I get it through to the players."
The tennis head coach, Paul Albares, explained that, "The captains are a conduit of the school and the coaches, to the team. They are an interface between the coaches and the team."
Albares is an experienced coach, who has been playing tennis for 47 years, and has been coaching the Seabury tennis team for seven years. He has been very impressed with the captains this season, "They can be helpful. They can be supportive, but they can also lay the rules down," said Albares.
Senior Bjorn Nelson, the team's second captain, has some goals for himself this season. "To help the team to continue to do well," he said. Nelson has proven to be a good role model for the younger players, and his leadership skills will be missed by the team. Nelson has been a great captain for the team, but unfortunately, he is a senior and will be graduating at the end of the year.
Nelson admitted that he will miss being around the players he has been with for four years. However, he hopes to continue playing after his high school career. He said, "Hopefully I'll do some club tennis, so that I can keep going on with it." Nelson's experience and leadership will be sorely missed next season, but fortunately the team has a few freshmen ready to step in.
The team welcomed two new players this season: Sterling Sandler and Zack Walker. These two freshmen found themselves a spot on the varsity team, and they are looking to make an impact over the next four years. Sandler was very excited for the Seabury Hall tennis program. He has many goals for his high school career. He said, "My goals are to slowly go up in rank on the team." Sandler's skills will be valuable as he continues to improve over his high school career.
The freshmen have surpassed expectations and impressed the tennis team. Shirkhodai praised the freshmen, "I think we have some good talent that is upcoming, so in a couple years time I think they will be ready for a good year." Luckily, Shirkhodai is a junior, so he will be able to pass his experience down to the underclassmen next year.
All the players on the team recognize the advantages of playing for Seabury. Many of them have experience in different tennis programs, but Seabury's team stands out to them. Shirkhodai explained, "Seabury focuses a lot more on the team aspect than most other programs. At Seabury, no one is bigger than the team."
Coach Albares recognizes the drive of these athletes. He shared, "I think they are competitive. They care. It is self-motivation. We have a tennis team, but it is an individual sport."
This motivation is what led the team to an MIL title last season.
As reigning champions, the team has to watch out for teams looking to overthrow them. The entire team agrees that Maui High is a big threat.
Nelson stated, "Maui High will be our toughest competitor. We won 3-2 against them." Last year, in that game, junior Mackenzie Wilson won a great match against Maui High's number one player, Joey Baldwin, who was the number one player on Maui.
That will be a very difficult match for the team, but Shirkhodai believes they can win. He said, "I believe we can win the whole thing." That confidence will surely help the team continue to another championship.
Recently, the team has been on a hot streak. They are currently 8-0, and are practicing relentlessly to be ready for the MIL playoffs, which start April 14th. Once again at the top of their division, they are looking to build a dynasty.
The team has some great players right now, and even though they are juniors and seniors, there is up-and-coming talent to take their place when they graduate. With great captains, amazing players, experienced coaches and promising potential, the Seabury Hall tennis team is looking good now, and in many years to come.