DVD Review: 'When Marnie Was There': A not-so-lighthearted film
Based upon Joan G. Robinson's novel, "When Marnie Was There" is a 2014 animated film filled with magical fantasies and mystery. It is directed by Hiromasa Yonebayashi who debuted as a director with his movie "The Secret World of Arrietty" in 2010.
"The Secret World of Arrietty" is particularly special because it not only launched Yonebayashi's career as an independent director but also was Studio Ghibli's final production. However, Studio Ghibli fans may be a bit disappointed to learn that "When Marnie Was There" is not at all like the typical lighthearted films released previously by the studio. The plot is vague and, ultimately, the film deals with deeper issues that are difficult to understand.
Anna (voiced by Hailee Steinfeld) is a twelve-year-old girl who lives with her foster mother. Aware of the compensation her mother (Geena Davis) receives in return for raising her, she harbors resentment towards both herself and her mother, believing that she does not sincerely love her. Holding grudges within, she does not express her emotions and remains an outcast at school; she also suffers from a semi-severe case of asthma.
Hoping to help improve her health, her mother sends her to live with their relatives in the countryside. There, she meets many different people, such as a painter named Hisako (Vanessa L. Williams), a young girl named Sayaka (Ava Acres), and a mysterious blonde-haired girl named Marnie (Kiernan Shipka). Anna befriends Marnie and discovers that she has a closer relationship to her than she thought.
Although the ending is powerfully emotional and brings closure to the story, the film is, in its entirety, hard to follow at many different points because of Marnie's character. The viewers are never able to fully know if Marnie is actually a real person or just a figment of Anna's imagination. While there are some realistic aspects to Marnie, there are times when the viewer questions if this girl truly exists.
In addition, while the issues dealt with in the film encompass real-life scenarios, they are not your average twelve-year-old complexities. "When Marnie Was There" definitely involves heavier matters than what is initially presumed. The struggles of coping with death, and being able to forgive the people you bear grudges against are some issues evident within the film. Much of the film focuses on the hatred Anna feels towards her foster mother, and how she learns to forgive.
While there are flaws in the movie, the animation effects are beautifully used to enhance the artwork. Everything, from the marsh house where Anna meets Marnie to the silo she explores, is depicted in a way that coherently follows the magical nature of the plot and brings the story to life.
Notably, however, the strongest element of this film is the ending. The audience is left with a sense of contentment as everything is resolved. Both sadness and happiness are conveyed as the plot unfolds and Marnie's true identity and her relationship to Anna is revealed.
The film's animation effects exceeds all expectations of a Studio Ghibli film. The artwork is absolutely gorgeous and makes the viewer feel as if they are truly exploring the countryside with Anna. However, it strays away from its traditional whimsical, fairy-tale like plot, and delves into issues that would not be intended for a younger audience.
Overall, "When Marnie Was There" is a film you could watch if you want to kill some time on a weekend, but it is not a film that you absolutely must see.
Our grade: C
"When Marnie Was There"
Rated: PG
Length: 103 minutes
Genre: Animated, Mystery
Directed by: Hiromasa Yonebayashi
Starring: Hailee Steinfeld, Geena Davis, Kiernan Shipka, Ava Acres, Vanessa L. Williams
About the Contributor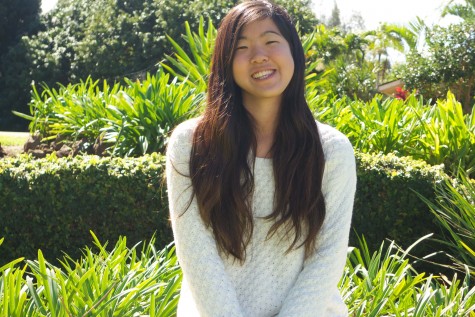 Mealani Nako, Staff Writer
Mealani Nako is currently a junior at Seabury Hall. She was born in Saitama, Japan and adopted by her parents as a baby. One day, Nako aspires to return...