Meet Heidi Bruning, a passionate teacher with a love for literature
Some people are still unsure how to answer when a person asks them what their passion is. They try to pinpoint one thing but just can't seem to figure out a response. This is definitely not the case with Seabury Hall's newest English teacher, Heidi Bruning.
You can always expect that Bruning will wholeheartedly devote herself to her students and bring her passion for literature into the classroom.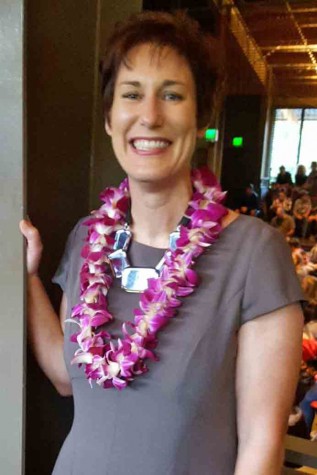 Courtesy of Heidi Bruning
Bruning was born in Harvey, Illinois. She is the youngest, growing up alongside her two older sisters. She attended Christian High School in San Diego, and she chose to attend college at the University of San Diego.
She previously taught English at La Jolla Country Day School in California for seventeen years with Seabury Hall's head of school, Sarah Bakhiet, who ultimately offered her the opportunity to teach at Seabury.
"For many years, we taught together there and we became close, you know, good friends. We enjoyed each other's company and intellect and just got along real well, and I really respect her a lot," stated Bruning.
Currently, Bruning teaches one freshman and one junior English class for Kay McLeod. She is enjoying her new classes and believes that Seabury Hall's community is comprised of many hardworking students.
"They have a lot of interests that they follow with integrity and passion, and it seems like they try to involve themselves in multiple aspects as well as things that they really enjoy doing…
They're involved in a lot of different things, so I think that's a good trait. As long as you're curious in life, I think that takes you really far," said Bruning.
Bruning has a love for reading and writing and hopes to share the beauty of it with her students. She enjoys immersing herself in poetry in particular.
"There's an immediacy and a mystery that is happening and accessibility to all these universal things and feelings and moments that are depicted in just a special, unique way. Seeing those things in a new way that makes good literature, and certainly poetry always does that. You know the root word of poetry comes from the word to make, and so you're making meaning in that process," Bruning said of her favorite literary topic to teach.
Bruning hopes to help her students become the best writers they can be and gives advice on how a student can improve their English skills: "Read. Read. Read. Read as many different kinds of texts that you can and do a lot of creative writing because when you do that, then you're sort of forced to do the craft that those writers you are reading are doing, whether it be a poem, a story, a play, or even an essay. You kind of have to figure out how do I say what I want to say in an effective way or what tone do I want to take, what emotion do I want to impart here? So when you start thinking that way then it also makes you a better reader because the two things imbue each other, the reading and the writing.
In addition to exploring the many wonders of English, Bruning enjoys hanging out with her friends and family and reminiscing about funny stories from the past. She also likes running, going for walks, exercising, watching movies, and reading.
Bruning also hopes to go traveling more often, and looks forward to being able to see the road to Hana again. "I visited Maui once in my twenties, and we went on the road to Hana, and I remember good memories of that trip we took. It was so beautiful, and I remember laying out on by the waterfalls with my sister, and it's just one of those moments that there aren't really words for. And so I would like to see it again, see how it looks now I guess, the road to Hana," said Bruning.
When asked to describe Bruning in one word, Seabury Hall English teacher Kay McLeod immediately said, "Professional. She is very well prepared, has very strong lessons, and interacts beautifully with the students. I would love to have her as a teacher for my own children."
Seabury Hall has definitely acquired another amazing, passionate teacher. Heidi Bruning is a teacher you will surely want to meet. Whether it be for editing an essay or talking about the latest release of a good book series, she will always encourage you to follow your passion and pursue it to the best of your ability.