Senior Jonah Adelman's ambition leads to an adventurous life story
Whether he is hiking up the snowy Gannet Peak in Wyoming or running a marathon in Honolulu, Seabury Hall senior Jonah Adelman takes advantage of what the outdoors have to offer.
Adelman was originally born in New Jersey, but he grew up in Arizona where his love for wandering through nature began. Adelman and his father would visit Ouray Ice Park, a man-made ice climbing park, where he would build his endurance and learn valuable skills for possibly participating in more mountain expectations.
His practice at Ouray Ice Park paid off when he climbed up Gannet Peak in Wyoming during the summer of his junior year. Covered in snow and rocky peaks, this mountain is an 9,000 foot vertical climb. Climbers must have excellent stamina as well as skill in snow and ice climbing. Adelman was the perfect candidate for this exciting alpine mountaineering challenge.
Adelmen has also found himself white water rafting the rapids through California and exploring the great forests of northern California with friends.
Adelman's family decided to move to Maui, Hawai`i three years ago to explore new hobbies. Since he has lived here, Adelman's newfound passions have been cross country, tennis, and paddling.
Adelman may seem to have his adventurous story all mapped out, but he said, "The future is questionable, at age eighteen you don't have to know what you want to be." This is what triggers his exploring mentality. Adelman never settles for average; he is always striving to try new things.
Adelman is interested in business and biology, and aspires to one day maybe put the two together, such as making a kind of chemical based soap with his skills from AP Biology and then market his brand with his business skills.
Adelman's father has taught him a lot of what he knows, and how to be a successful businessman or boss. His father, Warren Adelman, has worked for the Israeli army, and he is now the overseer of many companies. This is what triggered Adleman's curiosity for politics. "I enjoy staying updated with the news whether it's reading the morning paper or researching on my own, I do it because it's good to educate yourself and it's better than homework," said Adelman.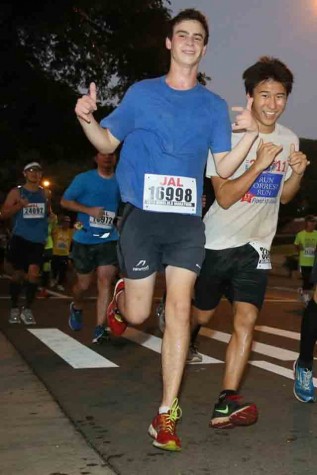 Senior Kai Iinuma-Nakaaki, Adelman's close friend, was his marathon partner in the Honolulu marathon on December 13, 2015, a race stretching over 26 miles. O`ahu was lit up with fireworks and 20,000 competitors on this December morning. The boys finished together, both under five hours.
Iinuma Nakaaki said, "I knew we would be best friends from the moment I knew he had no filter."
Adelman is self-motivated and determined. He educates himself every day with news about our world as well as finishing everything he starts. He suggests for people to take chances and try new things.