Senior Jacob Alabab-Moser is changing the world one TEDx event at a time
Jacob Alabab-Moser can easily be spotted in the hallways with his well-coordinated outfits, and his exuberant confidence as he goes about his day. Always excelling in academics, senior Alabab-Moser has incorporated other activities that have only made him stand out that much more in our Seabury Hall community.
Alabab-Moser is a bright seventeen-year-old who was born on Maui, Hawaii, and he has been attending Seabury Hall since the sixth grade. During his time at Seabury Hall, Alabab-Moser has been particularly inspired by the classes he has taken during his sophomore and senior years, especially World Literature with Mr. Strohecker and AP European History with Mrs.Tyau. Alabab-Moser said, "Mrs.Tyau really gets me excited about history, and how it is related to the world today."
When Jasmine Doan graduated from Seabury Hall in 2015, Alabab-Moser took over TEDx with co-leader junior Ava Shipman, and they have been running the TED talks at Seabury Hall ever since. The upcoming [email protected] Hall event on Sat. April 3 will mark his second event as a co-director.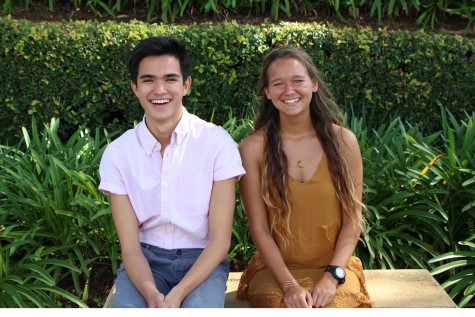 "TEDx began three years ago. Jasmine Doan came to me when she was a freshman, and said that in her junior year she wanted to do a TEDx event, which was quite an unusual request, and she followed through on it," said Seabury Hall librarian Linda Lindsay about the upbringing of TEDx at Seabury Hall.
Alabab-Moser participated in TEDx prior to leading it by directing the social media department during his sophomore year.
"The goal of TEDx is to empower students because they have a voice—to give them a place where they can voice their opinions," said Lindsay about the purpose of TEDx.
TEDx has been Alabab-Moser's primary commitment over the past two years. When asked what lured him into the program, he responded, "What really drew me to it was just being able to spread ideas openly, and not having to just learn from teachers, but instead, you get to hear from other kids."
Although Alabab-Moser and Shipman do all of the organizing, there are many factors that come into play when planning for a successful event. Lindsay said,"The speakers work hard because they have to bring their (talk) brought up to standards. They are coached by Annette Lynch, a professional voice coach."
"The topics depend on the theme," says Lindsay, "but the popular topics have to do with students' struggles and how they might have overcome them and how they have learned from them, and would like us to witness what they've done, and learn from it." The TEDx committee has released some exciting news that this year's theme will be: "Everything is Connected."
Alabab-Moser has built new connections through leading TEDx. He said, "It just really has helped me network with both adults and people. I'm really interested in the professional community on Maui, to meet new friends that don't necessarily go to Seabury, really just branching out and learning new skills I wouldn't have learned otherwise."
Through his middle school years, Alabab-Moser began making commitments to his passions, and this began with the dance department. In his free time, he enjoys taking photos, traveling, blogging, and most of all, getting to lead TEDx.
Alabab-Moser is attending Brown University in the fall of 2016, and hopes to continue being an engaged community member there in which he is a part of. Alabab-Moser admitted, "Even if I don't keep doing TEDx, I am definitely going to want to organize more events in the future."
At Brown, he not only plans to expand his organizational skills, but he also hopes to experience life as an intern, Alabab-Moser says, "Some goals I have for college are to score a really good internship with diplomat in Washington D.C, maybe." Alabab-Moser has a bright future ahead of him, anyone who knows him would agree, and we cannot wait to hear about his new experiences and achievements.
If you haven't already planned on it, find Alabab-Moser or Shipman and buy your TEDx tickets for the upcoming event on Sat. April 3 from 9:00 AM to 1:00 PM at Seabury Hall's 'A'ali'ikuhonua Creative Arts Center. Get ready to feel inspired, moved, and humbled by the dedication and passion our speakers and event-coordinators share with our Maui community.