Dancing around Seabury Hall with Miss Vanessa Cerrito
While taking a walk around the stunning Seabury Hall campus, you may encounter the sound of classical music pouring out of the dance studio. If you peek inside, you can often catch a glimpse of a woman with a perfect ballet bun on top of her head choreographing a new piece or even in the middle of teaching a barre routine to her eager students.
You may have noticed this elegant ballerina sitting outside the cafeteria with fellow faculty members during lunch, or disappearing into the PAS costume room, but did you know she has been a part of the Seabury community for almost 15 years?
Vanessa Cerrito, originally from Chicago, Illinois, has been dancing since the young age of three. "For as long as I can remember [she has wanted a career in the dance world]. There was a moment when I wanted to be a fashion designer," said Cerrito.
In the past, she has taught dance at Steps Dance Studio in California, Alexander Academy of Performing Arts on Maui, and the Maui Academy of Performing Arts.
Along with currently teaching six ballet classes a week, PE classes twice a week for middle school, and level B classes for a quarter at Seabury Hall and Carden Academy, Cerrito has also been working with costumes at Seabury Hall for about eight years.
"I don't think about it, I just do it! I just go through my day and know that it needs to get done and just keep flowing," she said with a laugh about her busy schedule.
Cerrito has not always been the bubbly and enthusiastic person she seems to be now. "When I was younger, my mom used to call me a leech because I was attached to her all the time and I wouldn't talk at all. Dancing was a really amazing outlet for me to communicate with people. That's one of the reasons why she put me in dance, because it helped me to communicate without words. I used to stutter a lot because I was so shy and nervous, and I felt way more comfortable moving and being on stage," she confessed.
"[Dance] has definitely influenced and changed my life because naturally I'm a super shy person, a very introvert type," said Cerrito.
Although she teaches ballet, she usually dances contemporary or modern. "My favorite dance that I've ever been a part of was a piece that Andre Morissette choreographed called 'Vivian,'" Cerrito shared.
Cerrito said her favorite memory on stage was performing "Vivian" on the Big Island in a studio performance. "I know it sounds really small, but this studio was amazing. It opens out onto a Japanese garden and it was the first time I'd performed it. I don't even know, something happened to me, magic happened! I became Vivian and not Vanessa, and it was incredible to really feel what it's like to portray a character," Cerrito shared.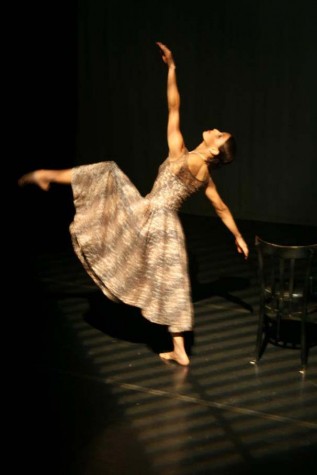 Cerrito has experienced almost every type of dance. "I used to belly dance at a restaurant in California and I was an aerial acrobat for about four years in Waikiki," she shared about her unique talents.
Cerrito now expresses her passion for dance through the classes she teaches, especially at Seabury Hall. "For the most part, the kids that I work with [at Seabury] are more serious about dance because they take ballet to further their dancing. I really enjoy the focus and interest in dance here at Seabury. It's just a joy to work with kids who are really intelligent," she said.
For students participating in the Seabury Hall dance program, ballet is an optional addition to the regular classes for their level.
"I just try and really express how much it means to me during my classes and try to keep an upbeat kind of feeling about class. I try to keep it positive and fun and lighthearted. Even though for some of us, it is our passion and something that we want to do, I still want to keep it lighthearted and fun," Cerrito said about keeping her dancers inspired in class.
"Another reason why I love working at Seabury is some of the kids stay with us in dance from 6th through 12th grade. I have had the amazing opportunity to be a part of these beautiful budding young people's lives for six years! I, as a teacher, have continually been inspired by them. I have truly learned so much from them. I get to share this beautiful art we call dance from the beginning stages all the way through the advanced level. I am so blessed this way, but when they leave, I have to say my heart breaks a little. With that said, I also feel so very excited about all the possibility that lies ahead for them," shared Cerrito honestly.
One dancer who has participated in the Seabury Hall dance program since the sixth grade, senior Emily Pluchos, speaks very highly of Cerrito as her teacher.
"She inspires me to be a better dancer every day. Her spunky attitude and positivity always keeps me going. It wouldn't have been the same these past seven years without her as my role model. We have grown so close through our passion for dance. She is like family to me," Pluchos shared in an email.
Pluchos has been dancing since the age of three and has been a member of the Seabury Hall Dance Ensemble, also known as the Company, for almost four years. Cerrito has been one of her dance instructors for the past seven years and Pluchos is now inspired to pursue dance in college. "I have many great memories with [Cerrito]! The moments I am creating with her right now would probably be some of the most important ones. We have been working on my dance piece for college auditions. There has been lots of hard work and determination, but also laughter and fun," said Pluchos, also in an email.
"My favorite part of class with [Cerrito] is working at the barre. This is where all of the strength and muscle work comes from. By pushing us to work hard and strive for success, it helps us when it comes to the real dancing and performance quality," explained Pluchos.
Lona Girardin, a Seabury Hall freshman, is also passionate about ballet class with Cerrito. Unlike Pluchos, Girardin has only been dancing for the past two years, but she shares the same enthusiasm. "My favorite part of class is choreographing our piece for the show and then getting to perform. I love it!" she shared in an email.
"Miss Vanessa always helps [me] understand certain exercises at the barre and will spend time helping me get things right. She inspires me to work hard in class and to try my best even on days where I don't want to," said Girardin.
If you are interested in joining dance, Cerrito shares how it could be beneficial to you. "Like I said, for people who are shy and have a harder time relating with other people, you become a part of a community. Especially when you start rehearsing with other people, you become very close. You build a family when you are working on a show together, so that's one of the benefits. Of course there's many physical and health benefits because it keeps you happy. Dancing has even been proved to make you smarter. It helps keep you young!" Cerrito encouraged.
To those of you aspiring in the dance world, Cerrito has some advice: "Take as many different types of dance as you can possibly take because it will keep you really versatile. Stick with it and watch as much dance as possible. Do not compare yourself to others, compare yourself to yourself and who you were yesterday rather than the person in front of you."
Cerrito recently had an advanced ballet piece called "Creative Boredom" featured in the Maui Fringe Theater Festival when the Seabury Dance Ensemble performed. She is currently working on choreography for her ballet classes to perform in the Seabury Hall Dance Showcase, which is the end of April.
Cerrito's love for inspiring young artists and sharing her passion for dance with them makes her an incredible member of the Seabury faculty. Next time you are out and about on campus, make sure you say hello!