Album Review: Adele returns with more beautiful heartache in '25'
Adele appeared in the United States in 2008 with the astounding album "19." Since then, she has released two other albums, both of which have been nothing less than spectacular. Adele's most recent album, "25," came out on Friday, Nov. 20.
The album got a lot of buzz since Adele took a four-year hiatus, during that time she strengthened her relationship and had her baby boy, Angelo. "25" sold a near record-breaking amount–more than 900k–copies on iTunes the first day. It was also the first album ever to sell a million copies in two different weeks.
"25" opens with the most popular song, according to iTunes, "Hello." It was released as a single on Friday, Oct. 23. "Hello" is definitely traditional Adele at her finest, with the deafeningly beautiful music and lyrics that seriously "gives you the feels."
Adele is known for her amazing, soulful voice and unbelievable range that never seizes to amaze. Most of her past songs deal heartbreak or relationships. This album does not seem to stray from those traditional themes, but that does not seem to affect the value of this album at all.
Most of the songs on the album are heart-wrenching anthems. The whole album is filled with beautiful piano ballads like "Remedy" and "When We Were Young." "Send My Love (To Your New Lover)" is a personal favorite, with the upbeat guitar picking and relatable lyrics.
Adele's songs do not just have exquisite music, but she can verbalize the most incredible thoughts, like "No river is too wide or too deep for me to swim to you" in "Remedy." The gently lifting song portrays that she will be there for her love interest even in the darkest times.
The saddest song on the album besides "Hello," is "When We Were Young." Listening to it might makes you want to grab a pint of cookie dough ice cream and binge Netflix with a box of tissues. The melancholic melody and touching lyrics perfectly hit you in the heart. For example, "And I swear you moved overseas / That's what you said, when you left me," and that is just two lines.
Overall, "25" does not have that many differences from Adele's previous two albums, and that's not a bad thing. Adele is amazing at performing haunting and is staying with what she know, which is definitely working for her. "25" is a great comeback for Adele, and it looks like Adele is already writing a new album. If you like Amy Winehouse, Leona Lewis, or Alicia Keys, then check out "25". You will not be disappointed.
Our Grade: A
Artist: Adele
Length: 48:25
Label: XL Recordings
About the Contributor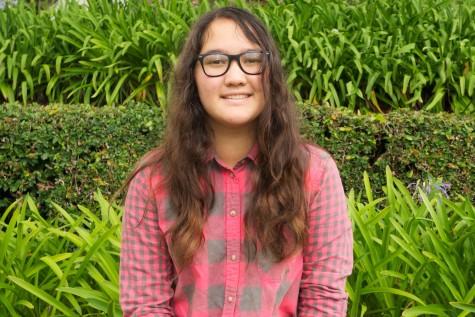 Zofia Kayian, Staff Writer
Zofia Kayian is currently a freshmen at Seabury Hall. Kayian was born and adopted from Kazakhstan in Asia, when she was six months old. When Kayian was...