Holiday gift guides for last-minute shoppers
Mother
Affordable: Make her a playlist
Ages: All ages
Price Range: $0
Description: You want something sentimental and from the heart? Make your mom a playlist of not only her favorite songs, but also yours. You can include great hits from today, as well as hits from back in her day.
Expensive: "I Love You" Bracelet
Ages: 16+
Price Range: $90
Description: What better way to show your love than an "I Love You" bracelet from Kay Jewelers? This bracelet is simple enough for those who do not want to be too fancy, yet fancy enough to wear to an event or two. Why not spoil the woman who devoted countless years of her life to raising you?
Father
Affordable: Coupon Gift
Ages: All ages
Price Range: $0
Description: The coupon gift is a great way for you and your dad to connect! You could make five coupons, each saying something different. It is another way of an "IOU." One of your coupons could say, "Free foot rub: Good for one year" or "Free car wash: Good for one year."
Expensive: NFL Apparel
Ages: All ages
Price Range: $10+
Description: What guy doesn't love football? Get your father a football jersey, mug, hat, jacket, or helmet. Every team has a fan. You can even get something that is autographed.
Brother
Affordable: Stance Socks
Address: Shapers, 275 W. Kaahumanu Ave, Kahului, HI 96732
Ages: All ages
Price Range: $10-30
Description: Stance socks are socks with pictures or designs on them. There are hundreds of socks to choose from. This gift is the perfect gift for boys all ages and sizes, and it's one your brother can keep forever.
Expensive: Bodyboards
Ages: 5+
Price Range: $100+
Description: Living in Hawai'i, most boys either know how or want to know how to bodyboard. If your brother is one of those boys, getting a him a nice new bodyboard might be something to consider. They come in all different shapes, sizes, and colors. Find out which one fits your brother best, and there you go!
Sister
Affordable: Charge Cords (MFi Certified Lightning Cords)
Ages: 11+
Price Range: $10-20
Description: Is your sister bored of her white, short, generic iPhone charger? Charge Cords are fun, colorful, extension cords for not only iPhones, but also Samsungs and so much more. Having a charge cord can save the day when your outlet plug is a little too far for a normal plug to reach. You can also choose your sister's favorite color.
Expensive: Acacia Swimwear
Ages: 14+
Price Range: $100-200
Description: Acacia swimwear is made by Maui's very own Naomi. Most girls fourteen and older love the style, print, and fabric of these bathing suits. Although expensive, it is nice to spoil your sister from time to time. There are many different prints and styles you are able to get. Perfect for a nice summer day at the beach. (Good thing Maui is summer 365 days a year.)
Boyfriend
Expensive: Wet Okole Seat Covers
Ages: 16+
Price Range: $270-810
Description – Do you have a boyfriend that has a car and goes to the beach often? If he does not already have seat covers, investing in some Wet Okole seat covers may be the perfect gift for him. These seat covers are perfect for those who never dry off before getting into their car. On the website you are able to look up seat covers for your car, the style you want, and the color that fits you. If you do not feel like doing that, you can take a drive down to their shop in town.
Girlfriend
Affordable: ZenZiva "Chocolate Body Scrub"
Ages: All ages
Price Range: $15
Description: Soft skin is the best skin, and why not smell like chocolate at the same time? ZenZiva "Chocolate Body Scrub" is something you can order online for your girlfriend. This gift is perfect because any girl, any age would be able to use it.
Expensive: Polaroid Camera + Film
Ages: All Ages
Price Range: $120-200
Description: Polaroid cameras are unique cameras that will capture and print your picture right on the spot. With a Polaroid camera, selfies just got that much better.
Best Friend
Affordable: Hydro Flask
Ages: All ages
Price Range: $20-55
Description: Want something to keep your liquids the same temperature you got it? A Hydro Flask does EXACTLY that! They are the new hip water bottle that everyone is using. You also have a variety of colors and sizes you can choose from.
Expensive: Kipa Beach Towels
Ages: All ages
Price Range: $35-70
Description: Kipa beach towels are cute, fun, and creative new towels that are not only good for the beach, but also picnics and star gazing. They come in all types of colors and shapes, and they are also good for people any age.
About the Contributor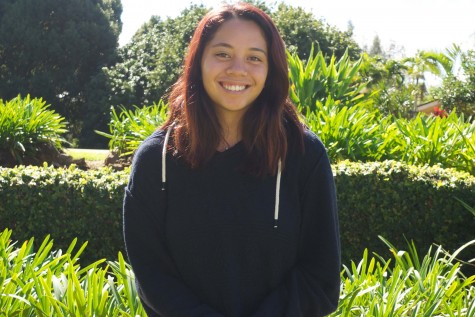 Nani Wong, Staff Writer
Growing up on the island of Maui, Seabury Hall senior Nani Wong has been blessed with adventure and beautiful scenery for all her life. Wong moved from...