Maui staycation guide: What to do when it seems like there's nothing to do
You may be feeling blue this holiday season when you hear about your best friend's adventurous plans to explore the exciting cities of Honolulu, San Francisco, New York, or Barcelona. You may worry that without any major travel plans you will be stuck at home, binge watching so many seasons of "Gossip Girl" that you become sick of it (if that's even possible). Have no fear! Luckily, we live in one of the most popular holiday vacation hotspots with a bunch of things to do. Whether you're stuck on the Southside or spending the day out in the West, here is your guide to a Maui staycation.
Kihei/Wailea/Makena
Start your morning right with a hearty breakfast at Kihei Caffe or an acai bowl at Wow Wow Lemonade (my personal favorite is the No Ka Oi bowl). Once full and ready for the fun day ahead, take a 15-minute drive out to Big Beach in Makena! Enjoy a sunny few hours of tanning, skimming, and bodyboarding with your friends on one of Maui's most prominent beaches. If you start feeling hungry, no worries! Kihei, Wailea, and even Makena have plenty of food options to offer. If you are hoping to spend the day at the beach, just take a walk to Big Beach's first entrance to enjoy some nachos or shave ice from Jawz Fish Tacos Truck, or take a two minute drive to find the other food trucks in Makena. If you've gotten a little bit too much sun, take a break and get a bite to eat at the ever so affordable, and my all time favorite pizza place, Pizza Madness, on South Kihei road. When it's time for sundown, head down to La Perouse, Charlie Young, or just about any beach in Kihei to watch the beautiful masterpiece in the sky come alive! The views never disappoint.
Lahaina and the West Side
If you're planning a day out on the West Side, you might want to plan ahead, as the drive can often be a drag (however, super beautiful!). Lahaina has a huge variety of places to eat, but before lunch time, head out to the popular jump spot in Kapalua: Cliff House. The water's always warm and the turtles come around often. Bring some light snacks, floaties, sunscreen, and don't forget to grab your GoPro! Or, if you are up for a bit of a longer drive, explore the natural beauty of the Olivine Pools, located around the 16th mile marker. Make sure to be safe and cautious when hiking down the lava rocks and be sure the waves are not too rough. When you start to hear your tummy grumble, head back to Lahaina for lunch at Cool Cat Cafe, or Lahaina Pizza Co. (don't forget to try one of Lahaina Pizza Co.'s mouthwatering giant chocolate chip cookies, topped with vanilla ice cream), or Teddy's Bigger Burgers. Once refueled and ready to go, drive down to Kaanapali Beach to tan on the sand, play in the waves, and get your adrenaline rushing by jumping off of Kaanapali's famous Black Rock.
Paia to Haiku
Wake up early and head down to Baldwin Beach for a calm, relaxing morning. Once you are in need of a kickstart to your day, like an energy boosting breakfast or a vanilla latte, take a walk to Paia Bay Company, or hot spot Cafe Des Amis for a heavenly crepe, or coffee. Paia is known for its adorable stores, like Alice in Hulaland, Wings, Mahina, and its multiple bikini stores, so after grabbing a bite, take some time to shop around! Later, get a group together, head into Haiku for a quick pit stop at Seabury's students' favorite, Maui Kombucha, and head out for a hike through Fairyland, Twin Falls, or Bamboo Forest (all of which lead to stunning pools at the end). Once you have returned to your car, mud caked feet and all, drive down to Ho'okipa to clean yourself up and head to Nuka for a yummy sushi dinner.
Makawao and Kula
Wake up 4:45 am. Get out of the house by 5:45. Get on your warmest coat and a pair of jeans, grab some coffee and drive up to the Haleakala Crater to watch a stunning sunrise. It will feel like a dream as you watch the sun begin to shine over the island. Now that you are up and it is early in the morning, pick up some donuts from Komoda Store and Bakery or a bagel at Casanovas before heading up to Olinda Forest, for a beautiful day in upcountry Maui. Explore the vast and cool forest on an easy hike that can go as long (or as short) as you wish. Next, head over to Subway to pick up a couple of sandwiches and sodas and drive up to the chilly (don't forget to pack some blankets and sweaters) and peaceful land of Poli Poli. This is one of my favorite places on the island! I love driving up there, collecting pretty little flowers, bringing blankets into clear spaces in the grass and staring out into a view of all of Maui! I guarantee this day will make you feel on top of the world (and slightly exhausted in the best way).
Wailuku and Kahului
A day spent in Wailuku and Kahului is not as adventurous as the rest of the island, yet it can be nice to have a simple day snacking on popcorn and watching a movie at the mall, playing a few games at Fun Factory and checking out Pacsun's newest outfits. Don't forget that Wailuku is the home of the gorgeous Iao Valley! Although there is a fee to enter the park, us locals can flash our Hawaii state driver's license to the park ranger and get in for free. Hike a bit and dip in the freezing, yet wonderfully invigorating, stream (but be mindful of the current!) while taking in the countless shades of green beauty around you. A day at the Iao always makes you feel appreciative of home.
Hana Trip
From Paia, Hana is a two-hour (give or take a little) drive, but is totally, 100% worth it! Bring your sleeping bags and tents, get a group of friends together, and head out to the Kipahulu Campground for the weekend! This campground is in a wonderful location, complete with barbeques, and situated right next to the Ohe'o Gulch Pools, more often referred to as, Seven Sacred Pools. Just a few minutes from your campground is the Pipiwai Trail, which takes you on a gorgeous hike through a bamboo forest and leads to a 400 ft. well-worth-the-walk waterfall. This campsite is reasonably close to the beauteous Venus Pools, Red Sand Beach, Hamoa, Koki, and many more jaw-dropping sites! If you can get a group of close friends together, and you all pitch in for some snacks and gas, a weekend trip out to Hana is the perfect place to go during your Maui staycation!
About the Contributor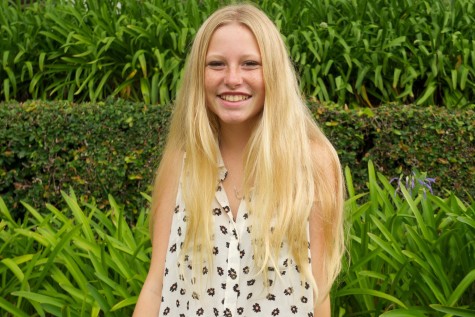 Peyton Thomas, Staff Writer
Peyton Thomas is currently a senior and is excitedly awaiting graduation day after six years at Seabury Hall! Thomas enjoys writing almost as much as she...