Junior Kalan Birnie travels abroad as a United Nations Youth Ambassador
Tokyo, Frankfurt, Geneva, and Paris were all within a week's adventure for Seabury Hall junior Kalan Birnie. As a selected participant of the United Nations (UN) Youth Ambassador program, Birnie embarked on a sponsored trip to the UN headquarters in Geneva, Switzerland.
In the lobby of the UN headquarters sits a special vase decorated with a globe, donated a couple of decades ago for the organization's 50th anniversary. Now, every five years, student representatives from around the world come together to reinforce feelings of peace and unity.
Seabury Hall alumnae Natasha Salamak, who had taken on the same position five years ago, recommended Birnie while Mr. Winham and Mr. Hodara finalized the selection process.
Traveling in a group of 10 students from eight different countries (South Korea, Japan, Mongolia, China, Indonesia, Vietnam, Cambodia, America), Birnie was one out of the three high schoolers selected, and represented our school, island, and country.
Birnie presented a talk about sustainable water rights, both as an issue and a metaphor for world peace. "The youth need to make some changes in the world, we can't keep polluting", Birnie said.
"All over the world, greed and political games get in the way of people doing the right thing. Often, we look too long at our bottom line, and not enough at the poverty line. We need to look past our cultural differences, and opposing beliefs to do something for the greater good. As youth of the world, we ask the leaders of the world to look across the aisle, across the street, across the country, across the border, and across the world, to ask themselves, fifty years from now, what their descendants will think of their actions," stated Birnie in his speech to the UN.
The opportunity to meet ambassadors and students from different countries, backgrounds, and cultures provided Birnie "a more international perspective."
In Tokyo, Birnie was impressed by the amount of recycling bins and and focus responsible waste methods, including how clean public spaces were compared to the common street litter in America. "Everywhere in Tokyo I went, there wasn't just a single trash bin, there was five separate for trash, combustibles, plastic, metals, and it was everywhere," recalled Birnie.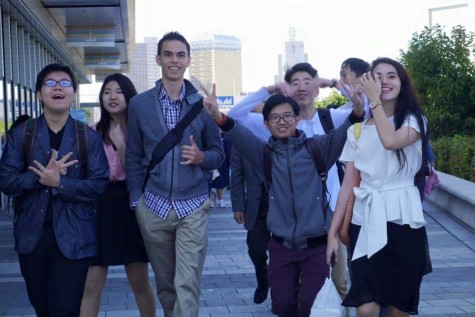 Some other subtle differences were the floor numbers, the first floor being zero rather than one in many European cities, "I got a lot of extra staircase exercises" Birnie said with a laugh.
On the plane to Geneva, Birnie was fortunate to experience a view of the Swiss Alps coming through at sunrise, and was astounded at the European architecture and autumn colors that are not present here. "Everything surprised me. It was surreal," remarked Birnie.
When in Europe, Birnie was surprised to find many speaking fluent English to him, "It was… disappointing in a way. I actually learned a little bit of French to get by, and everywhere I went, it was 'Oh you're from America, I'll speak English to you'. I wish I spoke a language where I would be challenged if I traveled somewhere outside of my country." said Kalan.
From being immersed in bilingual countries where many still spoke english to him, Birnie encourages students to learn languages outside of the normal school curriculum. "Learn more languages, it's not that hard. Almost all high schools offer Spanish or Japanese, but try to learn others like French or German."
Such opportunities offered Birnie a broader sense of the world, and chances to talk to important ambassadors that shape the UN today.
About the Contributor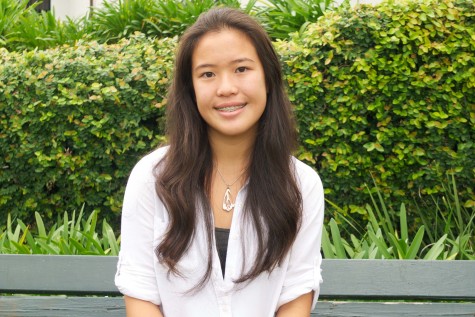 Jun Cai, Staff Writer
Jun Cai is currently a sophomore at Seabury Hall, where she has been attending school since the sixth grade. Cai was born in Shaoguan, China, and moved...