Faculty Q & A: Get to know Mrs. Makalani Tyau
Many of Mrs. Makalani Tyau's students are familiar with walking into a classroom adorned with years of art projects centered around a large harkness table. With multiple degrees in history along with a passion and background for teaching, Tyau currently teaches World History to a majority of the sophomore class, as well as AP European History to the seniors.
How long have you worked at Seabury Hall?
I actually don't know. I think 13 years or so? 12 or 13.
What brought you to Seabury?
I grew up on Maui. When I came home from university with a degree in Roman history, I thought there weren't very many high schools where I would be able teach the subject I love, and Seabury was a place that valued them. It was very close to home, and so, this is where I wanted to be.
What does your job entail?
Right now, I'm a history teacher. So I teach World History to tenth graders, and I teach AP European History to seniors.
What lead you to teaching?
Well, when I was in graduate school, I was pretty sure I wanted to be a professor actually, and the first time I stood up in front of my class (at a teaching fellowship), it was like a bell, it was just the right thing. And as I worked with my students, who were college students, I felt more and more like I wanted to teach fundamental skills, that was more important to me, so I decided to just finish my masters, and then come back and teach high school.
If you had to teach another subject besides history, what would you teach?
I have taught language arts before, so I would probably teach English. I also enjoy teaching Latin, so I can imagine teaching Latin as a language.
Did you have a certain memory from growing up here on Maui?
I'm a storyteller, so I have lots of stories. My first day in high school at Maui High—-and you know, when you're a freshman, all you want to do is survive—-it's my last block and I'm lost, and the hallways are empty because everyone is already in class. I'm walking through one of those enclosed buildings, and there's this screaming, and this enormous guy comes tearing out of the bathroom holding a sink in his hands, he throws it into the courtyard, screaming. As a freshman, I'm paralyzed. I mean, I'm not even breathing, and he turns and he looks at me, says "Honey, you lost?" And he walked me to my class, and made sure I got to my class. Even while he was ripping the sink out of the wall, he was still very gracious.
Do you have any advice for students in planning for their future?
I would say one of the most important things for high school students is leaving possibilities open for themselves. Don't close doors! Just because you aren't necessarily all that academic now, doesn't mean that you're not gonna want to do something academic later on. Just cause you think you love science, doesn't mean you're not gonna want to study something else. You want to make choices that leave lots of possibilities, for you to have choices wide open at all points in your life.
About the Contributor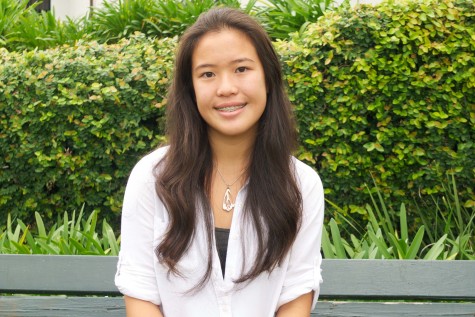 Jun Cai, Staff Writer
Jun Cai is currently a sophomore at Seabury Hall, where she has been attending school since the sixth grade. Cai was born in Shaoguan, China, and moved...