Faculty Q & A: Get to know Mr. Bill Levien
From the world of business to the world of education, Bill Levien takes lead in the technology department at Seabury Hall. Newly employed at Seabury Hall, Levien manages the technology department being a teacher and IT support. He not only helps students in class, but also helps teachers with their laptops and the Google apps. As an advisor to the teachers, and a lead advisor for the freshmen, Levien has a large role in the Seabury Hall staff.
What brought you to Seabury Hall?
I have been teaching Winterims in the middle school for the past three years. I love the sense of community and level of education of everything. Also my wife was class of '99, so I have been very familiar with Seabury Hall for a long time. Probably for the past four or five years, we have been looking for an open position that matched my skill set. When this position opened, I was very interested. That is what brought me, and also to help build the tech and computer science programs.
So far, how has the transition from the business world to the world of education been?
So before I was working from home, so a lot of my communication was through email or sometimes video chats, but mostly text-based, like instant messenger and email, and various communication tools and systems. Now everything is face-to-face, so that is very different. Also, being able to help students accomplish something. Like a lot of my classes are project-based, so being able to help someone build something that is meaningful to them. While the business world you are kind of just building something for a client who is throwing money at you. Students are generally interested in learning and building something. I think that is a big change.
What does your job entail now?
So half the job now is IT support for teachers and students, like helping keep the projector and their laptops working. Also, helping with Gmail, and the Google apps, such as Sheets and Docs. Also, helping connecting printers and kind of the maintenance of the teachers information systems. But also, the training in the software. The other half of the job is the teaching. Right now, I am teaching an introduction to programming and Arduino class; it is kind of a mash-up of electronics and programming. Next semester will be 3-D printing and robotics, and for next year, there will probably be additional courses. I am also the freshmen lead advisor.
What is something interesting about you that students would be interested to know?
I like to build boats and work on cars in my spare time, although I had to leave my boat. I built a 12 ft. motor boat, and I had to leave it in California. It was too small for the ocean.
What do you like most about building boats and cars?
I like the problem solving. A boat has 20 smaller systems that make up the boat, and if one of them doesn't work, the boat won't work. You have to build an electrical system, steering system, and things like that. It all kind of comes to together, and in the end the problem solving pays off.
Do you have any advice for students and their futures?
My advice would be to seek out the things that interest you the most and how you can apply that in the future. Things like 3-D printing and robotics where things that I missed out on in college. Mostly because I was busy playing sports, but know I kind of regret not pursuing them. So try and find time to do things that interest you the most.
About the Contributor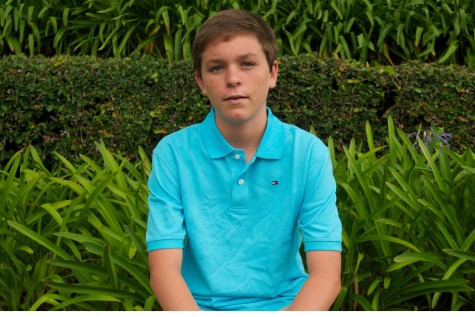 Aiden Gera, Staff Writer
Aiden Gera is a freshman attending Seabury Hall, and this is his first year attending the school. Gera was born on Maui and has lived here his whole life...