Opinion: Is Starbucks taking the merry out of Christmas?
A lowly cup is blowing up social media networks at the start of this holiday season. Isn't that a little absurd? Yet, this is the case for Starbucks holiday cups, which have unexpectedly become the topic of great controversy because of their plain red designs. Over the years, these jolly cups have gone from the Starbucks emblem surrounded by Christmas ornaments, trees, snowmen, and reindeer to this year's plain red cup, which has no visible sign of the Christmas spirit.
Since 1997, Starbucks has decorated their cups with cheerful designs in order to make people smile. This season, Starbucks has decided to give the people a shot to make their own holiday spirit. Using the blank cup as a blank canvas, customers are able to design the cup however they please, giving them an opportunity to express themselves and to give them a sense of personalization in their own holiday fascinations. Whether it be snowmen, snowflakes, or even just red and green designs, we can do whatever we think is innovating and exciting.
However, Christians around the United States are getting upset over the plain red cups because Starbucks has not only taken out the joy-filled images on the cups, but also removed a Christian point of view. Even though Christians get outraged when people put X-Mas on their cards and presents, they get even more annoyed when there are no remnants of Christ ever being in the picture.
Being a strong Christian myself, I have no problem with the changed cups and don't understand why people go bananas over the different design of a cup when there are real crises in the world worth arguing about, such as ISIS and homelessness. To me, a cup is a cup, and all I care about is its contents.
Seeking information about this controversy, I contacted Starbucks Customer Care to ask about the reasons for the dramatic change in the cup's design. In response, I received an email from Starbucks employee Yuchong M., who helped me better understand the situation and helped me realize that the red cup was not meant to cut any meaning or joy out of Christmas, but to add a new opinion and personal touch to the holiday season. He stated in his email, "Creating a culture of belonging, inclusion and diversity is one of the core values of Starbucks, and each year during the holidays we aim to bring our customers an experience that inspires the spirit of the season."
Yuchong also shared that by "Taking a cue from customers who have been doodling designs on cups for years, this year's design is another way we are inviting our customers to create their own stories on our cups."
The hashtag #redcupcontest and #redcups are making their way across Instagram and Twitter. The red cup contest is a way of letting your creativity make its way into the world-wide web. The picture that is chosen "best red cup" wins an e-gift card for Starbucks Coffee. Using the hashtag #redcups on Twitter automatically inserts a red cup emoji next to your hashtag.
Now knowing the true story behind these red cups and not just speculations from unsuspecting customers, Christians and people alike can finally stop making assumptions of the red cup and of the Starbucks industry.
So for the coffee, latte, macchiato, hot chocolate, and tea lovers, don't be disappointed in this year's design. It was made just for us!
About the Contributor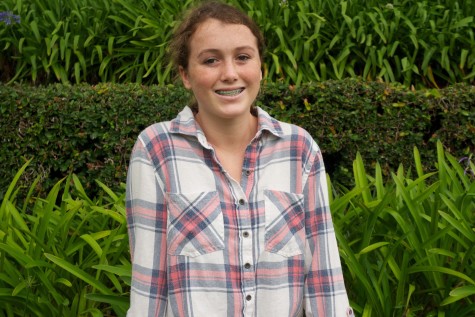 Rachel Gilbert, Staff Writer
Rachel Gilbert is a newcomer to our Seabury Hall campus. Before Seabury, Gilbert attended the small Christian school Emmanuel Lutheran. Her freshman spirit...