Exhausting but exhilarating: Celia Sanchez cheers her way to the top
Can you imagine completing all of your homework during the school day, going home to sleep for about an hour, then heading to four-hour long athletic practices, only to arrive home and fall asleep around midnight? This is the daily schedule of Seabury Hall sophomore Celia Sanchez.
Celia is a highly skilled cheerleader who competes intensively throughout the year. This schedule may seem odd for the average Seabury Hall athlete, but Celia proves that she is no average athlete.
Although intense, Celia's daily schedule of school and cheer has worked in her advantage as she has been able to successfully claim multiple national titles with her cheerleading team, the Hawaii All-Stars.
Celia's cheering career commenced at the young age of six years old. Proving to be a skilled gymnast, Celia was asked to try cheerleading. She was picked out of the crowd because of her natural ability as a young gymnast.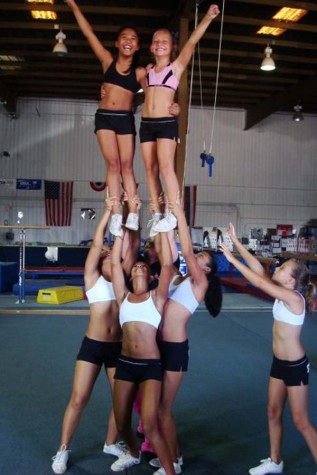 Celia explained, "A woman approached me after a gymnastics practice and asked me to try cheerleading. When she mentioned the possibility of traveling to Disneyland, I agreed."
Celia's older sister, Marina Sanchez, shared that she can barely remember a time when Sanchez was not completely immersed in cheer: "Celia has been doing cheer pretty much since she could walk. I've seen her grow up through cheer. Her entire childhood had a basis of cheerleading. It wasn't a Friday hobby. It was a four to five day a week lifestyle."
Celia has competed with two different local teams, "I began cheering with the Maui Cheers Babes, but I eventually moved on to the team I compete with now, the Hawaii All-stars," she explained.
Cheerleading is a huge commitment, both physically and emotionally. All-star cheerleading is as competitive as any sport. Celia's team is one of the most decorated cheer teams in the country and travels all over the country to compete against some of the best teams in the United States.
"We have won a bunch of national titles, and we travel to Dallas once a year for a really big competition," said Celia.
Marina commented that a typical competitive competition for Celia and her team consists of a "crazy 3,000 person packed arena full of 7-16 year old girls and their moms screaming with cow bells."
Celia's family has supported her every step of the way and has witnessed first hand the sacrifices she has chosen to make for her passion. Marina spoke of this when she said, "My sister's top priority is definitely cheer. It can be a big weight on her friendships with people who haven't seen her grow up in this sport. I really think the only people who fully understand her commitment and dedication are my parents and me, because we're the ones who are driving her to all the practices and listening to her talk about cheer constantly."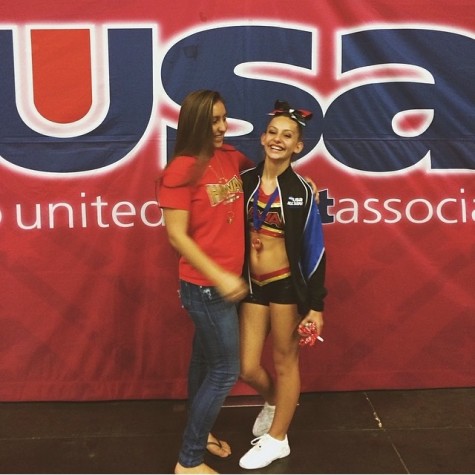 Being a member of the Hawaii All-Stars team requires sacrifice and most definitely hard work. The biggest commitment is the demanding but extremely rewarding practice that Celia attends an average of four times a week.
Celia is living proof that people should pursue their passions to the fullest extent. Marina praised her sister for her sacrifice: "Celia has missed out on a few childhood things because of cheer, and sometimes my family and I worry because it does take up about 80 percent of her time. But, ultimately, Celia is an amazing athlete. She's incredibly good at what she does and is very motivating to those around her."
As competition dates approach, Celia can be found at the gym practicing with her team every day of the week. Head coach of the Hawaii-All stars, Kealii Molina, said, "Celia is a talented cheerleader. She is all around and a standout in dance and tumbling. She is an amazing asset to our teams with a great positive attitude."
This huge commitment has taught Sanchez about drive, teamwork, focus, and determination, A friend of Celia's, Seabury Hall sophomore Skylar Lickle commends Sanchez for her commitment: "Celia is very committed to her sport, and to her team. I find it super inspiring".
Marina also commented on her sister's commitment, "She's the most committed person I know, and she won't miss a practice for basically anything. Cheerleading has taught Celia to be incredibly disciplined, and to never give up, Her commitment should be a model for anyone who wants to succeed at something. She knows how to balance life and cheer, but she also knows what it takes to win. She's incredibly and undoubtedly my inspiration."
When asked what her favorite thing about cheerleading, Celia responded, "I love the adrenaline rush that comes from competing, but really I just love beating people. It feels really good to win." Celia displays incredible drive and focus. Celia has a competitive attitude towards cheerleading that has translated into all other aspects of her life. "I am very competitive," Celia noted.
Smiling is something that all cheerleaders must do while on stage. Although this is not optional for cheerleaders, it has taught Celia a very important lesson: To never give up, and stay positive when things do not go as planned. Marina says that cheerleading has "taught her to put a smile on no matter what the situation. I've been with her when she's lost, and I've seen her world crumble, and I've been with her when she's won. In both situations she always smiles and continues on. I think that's really taught her how to deal with everyday, real life situations. She never sulks."
Celia plans on continuing cheering for the rest of her high school career and sees herself pursuing cheerleading in college. Besides her drive, focus, commitment, and natural ability, one of the most admirable qualities to Celia is her humbleness. You will never hear Celia bragging about herself or her accomplishments. She holds herself with the composure of a modest but focused athlete.
Celia Sanchez is an example for everyone to follow, because she is always focused on being her absolute best, and nothing less. The best is yet to come for this talented athlete.