Seabury Hall's Schettewi siblings surf the sea
Many students who attend Seabury Hall walk through the halls every day, passing the same kids, having no idea of the greatness and the hidden talents their peers possess. Max and Jake Schettewi, often recognized by their luscious locks, are secretly windsurfing superstars.
Max, a junior at Seabury Hall, first started his windsurfing adventure at the young age of four, and has been immersed in the sport for the past twelve years. It was not until he lived in Aruba, around age seven or eight, that Max really started to become passionate about windsurfing.
Max's brother Jake, a freshman at Seabury, also began his windsurfing career at age four when he lived in Aruba until the age of six. The brothers were influenced to try the sport by their parents.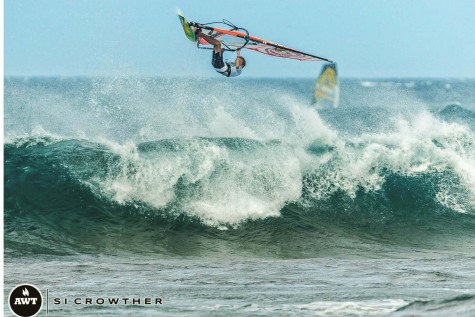 They compete in amateur and pro divisions which take them around the world. "I get to travel a lot for
windsurfing. We went on the American Windsurfing Tour (AWT) over the summer. I went to places like Santa Cruz, Pistol River in Oregon, Aruba, and Hatteras," said Max.
The Schettewi brothers are able to pursue their passion for windsurfing thanks to sponsors like Hot Sails Maui, JP Australia, and Black Project Fins.
Max and Jake are undeniably talented. One of Jake's windsurfing highlights was winning the amateur and youth divisions in Mexico during the AWT contest, and he also got fifth in the pro division while competing there. On the same tour, Max got second while in Hatteras, an island in North Carolina.
These brothers almost seem to have more hours in the day than the rest of us. Both of them have little trouble using their free blocks and study halls to complete all of their homework in time to windsurf after school. Although Max is a competitive windsurfer, he also finds time to surf, kitesurf, and paddle board, as well as run cross country for Seabury. Similarly, Jake surfs, skates, and paddle boards.
Max admires both his mentor, Jason Polakow, as well as his younger brother. "Jason has just changed the sport. He's brought it to whole new levels and rides bigger waves. And, yeah, Jake's just really motivated. He doesn't stop trying something til he gets it. When he learns something new, he says he won't come out of the water until he learns it. He stays out there 'til dark," Max said.
Jake, on the other hand, admires pro-windsurfer and his mentor Kevin Prichard, along with Ferdinando Loffreda who goes running with the brothers and helps them with their swimming and windsurfing skills.
When asked about his brother, Jake said, "We're really competitive. We push each other to do better in every competition. And every time we just go free sailing, we try to do better than each other. My brother, a thing about him I admire, he always goes for it when he windsurfs. No matter how big the wave is, he hits the top and even if he gets pounded or gets hurt he doesn't care."
Both brothers will definitely continue to incorporate the sport into their lives. "I want to keep doing it and just see where it takes me. I don't really have any plans," Jake said.
"Windsurfing will definitely be a part of my future, whether I decide to go pro or just keep it as a hobby," said Max.
When people pass their peers in the halls, they often have no idea of the greatness around them. If you take the time to get to know your community, it's amazing to find the talents everyone has. While these brothers are known for their trademark hair, there's so much more to learn about Max and Jake Schettewi.