Seabury Hall's boys cross country team sprinted to the top this season
Seabury Hall's boy's cross country team did an astounding job this past season, and they have vowed to work their hardest in the years to come. Three varsity runners were recently invited to run in the states championship, which was held on Saturday, Oct. 31. These three boys, Makoa Martin, Sam Frampton, and Jaxon Naiditch, have worked very hard to achieve this long-awaited for goal for the team.
The team was brought together as a group of friends (who are now juniors) led by Sam Frampton. The team consisted of 34 runners this season, made up of freshmen through seniors. Coach Bill Frampton stated, "They all stand out in there own ways. Several runners stand out. The junior class is loaded with these types, including David Gilbert, Josh Acidera, Chandler Dobson, Kai Mitchell, Ian Tsang, Sam Frampton, Makoa Martin, Teddy Wilson, etc."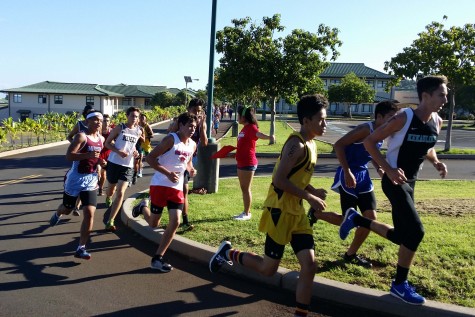 Makoa Martin, a junior at Seabury Hall, has been participating in cross country since he was an eighth grader. Martin shared some of his favorite things about running: "Running with my team and just pushing myself along with my teammates and just the feeling of leadership I guess and trying to be the best I can be."
Martin, being an extremely busy junior, as he is preparing for college next year, knows how difficult it is to balance homework with cross country. Martin says it is not easy, but he has learned to use his free blocks and study halls in order to insure success in school and in extracurricular activities. During races, Martin has specific techniques he uses in order to improve his results such as "good form, a straight back and using my arms."
Josh Acidera, a junior who has been running Seabury cross country for three years now, has his ways of being an exceptional runner and like everybody else on the team, has something to improve on. "I progressively run harder throughout the season. [During] My first race I would hold back and then when I start to get closer to the MIL and Championship races I will start running harder."
Sam Frampton, a junior and son of the team's coach, Bill Frampton, shows a softer side of the coach by stating, "He's got a very different style and it's not so focused on discipline as much as encouraging people with positivity and just to get guys to look at what they've accomplished rather than other coaches. He really pushes us to be our best and not to win but just to run to the best of our abilities."
The team will be saying goodbye to seniors who have ran this past year such as Jonah Adelman, Kai Linuma-Nakaaki, Noah Jarett, and Milo Turner. Coach Frampton shares his thoughts regarding the leaving seniors, "We will miss the seniors, but the interesting thing is that we did not have any seniors on the Championship Teams this year, so the team next year is going to be very good."
Next year, Coach Frampton wants to boys to run harder, farther, and to train earlier. He hopes to see the boys grow physically, mentally, and spiritually. "It's a balance. I do not want to over-train the boys and result in impact injuries, especially injuries that are a result of the heavy physical toll on their bodies," stated Coach Frampton, hopefully.
Coach Frampton has been coaching the boys at Seabury since 1995. In 1999, the year his son, Sam Frampton, was born, he took a break from coaching to maintain a close family life.
Coach Frampton returned to coaching in 2010, the year his nephew, Nick Colon (class of 2014) was beginning his freshman year at Seabury Hall. When Sam Frampton entered Seabury's upper school in 2013 (Colon's last year at Seabury Hall), he had mentors from his father and from his cousin. Coach Frampton has been coaching ever since.
Being a coach at the same school for such a long time, Coach Frampton has seen many different styles of runners in cross country. "One of the cool things about coaching is that there are never going to be two teams that are alike, each year they differ, each year kids grow and change, and each year you lose seniors and gain new freshman," said Coach Frampton. Since 2014, the team has flourished with an array of different styled runners.
Coach Frampton really wants to see people come to the meets especially "if you are in need of wanting to see what 'courage' looks like. The boys and girls who decide to run do so because they had the courage to decide to go for it." Seeing the boys and girls both race can be a fun way to let go of stress and to root for the Spartans.
"I am loaded with old 'tricks' and secret training techniques," Coach Frampton admitted, but he refused to share in order to keep the secret techniques a secret. "You will see results of the tricks next year," Coach Frampton added.
If anyone hopes to join the boys or girls cross country teams, it is a good way to meet some new people and make great memories. Coach Frampton and the team both advise potential runners to go to the summer running conditioning or to run independently in order to get in shape for the upcoming season.