Seabury Hall's "Cooks for KHAKO" club prepares meals for Ka Hale A Ke Ola residents
Seabury Hall students have started preparing and serving meals on the second and fourth Fridays of each month at the Ka Hale A Ke Ola Homeless Resource centers in Wailuku and Lahaina. The first meal of the year was served last Friday, September 11 when 10 students prepared sixteen pizzas for the residents.
Student leaders Sophia Jorgenson, Ana Lavongtheung, and Scout Weymouth (Weymouth is a staff member on the Seabury Tides) plan and shop for the meals prior to each Friday along with the faculty advisors Emily Lorusso, Susan Pirsch, Carson Strohecker, and Stephanie Walsh.
Middle and upper school students are encouraged to try this activity if they can find the time on a Friday afternoon since it is a great opportunity for students to complete the ten hours of community service that all sophomores, juniors, and seniors are required to complete by the end of each school year.
Juniors Tia Hill and Sabrina Hansen helped make pizza at the first dinner on September 11; it was their first time volunteering with the program. When asked about their experience, both had positive responses. "It was really fun. I got to spend time with fun people and do something that I knew would make a difference," said Hansen.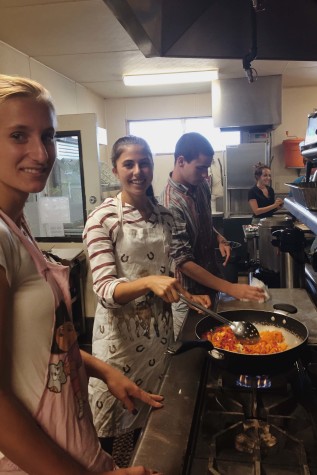 Hill also enjoyed the experience stating, "I loved seeing the smiles on people's faces as we gave them their food." Both Hill and Hansen encourage everyone to try it out.
Cooking and serving dinners at the homeless shelter on Friday afternoons has been a tradition for years at Seabury Hall. Jorgenson got involved when she heard an announcement in assembly and thought, "Wait, I should do that! I know how to cook," she said.
Jorgenson urges everyone to make an effort to participate, "it's a great way to have fun and bond with new friends and teachers, while helping people at the same time."
Jorgenson said her favorite part about cooking at the homeless shelter is "teaching other kids how to cook, and seeing the smiling faces of the residents when we are serving them".
Students who want to be involved with Seabury Cooks for KHAKO, but can't make it on Fridays can contribute by buying or baking something sweet for dessert and dropping it off in Mrs. Lorusso's room on Friday mornings.