Mr. Prather inspires his students and players to do their best
Scott Prather, Seabury Hall's very own Algebra 1, Geometry, and Algebra 2 Honors teacher and outstanding boys varsity basketball coach, has certainly made his mark on this school.
"Both as a coach and a teacher, Mr. Prather constantly brings energy and excitement on the court and in the classroom," said former student and current basketball player junior Christian Jenkins.
Growing up on Maui, Prather dreamed of everything a little kid could possibly dream of, from being a doctor to being an NBA player. "Being an NBA player has always been a huge dream of mine," stated Prather.
Prather had a normal childhood with one older brother and three younger sisters. He attended Maui High School where he played basketball for their boys varsity team.
After high school, he moved on to study business finance at University of Hawaii at Hilo. Prather also continued to play basketball when he went off to college.
In 2004, 2005, and 2006, Prather's basketball career took him to New Zealand. "The best part about playing for me was the challenge of competing against new people in a new place and also pushing myself to see how good I really was and how good I could be. It was also a dream of mine to play with and against professionals so in a way it was like a dream come true. I also felt like it was something that I had to do otherwise I would never be satisfied with my playing career," Prather said in an email.
Playing in New Zealand was a good learning experience, Prather decided to come back to his home on Maui and settle down with his family. Later, he decided to work as a math teacher at Seabury Hall. I could always see myself as a math teacher. Ever since I was young, working with numbers was always a strong quality of mine," Prather said with confidence.
With a passion for basketball, Prather decided to help coach the Seabury boys varsity basketball team. "I coached for five years here at Seabury, and I took off for three years to spend more time with my infant daughter who is now almost five," said Prather.
After taking his spot back as head coach for the boys varsity basketball team in 2014, he inspired many young students to not only do better on the court but also in the classroom.
Christian Jenkins is a student and player who has been truly inspired by Prather. "Overall, Coach Prather inspires many kids not just by his natural gifts (basketball and math), but by his dedication as well. As a student and player, I felt lost, and I felt as if I had no chance or hope, but Mr. Prather helped me realize that there is a lot going for me and he has truly inspired me to become a better student and player," said Jenkins in a text message.
Although teaching and basketball take up a huge chunk of Prather's life, he also has a home life. "Even though I love coaching and teaching kids, I also love to spend time with my wife and daughter, Skyla, who will be five in September," said Prather. "On my free time, I also enjoy going to the gym, working out, shooting around, and just keeping fit in general."
Giving kids inspiration and encouragement throughout his ten years at Seabury Hall, Prather wants to continue to be a math teacher and basketball coach. "I really enjoy working here and getting to know kids here," Prather said with a smile.
About the Contributor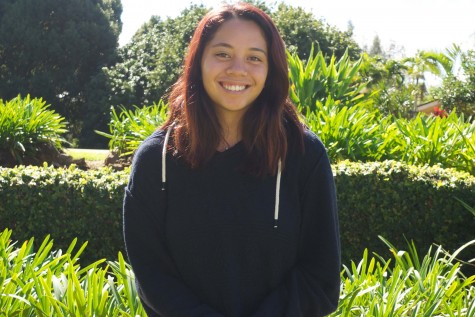 Nani Wong, Staff Writer
Growing up on the island of Maui, Seabury Hall senior Nani Wong has been blessed with adventure and beautiful scenery for all her life. Wong moved from...