Globetrotter, linguist, diplomat, and mother: Seabury Hall alumna Nikki Fox's life as a foreign service officer
From Ho Chi Minh City, Vietnam, to Harare, Zimbabwe, Seabury alumna Nikki Fox has worked as a global steward of the people, dedicating herself to diplomatic duties and assisting both foreign nationals and overseas Americans.
"I did a lot of my Winterims abroad, so I think I got that taste for foreign travel during my time at Seabury," reflected Fox.
When she is not serving internationally, Fox works in Washington, D.C. at the Department of State, currently holding a position as a Policy Advisor for Women's Issues in Africa.
Much of her workday at the State Department can be categorized into three main areas: writing and processing briefing papers and memorandums for high level officials, staying constantly connected to news coming out of Africa, and cross-referencing information from various sources in order to determine the proper response from the United States.
As a foreign service officer, Fox acts as the eyes and ears for details that her hierarchical superiors might not be as privy to. "We do a lot of the preparation of paperwork so that our high level officials know what to expect. Because they can't be on top of every scholar issue, it's up to us to be that to them," she explained, fully supporting her statement that "diplomatic work is not all cocktail parties and receptions."
Changing locations and obligations with each two-year rotation forces Fox to stay on her toes and embrace a dynamic, fast-paced mindset. In fact, that is her favorite aspect of the job.
"What I like most about my job is that it's really good for someone who has diverse interests and gets bored easily," said Fox, "It's a challenge in the sense that you're always having to figure out something new, but it's really interesting because you never get too comfortable. You could be a political officer in Italy for one tour, and on your next tour, you're doing economic work in Guatemala."
Fox gives credit to the solid educational foundation established at Seabury Hall for providing her with the ability to tackle daily tasks, particularly generating mass amounts of writing, with finesse.
"I think a lot of skills I bring to the state department are skills that I got at Seabury, especially from the English department and their emphasis on grammar," Fox elaborated.
She also reflected on the analytical thinking skills that her years at Seabury instilled in her: "[At Seabury] there really is a push for you to develop your own ideas and to defend them, and not just recycle something you learned or heard somewhere else. There's this idea that you should pick apart an argument and justify in some sort of way, and I think that served me well in university."
While her college career was hugely successful, in no way did Fox follow the typical track of majoring in the political sciences as many of her present colleagues did. During her studies at Stanford University, she vacillated between majoring in pre-medicine, English, and computer science. She eventually settled on anthropological sciences, a field that, in Fox's words, embraced both "science and robust analysis."
Fox later realized that a strictly academic career was simply not satisfying enough for her tastes.
"As an academic, you would write about a problem, but you weren't a part of the solution. So I started considering careers in policy. I ended up applying for a fellowship through the State Department that paid for me to go back to school and get a masters in international affairs. That ended up being a feeder for the State Department. I found my way to foreign policy in a very roundabout, circuitous fashion," she said, finishing with a laugh.
For now, Fox is beyond content with her job and lifestyle, but she is not quite sure what the future may hold (aside from the given fact that she will certainly be doing quite a bit of travelling). Speaking of her two-year-old daughter, Fox noted, "I think as she gets older it might be harder to move around so much."
In the meantime, however, Fox plans to stick with it. "I do really like the work. As long as it's interesting and challenging, I'll continue to do that," she affirmed.
Fox advises any student curious in pursuing a foreign affairs-related career to absolutely study abroad. With a tone of passionate enthusiasm, Fox said, "I think it's invaluable in terms of exposing you to different ways of thinking and to actual problems that people are living with."
The Seabury Hall community is as honored to have Nikki Fox as an involved alumna, as she is to call Seabury Hall her cherished alma mater. We look forward to the great things ahead for Fox and her family, and know that she will make the Spartans proud wherever she goes.
About the Contributor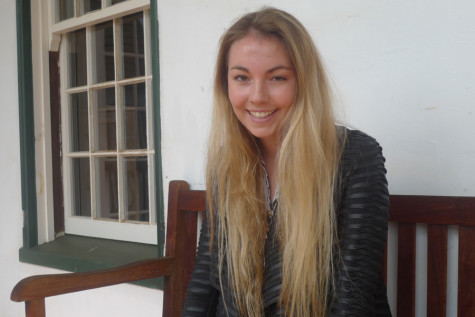 Sarah Armstrong, Staff Writer
Sarah Armstrong is currently a senior at Seabury Hall. Born in Owensboro, Kentucky, a small city known for bluegrass tunes, fried food, and being the birthplace...