Seabury Hall alumnus Nick Meyer encourages all students to follow their passions
From designing batteries to traveling to taiko drumming, Seabury Hall alumnus Nick Meyer knows how to keep himself busy. Meyer grew up in Pukalani, Maui, and went to Seabury Hall for high school. Meyer currently lives in California, and works for a nanotechnology company located in Silicon Valley.
Meyer works for Sila Nanotechnology, a company that is creating smaller, cheaper, and more efficient batteries. Although it is not very obvious, batteries are a huge part of our everyday lives, powering electronics such as cars, phones, and computers. Meyer and his team are creating a new lithium-ion battery that will be cheaper to make, lighter, more efficient, and have a higher capacity.
"One of the things that is really interesting about batteries is that it's really easy, in a sense, to make a higher capacity battery if you use really fancy materials. You can use gold, silver, platinum, all these fancy metals to make these higher energy density things. But you can't make a lot of batteries then, because they are very expensive. So our challenge is to make better batteries that are also cheap, so you aren't spending thousands of dollars for a new phone," Meyer said.
Meyer predicts that nanotechnology will play an enormous role in the future. He said, "I think it's going to be the thing that lets our technology as a whole progress to the next level. It lets you make things on such a small scale that you can dramatically increase the efficiency, and reduce cost, making the overall device better."
Before Meyer got into the technology world, however, he went to school just like the rest of us. He attended Seabury Hall for high school, and described his experience as "fun, but very busy." Meyer was on both the cross-country and swimming teams, and was also a part of the activities committee. He took Spanish and loved science and math.
Meyer's favorite teacher was Mrs. Evelyn Lacanienta, who currently still teaches chemistry at Seabury Hall. Meyer says "What really impacted me about her is that she took a really hard subject, chemistry, and she broke it down in a way that was fun and easy."
Meyer loved how he was able to do many hands-on experiments in class, and he said, "It really helped me develop an appreciation for the subject, and an understanding for what made it so neat." Mrs. Lacanienta and her class were one reason why he studied chemical engineering in college.
Seabury Hall has taught Meyer many things, and has helped prepare him for college and his jobs after. But the most important thing Seabury Hall gave Meyer was the ability to think independently, and to understand the theory and the reason behind things. He said that although some of his classmates in college knew more about a subject or knew more equations, Seabury Hall gave him a strong foundation on the theory, and let him "engage as an independent thinker rather than something to be learned and memorized."
Meyer has some advice for seniors in high school. He encourages students to try something that they think will be interesting. It could be joining a sports team, trying to learn a new language, or being a part of new clubs and activities. Trying new things, he explained, expands students' horizons and helps them to be more open to opportunities.
Another piece of advice he has for seniors is that once they find something that they are passionate about, they need to commit to it. He said, "When you are applying for a job, people don't look at the five different random activities you've done. What really impresses people is if you have done something for four years of college, and you have really dedicated yourself and tried something that you have enjoyed."
After graduating from Seabury Hall, Meyer went to college at Stanford University for four years. He majored in chemical engineering and switched from studying Spanish to Japanese. Meyer was also part of an electric car team, and built two solar-powered electric cars that he was able to race with his team across the United States as well as Australia.
Stanford provided Meyer with a solid foundation for his jobs after college, providing him with "a really strong basis in the theory and the science of chemical engineering," which helps him understand the possible outcomes that could affect a chemical plant or refinery.
"[Stanford] had also taught me to be very hands on, and to not be afraid of getting involved and trying to make something work," he added.
Right after college, Meyer worked as a chemical engineer for Chevron for five years. During his time there, he did startups and shut downs at the refineries and designed refineries. For the last three years, he worked in Bangladesh running a natural gas plant. After that, Meyer decided he wanted a change and started working at his current job at Sila Nanotechnology.
Some of Meyer's other passions include jogging, traveling, and most recently, taiko drumming, which is a type of Japanese drumming. "These things keep me pretty busy," he said.
As for the future, Meyer wants to identify the best way to turn our energy use into a lower carbon alternative, and create a business out of that. "I don't have to be the CEO or the leader or the Steve Jobs of that, but I have a strong conviction that energy is the biggest problem of our day, and I think that building a socially responsible business in that area is a pretty worthwhile challenge to work towards," he said with passion.
Meyer also has some advice to all the students out there. One is to pay attention to what we fear. "If you are thinking about alternatives or decisions or options in life, and one of them you are worried about or fearful of and the other one you are comfortable with but maybe not fully satisfied with, you should always do the one that you are scared of, because in the end, you would be proud that you made that decision to go ahead and try it," he said.
Another piece of advice he gives is to not be ashamed of liking something. Whether it be reading books, being a science geek, or playing an instrument. If someone is passionate about something, then they should go ahead and do it. He said to "put your heart into it and really own it, do more of it, because it is not worth stepping back and pulling away for practical consideration or you don't have friends doing it. In the end, you will be happy that you have done it."
About the Contributor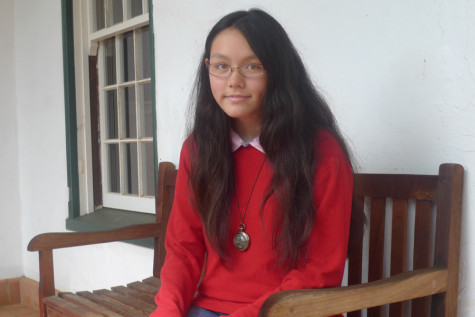 Angela Schmitt, Staff Writer
Angela Schmitt is currently a freshman at Seabury Hall. Schmitt was born on Maui and went to Haiku School during her elementary years. She went to a boarding...