Seabury Hall was a foundation to Sara Smith's success
Seabury Hall alumna Sara Smith is the founder of an eco-friendly business called Wrappily, which sells wrapping paper and crafty accessories for gifts.
Wrappily was founded in 2013. It is an alternative to the wasteful habits of wrapping gifts that have caused much harm to our environment. "It was a punch in the gut to think about this wrapping paper. You know, I love a beautiful gift, but you just tear it open and you throw it out," said Smith.
One of the main reasons why conventional wrapping paper is so difficult to recycle is that it is dyed, laminated, and adorned with all sorts of metallics. According to Smith, four million tons of wrapping paper are thrown away during the holiday season in the United States alone.
"Wrappily is a solution for a more sustainable wrapping paper. I felt that there was a need, personally, because I felt a pain and a guilt of having to throw out bags of trash after birthday parties, baby showers, weddings, etc. I would always try to smooth it out and resave it," Smith said.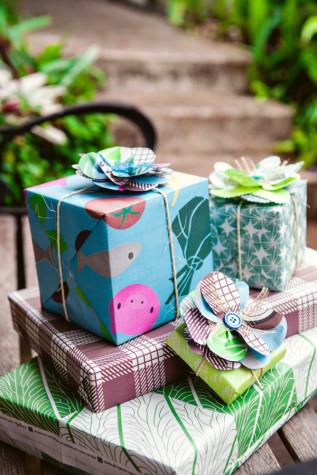 Smith tries to keep Wrappily's supply chain and carbon footprint as small as possible. The paper is made from newsprint and is completely eco-friendly. It is printed in a printing press in Washington.
"Newsprint is biodegradable. I've made seed pots that just break down into the soil. The other part is the proximity to where it's printed. I'd say about 95% of wrapping paper is printed in China," said Smith.
Smith scouts out artists for Wrappily's designs. "I've found that my most favorite aspect of Wrappily is working with the artists. Recently, I've been working more with makers [and] textile designers. It was fun. It was a challenge. It's just so much more alive, I find, the creative process and working with these people," said Smith.
In addition to working with designers, Smith has many other projects on her plate. She said, "On any given day, I can be packing and filling orders. I can be doing sales and proposals and trying to follow up on leads and working with retailers. I can be scouting artists, working with the printer. It's a lot."
Smith is also a coach at Startup Weekend Maui, which is a 54-hour event where creative and skilled individuals come together and start a business. In just one weekend, teams brainstorm ideas and receive advice for their company. Because of Smith's entrepreneurial skills, she is a judge for the Startup Weekend this May 15-17.
She lives in Kula, Maui with her family. She married her husband in 2007 and together they have two children named Ester and Odin.
Kathleen Buenger, Director of Development at Seabury Hall, first met Smith when she was the Director of Marketing at Hawaii Islands Land Trust (HILT). Buenger was the State Director for HILT at the time, which was in 2009.
"She's the best writer I've ever worked with. She has a brilliant way of getting a message out … in a way that puts people at ease, is descriptive, and can weave humor into it. So it's like a beautiful patchwork quilt. I'm going to attribute [her writing skills] to her Seabury Hall education. That laid such a great foundation for her writing," said Buenger.
Smith graduated from Seabury Hall 1992. She had gone to public school her whole life until her junior year when she enrolled at Seabury Hall. "I was the new girl. I worked really hard. Having those two years at Seabury really prepared me to be a more effective student once I got to college. I only wish that I had more years at Seabury to prepare me," Smith said.
Smith's favorite teacher, was Sally Sefton. "[There was just] so much energy and love put into her classes," said Smith. Sefton teaches world literature and speech at Seabury Hall.
Smith's favorite classes at Seabury were art and yearbook. She wishes she could go back and redo all her math classes because "I never conceptually grasped math very easily. I always, I think just like in my typically teenage defiance, was like, 'Why will we ever need to know this?' And, you actually do. I get stumped with some pretty simple math questions. I'm really lucky that my husband uses math every day. We have complimentary skills," said Smith.
Smith also said that without Seabury she "would have been in for a rude awakening" when she went off to college and stepped into the world of adulthood.
When describing Smith, Buenger said, "She has a wicked sense of humor. She is a do-er. If you assign her something, she gets it done. She's fiercely independent. She's not afraid."
Smith's drive to get things done has taken her far. She not only gives back to the planet with her eco-friendly business, but she also gives back to Seabury Hall.
Smith is on Seabury Hall's alumni board and was in charge of building the float that represented the Cooper House in the school's 50th anniversary parade.
Smith's advice to anyone starting a business is to "Do it. Go for it. Well, test it." Smith said to define your market and test it. It is all about the feedback and responding to it. Starting a business is a hard task but the first step is having the courage to go for it.
With Wrappily, her involvement in community events, and her love for the environment, Smith has shown that Seabury Hall lays a foundation for students that brings them much success in life.