Recent self-defense seminar taught valuable safety skills
On the evening of Monday, April 6, the girls of Seabury Hall's senior class had the opportunity to learn valuable self-defense skills before they head off into the unfamiliar environment of their colleges and universities. The free seminar was taught on campus by Stephanie Metzler, a Spanish teacher at Seabury Hall, as well as two professional karate instructors.
The idea from this event came from Metzler. "I taught self-defense classes before I moved here. I taught karate for at least 10 years, and have been training for 22. I just decided let's do something for the girls who are getting ready to take off," she stated.
Metzler has been training in traditional karate for over twenty years, and also has considerable experience in boxing and kickboxing. She taught the girls a combination of these skills to defend themselves.
"I really enjoyed learning about the basics of self-defense. It made me miss the martial arts classes I took as a kid. Also, an added bonus was being able to let pent up anxiety out by kicking and punching mats!" said senior Carley Coppin, who attended the seminar.
This free seminar was offered exclusively to the 12th grade girls of Seabury Hall. The seminar taught the girls how to avoid putting themselves in dangerous situations in the real world and taught them basic self defense techniques and simple martial arts moves to help the girls fight back in the case assault.
"I've heard a lot of girls talking about safety issues on college campuses, so I wanted to do something to try and help them" said Metzler. Despite the fact that only about 45 people were eligible to take the course, about 30 people attended the event.
Because almost everyone who attended the seminar said it was both fun and informative, there is a strong possibility that another event like this could happen. "I am considering doing another seminar here as well as at other schools if they think it's something that the seniors leaving would be interested in," said Metzler.
"I feel more prepared and knowledgeable about protecting myself and my friends when I go off to college," said senior Laurel Bicker, who attended the event.
Living on the small, isolated island of Maui, it is easy to forget that most other parts of the country are more dangerous than what we are used to. However, Metzler's free, fun, and informative self-defense seminar surely helped prepare graduates for a safe and happy future.
About the Contributor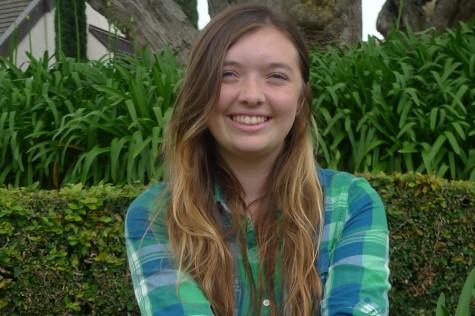 Jessica Brown, Staff Writer
Jessica Brown is a senior on the Seabury Hall Journalism staff. At the age of nine, she moved to Maui from a small town in California, and she has attended...