Opinion: From musubis to baguettes: A reflection on my trip to French Polynesia
Toothbrush, francs, racing jersey, paddle, candy, mosquito repellant, international outlet adapter, waterproof mascara, more candy, earphones, oh, and five sets of Acacias. What else would I need? MY PASSPORT!!
After a hectic goodbye at the Kahului Airport, which consisted mostly of me promising my mom a thousand times that I would try to call her when I landed, I, along with thirteen of Seabury Hall's canoe paddlers, boarded a plane to Honolulu that would at 3:00 PM take us 3,000 miles to the Papeete Airport on the island of Tahiti.
My team and I were traveling as athletes representing the state of Hawai'i in the Eimeo Canoe Race that hosts up to fifty crews, all racing for roughly eight hours around the small island of Moorea, near Tahiti. It was a six-man outrigger canoe race that holds multiple age divisions.
After the Maui Interscholastic League season came to end in February, Seabury Hall students going on the trip continued to train for the long-distance journey. As we dragged ourselves to these extra practices, we would constantly remind each other, "Just wait until were in Tahiti!" and that would be our motivation to not go home after school due to the excuse of having tons of unbearable homework.
We had planned it all out: the surreal swims in the turquoise waters, the fresh fruits on the side of the road, the French language, the friendships with the local kids, the warm Tahiti sun tanning our skin that was white from weeks of studying indoors, and the paddling in some of the most beautiful waters in all the world.
"We have now landed in Papeete, Tahiti. We hope you had a relaxing flight and have an even more relaxing vacation and/or visit home." I beamed as I heard this, but my smile was cut short when the flight attendant finished with, "Please be aware that a spread of Dengue fever has been reported, which has caused deaths, so please be careful and use mosquito spray!" What? Is it too late to stay on the plane?
A whole bottle of mosquito repellent later, we bravely made our way out of the plane and into the warm Tahiti rain that led to the airport. Suddenly, we were surrounded by thirteen kids from the Papeete paddling team, giving us many flower leis and French cheek kisses. We were then piled into a line of cars that would take us to our hostel. We arrived at the old church that had a modern building look and had an elevator that took us to the fifth story (yes, this church had five stories!), where we would be staying for the following four nights. After gazing out of my room window at the Tahitian night sky, I plopped down on my twin sized bed and stroked the soft floral bed sheets, exhaustion soon taking over my excitement of finally being in Tahiti.
If you have ever woken up in the morning to the feeling of being in a different place, you know how it is impossible suppress the warm glide of happiness, even if it's 7:45 AM. As the sunlight sneaked through our window and we tried to open our eyes, my friend and teammate Tia Hill, a sophmore at Seabury Hall, rolled over to me with a smile and giggled, "Day one on Tahiti!"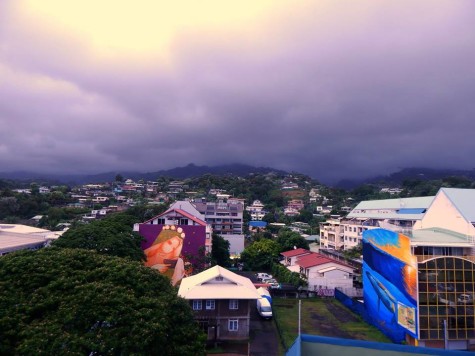 Mapu Andrade
Right after breakfast, which was filled with bread, croissants, coffee in bowls, and more bread, we waited for the "truck" or bus that would be our fine carriage throughout our stay which was basically a car dragging a box with benches inside. As we drove around the entire island, the frequent busy fruit stands, barefoot children weaving their bikes through streets, striking crystal waters littering the backyard of every house, and the way people would sit around in the shade laughing with their friends as if they planned their Mondays to do just that, seemed to be the little things that we realized were Tahiti, and we were in love.
I found myself one day venturing through the city's big market Marche Municipal. The coconut aroma of Tahiti's best oils, tropical gelato, beautiful woodwork, and irrevocably addicting coffee beans were around every corner and the streets were filled with people humbly selling their striking art and craftsmanship.
As a country that has so much less than America, the Tahitians' culture is rich, and the passion for simply living was in abundance. In their eyes, they had everything they could wish for already.
We stepped into a convenience store that the bubbling heat had led us too and walked around until we found what we needed: ice cream. But before we got too excited a second problem presented ourselves, how the heck do you count francs? After some suggestive eyebrow raises and questionable glances at the cashier he took out the necessary amount…or ripped us off, but either way we got our ice cream.
Wednesday morning came around way too fast and before we knew it we were making our last trips to the Tahitian pearl shops, saying goodbye to our Papeete friends who found a way into our hearts and played tour guide for us, and getting our tickets for the one-hour ferry ride to Moorea.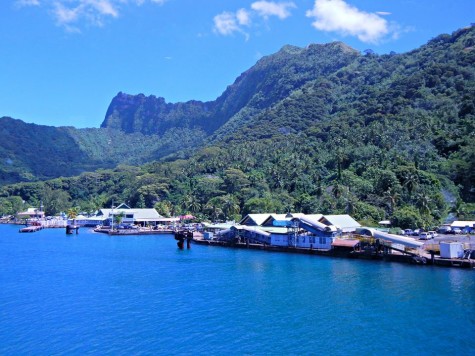 Mapu Andrade
After an hour of our coach trying to make us all quietly sit still, we were bouncing like little kids with excitement as the ferry entered the Moorea harbor. One road, one mini van, and many potholes later we stopped outside the cutest little house by the shore. Twenty minutes later our bags were unloaded, air mattresses blown up, and hammocks hung between coconut trees we were ready for our naps at our home stay. Or so we thought.
Turns out naps were not allowed! So we went for plan B: a boat ride and swimming with some sharks and stingrays. Let me tell you, the hardest part among teenagers is deciding who has to jump in first but soon we were gliding above black tips and giving mantas kisses!
Moorea stole my heart. I was stuck in a haze of happiness as we we took the forty-minute leisurely drive around the entire beautiful island, visited the happiest barefoot kids at Pomare School who could not stop dancing, pulled over for random dips in the crystal-lake waters, and found ourselves dying of laughter in our home we made of the minivan while drinking the team's new favorite drink: Orangina.
The exploring fever soon ceased when we found ourselves approaching Saturday, race day. I watched as more and more teams piled onto the shore in front of Pomare School, preparing their boats, scoping the competition, and like us, pretending to know what is going on. A sea of neon yellow, blue, pink, and orange shirts clouded the grounds of the racing site, all color coordinated by age divisions. Seeing all these different faces and accents gathering for this race made it incredible that we all carried this burning passion for one sport.
"BOOM!" The gun went off, and we were off! Gliding past the shoreline and through the fluorescent vibrancy of the transparent ocean made this race different from any other we have done before. Miles and miles around the island passing bungalows, motus, and other teams seeing our Hawaiian flag yelling "hang loose!" made our seventh place win seem more than just a small victory but also a gem of a memory.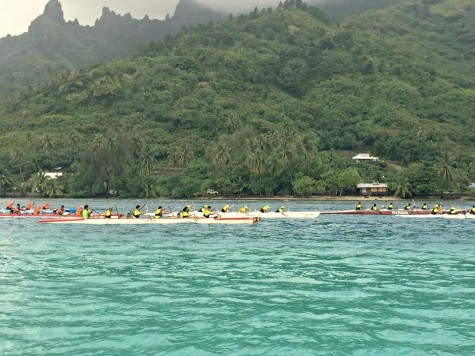 Mapu Andrade
Being in a new place but having the same drive to do something I love nurtured this perspective on the powers of finding something new. Much too soon we found ourselves boarding the ferry to head back to Papeete and arriving at the airport for our 11:00 PM flight back to reality and away from the tangible taste of the memories we created.
We all took something away from this experience, no matter how small, whether it be bringing back some pearls, embarrassing photos of sleeping positions, or new found friendships. To me, being away from the stagnant influences of all that has shaped me for the past seventeen years brought me to a place of genuine self discovery. What happens to the person you are when you are taken out of the place that taught you to be that person? It is a weird feeling, it really is, to feel that glimmer of a new beginning or chance at finding something you never knew you were looking for. Even though I found myself back at Seabury Hall on a Monday morning, I knew I would never forget what it was like to finally walk barefoot.