Opinion: 10 days of bliss: Seabury Hall's AP art history trip to France and Spain
Twelve hectic days of constant traveling. Fifty students piled into metros and buses. Six teachers. Two countries. One tour guide. This was my life for the majority of spring break.
Let's start at the beginning of this escapade. On March 13, 12 Seabury Hall students and two teachers grouped together at the entrance of OGG at 7:30 PM to catch the red-eye to Seattle. After a grueling, sleepless five-and-a-half hour flight, we touched down at the Seattle Airport.
A seven-hour-long layover later, we were off to Paris. We arrived in Paris at 8:30 AM, and were immediately on our way to explore the city. Since this was my sixth time to Paris, I had seen nearly all of the monuments we visited; however, my perspective was completely different this time around.
Watching kids my age experience France, or being out of the country for the first time was not only refreshing but also incredibly eye-opening. Don't get me wrong, the Louvre, Eiffel Tower, and Musee D'Orsay are always breathtaking and beautiful, but being able to see so many people live see it for the first time added a whole new beauty to it. It is hard to explain why exactly, but being able to experience this milestone for so many people made me appreciate the city that much more.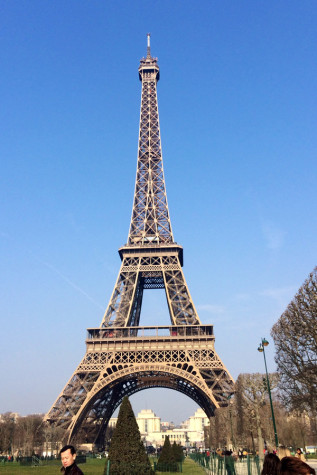 Three days later, we repacked our bags and were on a train to Provence. Paris faded away, and the countryside took over. After arriving in Avignon, we headed straight to the hotel for dinner and a good night's sleep. For our first full day on the town, we drove to Nimes to visit the ancient arena. After climbing all the way to the top, I let my legs dangle over the edge. Overlooking this new town was not only frightening but also incredible. Sitting atop a two thousand year old arena is something indescribable, making me feel very large and incredibly small in this world all at the same time.
After our visit in Nimes, we headed back to the Pont du Gard, an ancient Roman aqueduct. This was my second time at Pont du Gard, so I decided to sit down by the river and take in the phenomenal piece of architecture. I spent hours listening to music on my phone and sharing ice cream with my fellow classmates.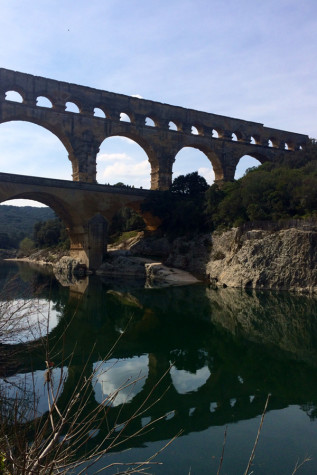 After several hours at Pont du Gard, we went back to Avignon, to walk around the town and to explore the Palais du Pap or "The Palace of the Pope."
We all walked around town after dinner, packed our bags for the next morning, and fell asleep with the bittersweet knowledge it was our last night in France.
The next morning, we started our journey to Spain. A five-hour bus drive later we were across the border, arriving in Barcelona. We piled off the bus, walked to the hotel as quickly as possible due to the chilly air, and immediately fell asleep for the night.
Shortly after breakfast the next morning, we were off to our first day on the town when we woke up. We headed to Park Guell by Antnoi Gaudi, overviewing the foggy city. After a little time there, we headed to possibly the most incredible piece of architecture I have ever seen, the Sagrada Familia, also designed by Gaudi. It resembled nothing like I had ever seen, and almost reminded me of a sand castle. It towered above the rest of the buildings, making each and every person arch their neck just to see the top of it.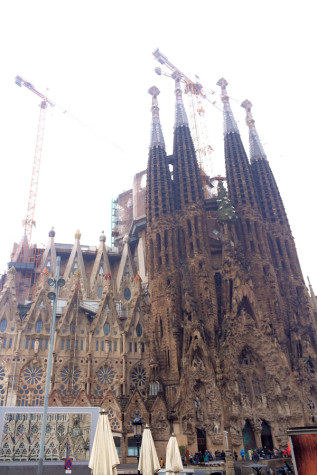 After grabbing coffee before we left, we got onto the bus and headed to the main shopping area of Barcelona and roamed in and out of shops for several hours before dinner. As the air began to cool, and the sun long gone, we headed to watch flamenco dancing. It absolutely exceeded my expectations. Ending right before midnight, we dragged ourselves back to the hotel to sleep.
Our final day in Barcelona consisted of going inside the Sagrada Familia, which was as breathtaking on inside as it was on the outside was, and walking around the same downtown area that we had the previous day.
It was our last night with the rest of the group. We were going to Madrid the next day, while they were going home, back to their everyday lives.
The next morning, the hotel felt like a ghost town. The 14 of us got onto the train and two hours later we were in Madrid.
Madrid was a blur. One moment we were at the Reina Sophia, applauding the works of Salvador Dali, and the next we were visiting our final museum of the ten-day trip, the Prado.
And then somehow, it was our last night in Europe. It was surreal; it felt as if we had been in Europe for ages, and no time at all at the same time. We packed our bags, and somehow miraculously fit everything into our carry on, regardless of the many purchases over our time there. We decided to sleep for the three hours we had left till wakeup. Then, at 2:30 AM, we took on last bus ride to the airport to go back to reality.
Overall, this trip absolutely exceeded all of my expectations. Seeing France with my fellow classmates was an experience that I will never forget, and being able to see the most famous monuments and museum in Spain only makes me want to explore the country more. The memories, laughs, and constant exhaustion will always, for me, be remembered fondly.