Mr. Carson Strohecker teaches with passion
Carson Strohecker, an English teacher in Seabury Hall's upper school, lives a life filled with passion when it comes to teaching, woodwork, music, and family.
Strohecker has taught at Seabury Hall for the past seven years after teaching at Hammond School in South Carolina for eight years. Strohecker attended Hammond School for high school. Along the way, Strohecker was inspired by some of the people whom he met.
Strohecker is inspired by a man named Paul Ragan, who was one of Strohecker's literature teachers in high school. "Paul had a kind of thing about him that you know he could actually dive into the deep reservoirs of manhood with a kind of swaggering authority of a Kalahari lion," said Strohecker.
Ragan inspired Strohecker to enjoy literature for what it really is. "He is a man of integrity, and I respect that a lot about him. I don't esteem myself as having that much integrity, but of all the things in the world, he has a good head on him, and he knows right from wrong and I like that," said Strohecker.
College was a time where Strohecker was able to enjoy what he was truly passionate about when it came to school and the outdoors. "Where I majored, Appalachian State, it's right in the mountains of North Carolina. And when I went to Appalachian, you know I was into rock climbing, and the mountain hiking activities. So I was spending a lot of time out in the mountains opposed to school. And so I did marginally well the first couple of years, but I really started to crank out and do real well junior and senior years. I mean it really was just a brilliant experience," said Strohecker.
Becoming a teacher has been in Strohecker's heart. He said, "I can't imagine a life without teaching, in some kind of way." Strohecker is "compelled" to teach he said. "I don't have to force myself in the morning to wake up and do it."
Being inspired by "the late James Dickey" Strohecker tells a story of a teacher who taught up to three days before passing away. James Dickey had such a strong passion for teaching and life, and Strohecker hopes "to be so lucky" when it comes to leading a life of teaching.
Of course all careers have positive and negative aspects. "The best thing about teaching is that the students teach me," said Strohecker. According to Strohecker, "Each student has his or her own life and a life that has helped them to form impressions, and opinions about the world before they actually get to me. So when we get into the material, and I'm well-grounded in the material so when I fire off whatever questions the process the student sort of goes through using their own experiences and so forth to shape that very material is to me just wonderful. It's the moment that I am looking for."
"The thing about Mr. Strohecker is that even though grades do matter in his class, he really puts a great emphasis on how his students think. He really wants his students to take away an ideology and just like a new way of thinking from his class. And to not only be able to take away his criticisms and ideologies from the text but to also create our own," said junior Jacob Albab-Moser, who is currently taking American Literature from Mr. Strohecker.
"It's like he's really good at guiding you to the answer. And he asks the perfect questions to make you understand it yourself," said junior Sophia Domingo.
Yet with the good comes the bad. "So that to me is anything with a computer, that's the worst," said Strohecker. "You know sometimes we fire off an email or a comment or something like that without fully using the language in it's most precise way just because we don't have enough time to do it," he said. "But I think that you have to use technology in our day and age you can't go back to paper and pencil because that's not done any more. So it's helpful without a doubt, but the use to what it's put that always always has to be questioned. And computers I don't think can be substituted for people, not at all. I think that you have to have people in order to expose you fully to new ideas and so forth, and I don't think that a computer could ever do that."
Music is prevalent in Strohecker's life. Students that have had or currently have Strohecker are used to hearing classical music playing every once in a while. Strohecker's favorite classical composer is Bach "because of the masculinity," said Strohecker.
Strohecker really enjoys using his creativity when it comes to working with nature. Using his small woodshop set up in his classroom, he is able to build guitars, and animated toys for his children. "Within the next month or so when I start to make the guitar, it's going to be a little bit better than the one I just made. This metamorphosis that takes place and I think the same kind of thing when making a guitar. Because you're taking a dead tree and you're transforming it into something that is actually life like and makes sound something like that to me is tremendously exciting. So yeah without a doubt fumbling around with planes and so forth as a young a person yeah that definitely helped," said Strohecker.
Creating animated toys for his daughter has helped Strohecker sharpen up his woodworking skills. "Animated toys are what I'm going to concentrate on. And it's also helping me to use the tools to sort of sharpen up my skills with the tooling and so forth. You can't do it all, but I think the whole getting down to business and getting down to work whether it's an essay, whether it's a guitar. You have to work, you have to be attentive, you have to be involved and often committed to the project, otherwise why do it in the first place," said Strohecker.
When Strohecker has some free moments, he writes poetry. "All I have to do is pick up a pen, or in our day and age just sit down and fumble. I think that Randall Jarrel one time said that when he looks into a little pot of black ink , what he sees is the whole cosmos. And that same kind of way when you sort of stare into that blankness you really begin to sort of create. And that I think is inspiration enough," said Strohecker.
Creativity and inspiration are easy to find in Strohecker's life when it comes to his passions through music, poetry, woodworking, and teaching.
About the Contributor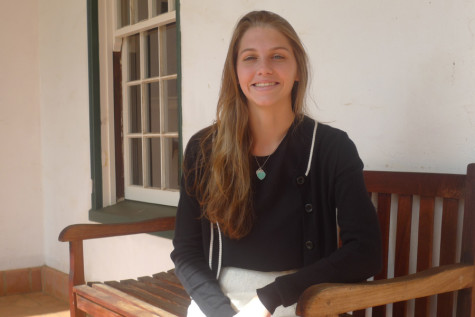 Devon Fleck, Staff Writer
Devon Fleck is currently a senior at Seabury Hall. Fleck was born in Pittsburgh, Pennsylvania. She has also lived in Texas and New York. Fleck has lived...