Opinion: Kanye West: by the people, for the people
Whether you know him as Ye, Yeezy, Yeezus, The Louis Vuitton Don, South Park's favorite rapper to bash on, or simply another celebrity shmuck, Kanye West maintains one of the most loaded names in the music industry, with a strong following of fans and critics alike.
West has displayed his talents in a variety of settings, embracing roles such as rapper, songwriter, producer, director, fashion designer, and entrepreneur. With a seventh studio album nearing release, he has already amassed a career total of 21 Grammy Awards, ranking him tenth amongst the most awarded artists of all time.
Born in Atlanta, his parents divorced at an early age; he and his mother, Dr. Donda West, then moved to Chicago where she worked as an English professor and department chair at Chicago State University. Following high school, West's mother strongly encouraged him to pursue an academic career, but, to quote his track "Hey Mama," she "still supported [him] when [he] did the opposite."
Initially entering into the music industry by means of crafting beats and producing records for up-and-coming artists, West has since endured an arduous climb to the top, his individualistic determination earning him every bit of his celebrity and matchless reputation.
He poses questions that make the public squirm, mercilessly criticizes the common man's faults by criticizing his own, and lampoons the stereotypes stacked against him. Unlike the great portion of his peers, West does not incessantly glorify drugs, sex, or other aspects of party culture. Instead, some of West's deeper lyrics address class struggles, racial discrimination, and the growing stigma against religion. His passionate tenacity, audible in West's distinctly strident tones and visible in his jarring live performances, challenges listeners, and fellow musicians, to speak out for their beliefs and not shy away from consequential controversy.
Despite his musical talent (acknowledged by even President Barack Obama), it is fairly easy to assume that West is the arrogant jerk that his occasional rash actions make him out to be. He infamously humiliated Taylor Swift, and himself, by interrupting her acceptance speech for Best Female Video at the MTV Video Music Awards in 2009, declaring, "Yo Taylor, I'ma let you finish, but Beyoncé had one of the best videos of all time." And the world cringed.
Yes, that was unquestionably disrespectful, I know. But after taking the time to try to understand West, his core principles, and where he was coming from in that moment, I have developed an almost-appreciation for his words.
While I wish he did not have to crush the innocent, unsuspecting Swift while doing so, West rightfully defended musical integrity, artistry, and creativity. Supporting West's claim, Beyoncé was awarded Video of the Year later that evening. West has admitted to outside factors contributing to his emotional outburst that night, including the premature death of his mother and alcohol intoxication, and he and Swift have since reconciled.
Kanye West is real: a real artist, a real father, a real person trying to improve the world, and, sometimes, a real jerk. But this raw honesty is exactly what makes him and his music so accessible. From humble roots to supreme stardom, West gives us all someone to believe in.
About the Contributor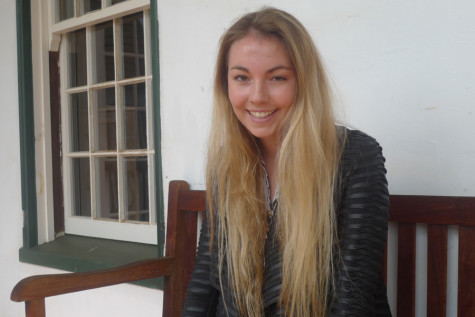 Sarah Armstrong, Staff Writer
Sarah Armstrong is currently a senior at Seabury Hall. Born in Owensboro, Kentucky, a small city known for bluegrass tunes, fried food, and being the birthplace...