Opinion: From the hallway to the runway, Seabury Hall's fashionistas know how to rock the looks
Welcome to the 2015 Hawai'i Fashion Week: The Contemporary Spartan.
The lights go down on the runway. Eager spectators gather around to watch and capture the exact sway the models take as they let their fingers run through the satin fabric of their pieces. Their faces are flushed with anticipation. The atmosphere has an electric energy that has all eyes are glued to the majestic stage, the ravenous runway, the balcony hallway of Seabury Hall's upper school.
The Sophisticated Sweetie
The first look we have today is a style that can be spotted by its classy, pastel-colored satin shirt with a buttoned-up collar adorned with attached white pearls. A high-top bun rests on the model's head as she adorns her feet with slim-heeled tan flats. The model wears a pleated skirt that rests comfortably on her waist. The trend? High-waisted hipsters.
But you are not a true sweetie without your million-dollar teacher, pleasing smile…BING! This trend seems to be taking off with a few students at Seabury Hall. It's a great go-to look that says "study bug" while dodging detention with this dress-code savvy attire.
Classic Cowgirl
Yee-haw! Watch out as this couture country girl struts down the hallway with her foxy brown boots. A bubbly smile seems to always accompany this look. A multi-colored flannel fits slimly and matches her light wash denim jeans.
If I had to pick one look that generalized an average Wednesday or an "I give up on trying on my outfits, but I still want to be cute" look, this would be it. This look is both dress-code pleasing and a "simple but sweet" statement for Seabury Hall's upcountry essence. Simply, you can never go wrong with feeling confidently put together and unstoppably fearless when approaching authority.
Daring Disciple
Down with the two-inch rulers! These rebellious delinquents look towards the endless possibilities of what "two-inches above the knees" can really mean. You can always find these detention-darting models avoiding the dress-code authority and speed walking to and from classes while trying to adjust their "original" fashion statement that keeps rising higher and higher.
But fret not, these are usually some of the cutest outfits on the hallway, paired with some classic leather combat boots and a flowing sweater. Don't let the hours of detention that come with this look intimidate you, you are bound to look like a fashionista, just maybe save it for the weekend.
Monday Mourning
Wait. Has everyone had their coffee? Look no further for those in need of some morning salvation. These models are the ones crawling on their knees from the parking lot. Their disheveled hair and testy temper are clear signs that it is, in fact, a Monday. It seems that these models could only muster enough energy to walk out the door in their favorite sweatshirt and yoga pants.
You should feel lucky if these pieces are matching because if they are, then this look might have been contemplated more than you thought. If done correctly, this look can light up the runway by being the cutest, five-minute outfit, or being stamped with the statement we can all relate to: Mondays are painful.
Brandy Melville Benefactor
You should always check your surroundings when near this model. "Is today a school day, or am I at a Brandy Melville photo shoot?" should be the question running through your head right before you realize not only are you at school but also in the presence of a real life Brandy addict.
Fitting striped tee…check.
High waisted skater skirt…check.
Baggy-knitted sweater thats two-sizes too big…check.
Religious symbol or "has been" hipster jewelry…check.
Yes, your assumptions have been proven correct. This model has it all, and before we have time to stare in awe of this effortlessly cute getup, we realize why this outfit seems so perfect. It's all from the same store. Why go with one heaven-threaded piece of clothing when you can buy them all?
Thank you for watching this year's 2015 Hawai'i Fashion Week: The Contemporary Spartan. Hopefully, you have been inspired by these looks.
I would like to leave you with this thought: The dress code at Seabury Hall designs the standards to which we create our greatest looks. It should be a respected judge, a glory guideline, the foundation to which we have made a name for our historically trendy academy. We are a melting pot of the rambunctious, inspiring, frightening, and envious looks that flood our fashion-driven halls.
Remember to be on the look for these top five models strutting (or crawling for coffee) down the hallway because chances are, they are experts on their look and can teach you a few things from testing the limits, making bed hair a statement, and finding a complete outfit in one store. Until next year, remember, stay Vogue.
With love,
The Editor
About the Contributor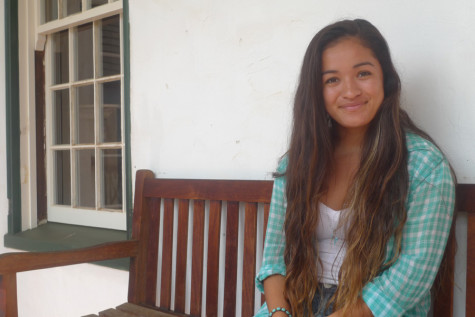 Mapu Andrade, Staff Writer
Don't be surprised if you step into Mapuana Andrade's car and find sandy floors and salty seats. Since she could walk, she is always out on the waves...