DVD Review: 'Big Hero 6' has a big heart and big cliches
The superhero genre has skyrocketed the film industry with success, bringing action and excitement to its audiences. Disney's "Big Hero 6," on the other hand, differentiates itself from previous superhero films by adapting the superhero genre into a family friendly computer animated film.
While "Big Hero 6" still consists of the usual formula found in superhero flicks, it focuses more on the human side of the film's main hero (literally named Hiro) and the relationship the protagonist shares with his robotic buddy, Baymax. It moves away from what you tend to see in comic-adapted superhero flicks, but its plot heads to a direction that is too often seen in animated Disney movies.
The plot revolves around a 14-year-old robotics prodigy named Hiro Harmada (voiced by Ryan Potter). After a tragedy strikes his life, Hiro struggles to cope through it. One day, Hiro accidentally activates an inflatable healthcare companion robot named Baymax (voiced by Scott Adsit). At first, Hiro sees Baymax as a bit of a bother and a reminder of his hardship, but when a mysterious masked supervillain emerges, Hiro decides to use Baymax as a companion in order to not only takedown this new threat, but also to discover the villain's possible connection to the tragedy that had changed Hiro's life forever.
The story to the film is pretty entertaining to watch, with plenty of good character interactions, clever humor, and cartoonish action to keep it entertaining. More importantly, though, the story is able to effectively capture emotions. Audiences truly get to see different emotions among its leading character: grief, joy, and even hatred.
Hiro and Baymax are characters who fully are explored and developed in the film. Hiro is seen transitioning out of depression through the film in a very convincingly way, having him mature into a stronger character. While Baymax is a robot that immediately appeals to the audience and is easily the most memorable character of the entire movie. Baymax has a personality that is sort of combination between a curious and innocent mind of a child, with a parent's loving and protective nature. The bond that is held between Hiro and Baymax is what is really what audiences are going to take from this movie, as the two characters' friendship fully grows and develops into a loving bond as best friends.
Hiro also casts a group of "nerds" into joining his heroic crusade and becoming his own group of lackeys. Despite the supporting cast of nerds being a fun and unique addition, they are not very significant characters. Sure, there are a few things each of the nerds can offer to the story, but it's not enough for them to feel as important as the two lead characters. Since much of the film focuses on Hiro and Baymax, that the rest of the team don't have room to develop as characters. They appear to be there to make Hiro look more good in the spotlight.
Another complaint towards "Big Hero 6" is that it all feels too familiar with many other Disney movies. Most of the plot felt like it was constructed under inspiration from multiple of Disney's past films, such as "Frozen," "The Lion King," and others, making this film feel like a cliche. In fact, the ending has probably the biggest cliche in the entire movie, seen so much in Disney's other movies. "Big Hero 6" just does not stand out as its own movie, and I just felt like I was watching another Disney film.
Of course the film would not be as effective without its spectacular animation. The animation truly bring the futuristic city of San Fransokyo to life, fully showing the vibrant world the characters inhabit. The film probably wouldn't have been as good if Disney had decided to make it a live-action movie instead.
"Big Hero 6" is basically good for what it intends to be: a target for young children to watch. It certainly will keep kids entertained with its great animation, humor, and cartoonish action. However, for general audiences, the film is alright. The plot of the film itself is pretty good, but it all feels too familiar.
Our Grade: C
Length: 102 minutes
Rating: PG
Genre: Animation, Superhero, Comedy
Directors: Don Hall, Chris Williams
Starring: Ryan Potter, Scott Adsit
About the Contributor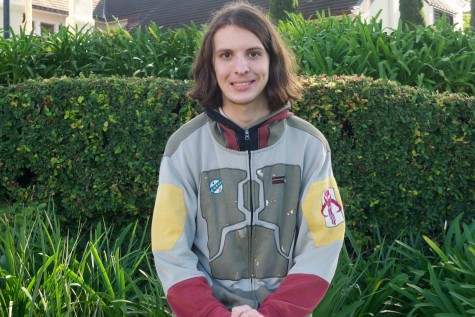 Logan King, Staff Writer
Logan King returns into the action of journalism for the second year, as he has previously been a part of the Seabury Tides staff in his junior year. He...