Review: 'Still Alice' shows the fragility of our memories
Imagine you are walking through Seabury Hall's campus and then it hits you; you realize you don't know where you're at. This frightening realization is similar to one Dr. Alice Howland experiences at the beginning of the devastating film "Still Alice." For Alice, getting lost on a regular jog is one of the first signs that her memory is changing.
Julianne Moore and Alec Baldwin star in the movie "Still Alice," which is based on Lisa Genova's novel of the same name. This movie is about a fifty-year-old women who suffers from familial Alzheimer's, which is an early-onset form of Alzheimer's that is rare.
Alice, a linguistics professor at Columbia University, starts to notice that something is not right with her memory and takes action to find out what could be wrong. A heartbreaking reality sets in, leaving Alice's life in ruin. As many of us have suffered or know someone who has suffered a tragedy, this is a movie that can be relatable.
Alzheimer's is a terrifying disease that devastates the person affected as well as family members and close friends. When Alice is first affected, the signs are quite subtle, such as forgetting words. But it progress quite quickly to where she starts to forget where she is at. As the viewers see her gripping on to her intellect and world, you become painfully aware of the suffering that Alice is going through.
Alice is aware of what is happening to herself and tries her best to hold the Alzheimer's off for as long as she can use technology. Her iPhone, at one point, becomes her everything. It helps her to remember who she was and not what she is turning into. She also uses her computer, which turns into a Pandora's box, and is used for both good and bad.
Family relationships are put to the test in "Still Alice," as an unlikely family member becomes closer to Alice. Actor Kristen Stewart plays Alice's youngest daughter, whom her siblings look down upon since she has not gone to college. Alec Baldwin, who plays Alice's husband, is shallow, and not that likeable. Alec Baldwin's acting is also shallow as if he never has played an emotional character who has dealt with tragedy.
The effects of the movie enhance the emotions the viewer feels when watching the movie. The first scene of the movie starts out with jazz music, which is more upbeat than the rest of the music that would later be played in the film. As Alice slips deeper into the Alzheimer's, the music becomes sadder; it is often piano or violin being played or both together. The special makeup around Alice's face shows that she is degrading. By the end of the film, her eyelids have a reddish hue, unlike when the movie first began and she looked healthy.
The camera angles are done well and allow viewers to seem as if they were Alice. There is often a blur added around people, things, and objects when Alice transitions from the different phases of her Alzheimer's.
Seeing a movie such as "Still Alice" allows viewers to realize how lucky they actually are to have a working mind. Not only that, but it also shows viewers how lucky they are to know and feel the love of family members and others. This movie also teaches the lessons of dealing with something that is devastating in life because life is life, unfair as it might seem.
"Still Alice"
Our Grade: A
Rating: PG-13
Length: 101 minutes
Genre: Drama
Directed by: Richard Glatzer, Wash Westmoreland
Starring: Julianne Moore, Alec Baldwin, and Kristen Stewart
About the Contributor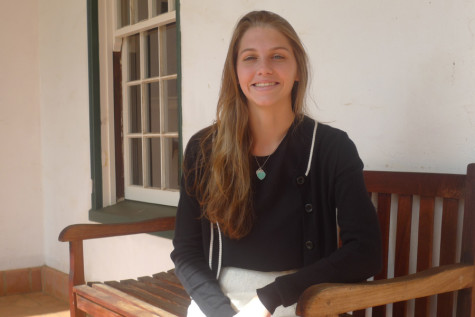 Devon Fleck, Staff Writer
Devon Fleck is currently a senior at Seabury Hall. Fleck was born in Pittsburgh, Pennsylvania. She has also lived in Texas and New York. Fleck has lived...