Review: 'Black or White' finds color in all that is black and white
We all have heard the familiar saying, "It's plain as black and white", or "It's as clear as black and white." But that is anything but relevant for little Eloise, the main character in the new film "Black or White." In the film, a family tug-of-war strains the heart of this spunky and kind-hearted seven-year-old little girl and shows how she copes with losing a part of who she was and learning about the person she was born to be.
In "Black or White," the suppressed racial integration problems that society faces today are presented in a battle for a African American-Caucasian seven-year-old little girl.
Elliot Anderson (played by Kevin Costner) says goodbye to his beloved wife seven years after burying his seventeen-year-old daughter, who passed away during the birth of little Eloise (played by Jillian Estell). Taking on the role of a widowed grandfather, Anderson struggles with being the role model that Eloise needs and learning to come together with her insistent African-American grandmother, Rowena Jeffers (played by Octavia Spencer).
Through a raging battle between the two grandparents over the custody of Eloise, the story starts to tug on the heart of Eloise who finds warmth in the comfort of the house she has lived in her entire life with her grandfather. But she recognizes the lack of feminine guidance and absence of half of her identity as she knows she looks significantly different from her Caucasian grandfather. Finding a balance between belonging to a borderline-alcoholic grandfather and a grandmother who carries too much faith in Eloise's drug-using father brings out the aspects of struggles that are ignorant to the color of one's skin.
Jeffers believes that Eloise needs a feminine figure as well as knowledge of her rich heritage, something Anderson can not provide to the little girl. Both families struggle with working together to give Eloise what they think is a vital part of how she should be raised and values that should be exposed to her. Jeffers proves she will move mountains to fight for her grandaughter, from initiating screaming matches in the kitchen as little Eloise trembles behind the door, to arguing with Anderson on whether or not Eloise's drug-using father should be allowed to see his daughter.
Trust is diminished as Anderson looks his deceased daughter's ex-boyfriend, and father of her child. Reggie Davis (played by Andre Holland) is seen as a beacon of hope for his mother who holds too much faith in the development of his character from a daily drug user to a reliable father to a seven-year-old child.
This film is about helping a motherless little girl find her way during her youth as well as about coming to terms with the different cultures and racial views that not only Anderson and Jeffers learn to overcome but also the lessons that society is learning to value.
The film, directed by Mike Binder who also directed "Reign Over Me," "Upside of Anger," and "Sex Monster," creates a film that represents the modern racial differences of the twenty-first century through a spunky, adorable seven-year-old child. Tears brim in your eyes when you feel the heartbeat of the film within the eyes of the child's doting grandparents and their common love for giving her life happiness.
Conducted with great images, physically and emotionally, this movie addresses issues that deserve to be recognized in today's world. What brings this movie together in the end is the passion and charisma that the characters displayed not only for the lines they read but also for the roles they portray in the movie. The honesty of the film beckons the essence of raw human compassion. Costner and Spencer perform these roles with a burning passion that shadows their commitment to the film and the morals it stands for.
Among their other films, "Black or White" deserves a standing ovation for a prestigious story told through a impacting performance. This film is worth seeing because it represents all that is society, an underlining promise of coming together with family, racial differences, and how these aspects nurture the growth of an individual as he or she becomes a whole person.
"Black or White"
Our Grade: A
Length: 121 minutes
Rating: PG-13
Genre: Drama
Director: Mike Binder
Starring: Kevin Costner, Octavia Spencer, Jillian Estell
About the Contributor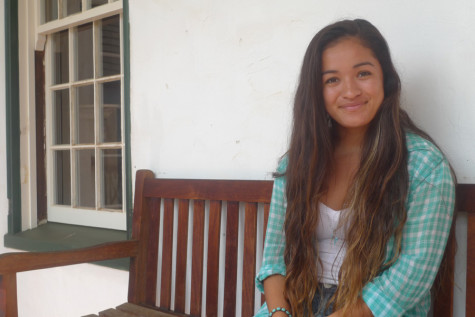 Mapu Andrade, Staff Writer
Don't be surprised if you step into Mapuana Andrade's car and find sandy floors and salty seats. Since she could walk, she is always out on the waves...