Review: The 'SpongeBob' movie provides a dose of nautical nonsense
"Is this the Krusty Krab?" If you are a high schooler who happened to grow up on Nickelodeon cartoons, I'm sure Patrick's frustrating response of "No! This is Patrick" feels as natural as breathing. "The SpongeBob Movie: Sponge Out of Water" could never compare to the amazing jokes in classic "SpongeBob," but it still brings enough silly humor to get you to the theatre.
The worst mistake you could make going into this movie is having any sort of expectations. Don't expect a clear plot, theme, or any sort of lesson. Just as it should be, the movie is filled with nautical nonsense that surpasses almost every episode in levels of silliness.
The movie starts with a situation familiar to anyone who has ever seen an episode of "SpongeBob," a small island with nothing but a palm tree in the middle. The story starts above the water with us humans, and we follow a pirate as he navigates the island to retrieve a book. Once back aboard his ship, the pirate begins to read aloud, which launches to the story below the water to Bikini Bottom where the story really begins.
The movie, which shifts between animation and live action, follows SpongeBob and his friends' journey into the real world so they can rescue the Krabby Patty secret formula from the pirate who has fulfilled every Spongebob fanatics dream of Krabby Patties being sold on shore.
Creating the movie with the original actors that voice the main characters like SpongeBob (Tom Kenny), Patrick Star (Bill Fagerbakke), and Mr. Krabs (Clancy Brown), viewers are launched right back into their childhoods. The quality and childhood sentiment linked to the characters make the movie worth watching. Even through the silliness, the characters' loyalty to their original selves keeps viewers in the theaters and send them back in time to elementary school play dates.
Most of us remember classic musical moments in "SpongeBob" like SpongeBob's ballad about his relationship with a Krabby Patty, an educational song about the best time to wear a striped sweater, or the breakout "I'm a Goofy Goober," which saved the day in the first movie. This movie stays true to its music filled roots with a number of new and memorable songs.
While it doesn't compare to the classic episodes and certainly is not equal to the first Spongebob movie, "The SpongeBob Movie: Sponge Out of Water" delivers exactly what SpongeBob is supposed to: pure, unadulterated stupidity that makes you laugh even though you really do not want to.
"The SpongeBob Movie: Sponge Out of Water"
Our Grade: B
Length: 93 minutes
Rating: PG
Genre: Comedy, Animation
Director: Paul Tibbitt
Starring: Tom Kenny, Antonio Banderas, Bill Fagerbakke
About the Contributor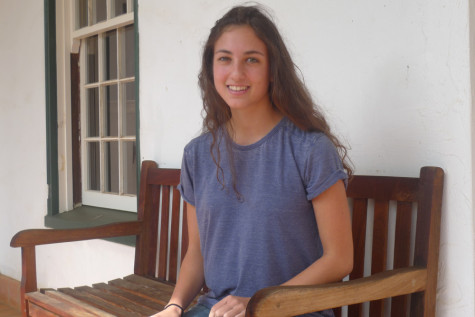 Aria DiMartino, Staff Writer
Aria DiMartino is sophomore at Seabury Hall, and this is her second semester on "The Seabury Tides" journalism team. DiMartino moved to Maui the summer...