Review: Cuddle up with 'Paddington'
Whether you are a fan of the books, the TV show, or just looking for a cute film to watch with the kids, "Paddington" is sure to impress. The film stars Paddington, a Peruvian bear, (voiced by Ben Whishaw) and follows his journey as he struggles to find a loving home in London. It has characters you easily fall in love with, and it moves fast enough to not get boring. If you are looking for a cute, funny, and heartwarming movie to watch with the whole family, "Paddington" is definitely for you.
The story starts off with a clip showing an adventurer discovering a species of bears in Darkest Peru. He finds out that the bears are astonishingly intelligent, and teaches them English, proper manners, and tells them all about London. It ends with the adventurer telling the bears that if they ever go to London, they can expect a "very warm welcome."
Many years pass, and after a devastating earthquake destroys Paddington's home and kills his Uncle Pastuzo, Paddington's Aunt Lucy sends him to London, hoping he will find a family that will take him in. Paddington sneaks onto a ship and sails to London, expecting to find a crowd of welcoming people commenting about the rainy weather. However, modern-day London is extremely different from what he imagined, and Paddington is hopelessly lost. Luckily, an amiable lady named Mrs. Brown (Sally Hawkins) spots Paddington and offers to take him home with the rest of her family, despite the many protests from her overly-protective husband, Mr. Brown (Hugh Bonneville), who insists that Paddington can only stay for one night.
Together, the Browns try to find Paddington a permanent home, and Paddington manages to grow on the family, and make the two children (Madeleine Harris and Samuel Joslin) happier than they have been in months. But like every children's movie, there is a villain. Millicent (Nicole Kidman) wishes to capture Paddington and give him a permanent home: stuffed, in a display case.
One thing that really makes "Paddington" stand out is the editing and camera angles. The way some scenes smoothly transition into Paddington's imagination gives us insight to how he imagines and sees things without being too obvious or jerky. The camera angles allow us to view the scenes from interesting angles that help immerse you in the story and make it more exciting.
The costuming is also great. The wardrobe reflects each character's personality: Bright, colorful clothing for Mrs. Brown; crisp white for the antagonist, Millicent; and of course, Paddington's signature red hat and blue coat.
One of the only disappointments with "Paddington" is the villain, Millicent. She is almost too perfect in the way she can sneak into places such as the Brown's house, cause extreme damage, and still leave without a trace, and the fact that she has full access to a museum is not quite believable. Also, her backstory does not give a satisfying reason to why she turns out the way she is; it may explain why she is after Paddington, but it does not justify her other actions or her maleficent and cruel personality.
"Paddington" is an entertaining movie, featuring the many hilarious situations Paddington manages to get himself into, charming characters with good development, and a storyline that does not move too slowly. It is great for children, and the British slang helps to immerse you into the setting.
Grab a blanket, a bowl of popcorn, and your stuffed Paddington bear and get ready to enjoy one of the best family movies currently in theaters.
Our Grade: A
Runtime: 95 minutes
Rating: PG
Genre: Comedy
Director: Paul King
Starring: Ben Whishaw, Hugh Bonneville, Sally Hawkins, Julie Walters, Nicole Kidman
About the Contributor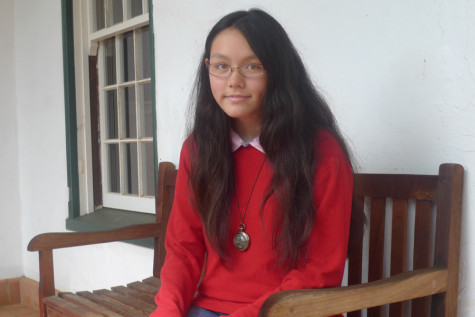 Angela Schmitt, Staff Writer
Angela Schmitt is currently a freshman at Seabury Hall. Schmitt was born on Maui and went to Haiku School during her elementary years. She went to a boarding...