On our bookshelf: "Unbroken" by Laura Hillenbrand will inspire you to be unbreakable
If you are looking for an amazing story, a true story, or are a Seabury Hall junior or senior looking for something to read for your nonfiction project, then look no further because "Unbroken" by Laura Hillenbrand will keep you captivated with its astonishing true tale of Louis Zamperini.
From Olympic runner to World War II prisoner of war to Christian motivational speaker, the life of Louis Zamperini was an exciting one to say the least. Hillenbrand, author of the bestselling nonfiction book "Seabiscuit," brilliantly describes the life of Zamperini in a way that is both extremely detailed and fast moving, allowing the reader to become mesmerized by the story.
The book begins with Zamperini's life as a young child, where he was a troublemaker and encouraged to join the school's track team in order to stop his antics. What began as a way to keep him out of trouble quickly transformed into a way of life, and eventually became a trip to the 1936 Berlin Olympics. This story alone would have made an exciting read, but Zamperini's running career is only a small fraction of his amazingly turbulent life.
Despite the hardships that Zamperini endures during his time as a prisoner of war, there are several moments that are truly inspiring. He stands tall in the face of the multitude of harsh punishments that the Japanese soldiers inflicted upon him, refusing to back down several times and surviving alone on his determination to live.
Unfortunately, once Zamperini returned to the United States after years of living as a prisoner of war, his struggles were far from over. Due to everything that he faced, he suffered from severe Post Traumatic Stress Disorder for a long time. However, he was even able to overcome this obstacle by turning to a higher power for help.
As someone who has a particularly weak stomach for violence and heartache, the story was a bit difficult for me to read in some places, due to detailed descriptions of the inhumane conditions prisoners of war were forced to survive through during World War II. However, the tone of the book as a whole is far from depressing. Also, a more censored "kid's friendly" version is available for those people who do not want to be able to imagine the conditions so vividly.
"Unbroken" will make you laugh, cry, and feel as though you actually know Louis Zamperini on a personal level. Just when the story's fast-paced yet descriptive writing tricks your brain into thinking you are reading fiction, pictures and quotes will snap you back to reality, and remind you that all of the events in the book actually happened. It is truly an inspiring tale that reminds us that whatever hardship we face, we can get through it if we just keep fighting.
About the Contributor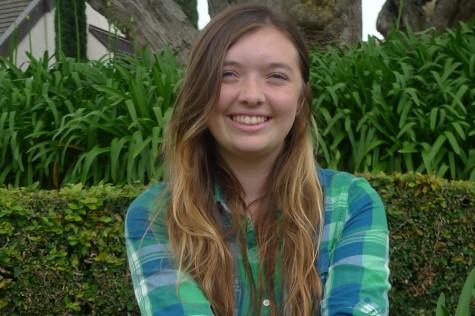 Jessica Brown, Staff Writer
Jessica Brown is a senior on the Seabury Hall Journalism staff. At the age of nine, she moved to Maui from a small town in California, and she has attended...