Stephanie Walsh is the saving grace to Seabury Hall's senior class
Whether she is making college acceptance announcements or comforting overstressed seniors during the college admissions process, Seabury Hall's college counselor Stephanie Walsh is a familiar face around campus.
For any college counselor, understanding where your students come from is essential. This is certainly true for Walsh since she, in fact, attended Seabury Hall as a high school student. "It was a community feel similar to what you have now except a little more intimate due to its smaller nature," said Walsh.
She attended Seabury Hall during its "constructive period," when the upper school building was being built. She is now also working with some familiar faces. "Many of the faculty here have taught when I was at Seabury Hall," she said.
It is interesting that Walsh became a college counselor because her favorite class during her time at Seabury Hall was art, leading her to major in art history at the University of Denver. Walsh said, "I liked how the discipline connected language, history, fine arts and culture of the time all into one piece [of art]. I really enjoyed studying that."
She was inspired to be a college counselor after being an RA during her time at college. "I was a resident assistant for two years in college, and I created meaningful connections and relationships with my residents. I really enjoyed helping and giving back to other people. When I realized that a college counseling position was open at Seabury I thought that I could give back to the school that had given me so much." said Walsh.
Being a college counselor isn't easy by any rate. Dealing with over 70 seniors who are going through one of the most stressful processes they have ever been through requires serious patience. The most gratifying part about her job is "assisting students from transitioning from high school to college. For many students, this is the first big adult decision that they have made or will be making. Being a part of this transformation is both humbling and a huge honor," said Walsh.
Scott Winham, head of Seabury Hall's upper school, said, "Mrs. Walsh has been very good at developing a personal relationship with the students which allows her to best help them find a good match. She gets to know them beyond the paper as well, which is a good thing."
Senior Ridge Lenny is very thankful for Walsh's constant support and assistance through this process. "When you first start the process, it's really overwhelming and you feel like there's a lot of weight on your shoulders to do all these things, and it seems like a lot of work. I feel like Mrs. Walsh breaks it down for you and gives you a schedule and makes it much more manageable," said Lenny.
Winham also said that Walsh "has worked to expand the college counseling program to keep the parents more involved with nighttime informational sessions," as well as "include the freshmen and sophomores a little more actively in consideration about the college process."
The hardest part of her job isn't her personal workload; it's when a student does not get accepted into a school that Walsh believes would be a good fit for the student. Walsh said "If I feel like a student would be a really great fit at a school and they get deferred or rejected, I take it to heart because I care a lot about the students at Seabury Hall and spend a lot of time ensuring that their applications are successful for admissions."
In her five years of working at Seabury Hall, she said, "With every graduating class, I learn more and more how to best counsel students, work with parents and teachers to ensure success in college, so with each year I grow as a counselor to find the best fit for students."
It is clear that Stephanie Walsh is an essential part of the Seabury Hall community, especially to the seniors. With her extreme organization, quick wit, and remarkable calming skills for students and parents, each rising senior class is clearly being guided by some very capable hands.
About the Contributor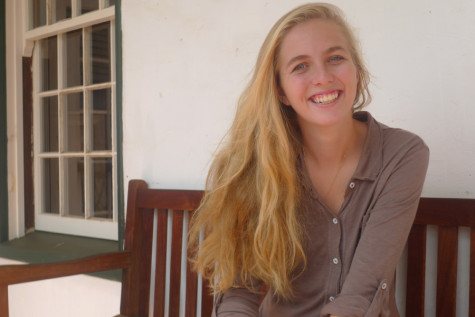 Tait Longhi, Staff Writer
Tait Longhi is a senior at Seabury Hall. She has been attending the school since her freshman year in high school, and she has enjoyed it tremendously....