Mr. Fred Silverman, a teacher engineered by experience
As a teacher with a reputation for being one of Seabury Hall's strictest teachers, upper school physics teacher Fred Silverman has high expectations for each of his students. Yet Silverman has good reasons for his style of teaching, since Silverman's first profession wasn't teaching. Before he joined the Seabury Hall community, Silverman was an engineer, and he uses his engineering background and his previous experiences to not only teach his students, but also help them develop and adapt to the challenges life after high school will bring.
Before Silverman took on the role of a teacher, he worked in the field of industrial automation, which is when a business uses machines to replace people handling a workload. Originally, he held a position in engineering, yet over time Silverman took other positions, including positions in sales, product marketing, and management, and he was also an independent consultant.
"What he brings in [to the classroom] is quite unique because he was not an educator in his early years of his career. He definitely has an engineering background. He has worked in the private sector and not specifically in the education field, and because of this exposure, he has a different way of looking or training students," said the head of Seabury Hall's science department, Evelyn Lacanienta.
Originally from New York, Silverman moved to Hawaii in 1999. He did not take on the role of a teacher until 2001 when Silverman and his wife were homeschooling their youngest daughter. Unknown to Silverman at the time, but it would be the start to his career as a teacher.
"It happened serendipitously. In 2001, we were homeschooling our youngest daughter. I was teaching math to her. Another homeschooling mom suggested I apply as a substitute teacher for Seabury and one thing led to another," said Silverman.
Silverman claims that his biggest surprise in becoming a teacher for Seabury Hall was how much he enjoyed teaching. His favorite part in teaching is when he gets to teach students who truly want to learn. Silverman fully expects his students to be conscientious in their studies, to do what they are asked, and to be good students.
Junior student and former Seabury Tides staff member Jonah Adelman said, "I feel as if I learn more in that class than I have in any other classes. There's a lot of information to take in, but it's a lot of good information that I think translates to not only just science but also just working in general in a learning environment."
Silverman is different than most teachers at Seabury Hall, as he is viewed by students as stricter than other teachers here, yet that does not make him an uncaring type of guy. "At first I thought he was going to be a strict teacher, which it turned out to be true. But I really think that it actually has a good effect on the learning environment in his classroom," said Adelman.
By using both his knowledge of physics and engineering and his life experiences, Silverman is able to effectively teach his students. His unique style of teaching is helpful to his students in both learning and maturing into young adults. Silverman knows of the difficulties students may face after leaving high school, and he uses his knowledge and experience to help his students develop themselves and prepare for their futures.
About the Contributor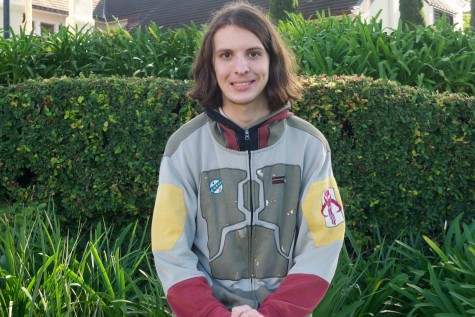 Logan King, Staff Writer
Logan King returns into the action of journalism for the second year, as he has previously been a part of the Seabury Tides staff in his junior year. He...